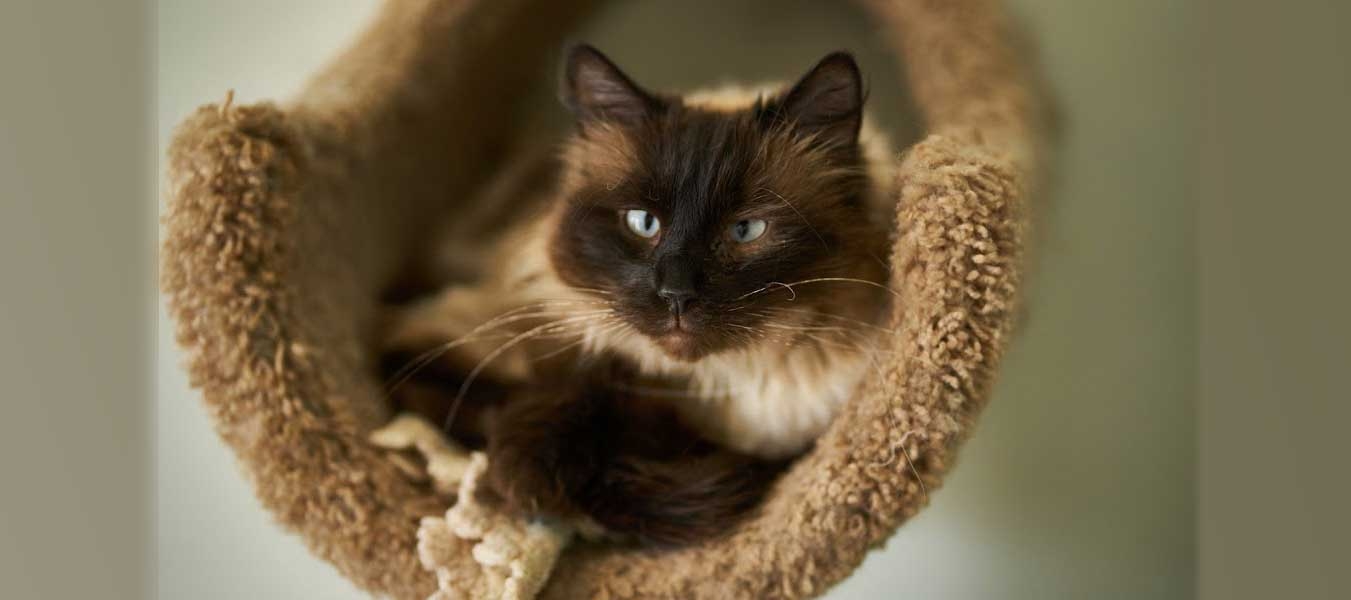 Above: Sigi looks like she should be reclining on a silk pillow but she is a tomboy and loves to be outside year-round. Portrait by Mark Luinenburg
Sigi is a little Himalayan who came to Home for Life in late 2017 and was believed by her veterinarians at the University of Minnesota to be not more than a year old!   She was abandoned on a farm west of the Twin Cities, and then found herself the victim of a dog pack attack. A person who witnessed the attack by the dogs came to the little cat's aid but in the melee, Sigi, not only suffered a broken leg but also bit her rescuer. It wasn't Sigi's fault: she was terrified and afraid. Sigi was safe from the dogs but now having a " bite history"—  was impounded for a rabies hold. The little cat sat like that for the 10-day quarrantine but her story made a Facebook page devoted to Minnesota cats in need.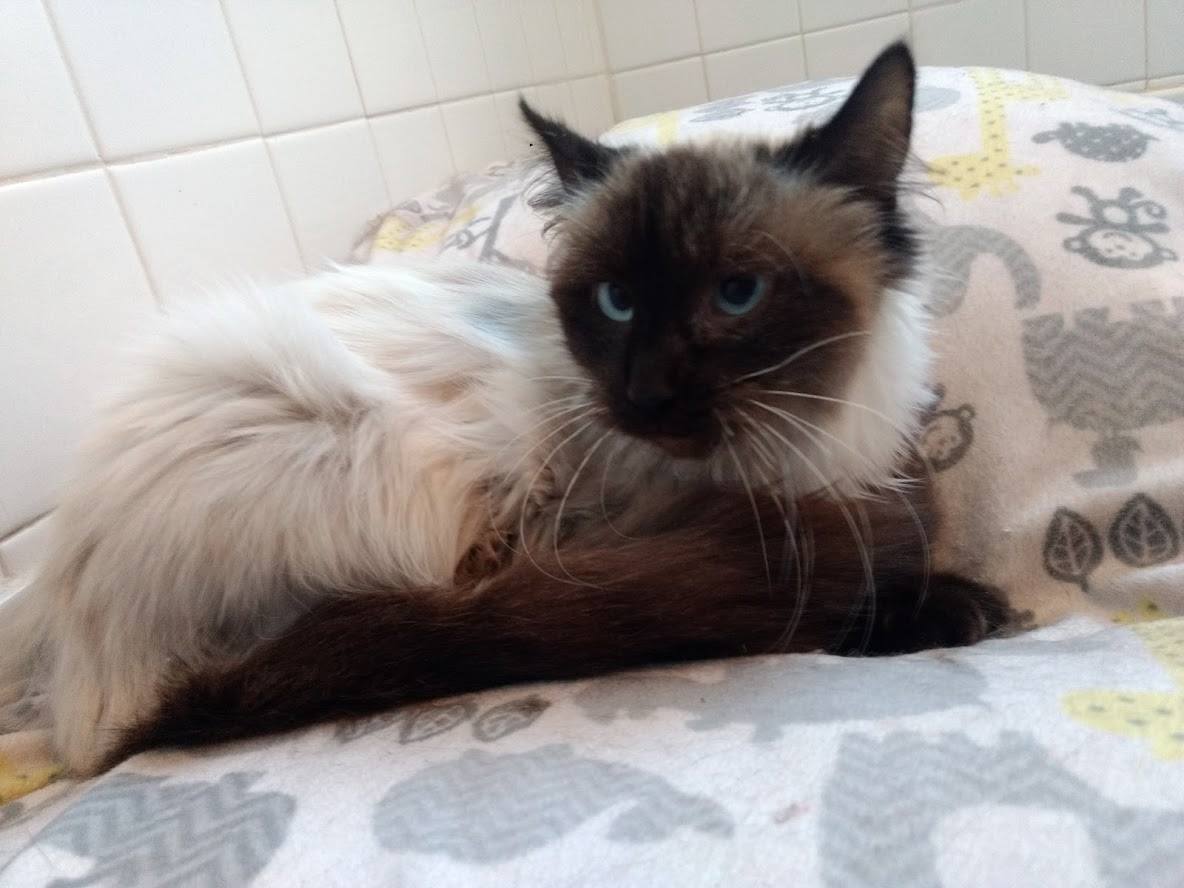 Yet even with that exposure, only Home for Life® & one other group offered to help her. Sigi came to Home for Life® at the end of December in 2017, after nearly 2 weeks post-attack and suffering a broken leg. We put her on pain medication and sought help for her at the University of Minnesota VMC first thing after picking her up, where surgeons discovered she had suffered a spiral fracture of the tibia of the hind leg.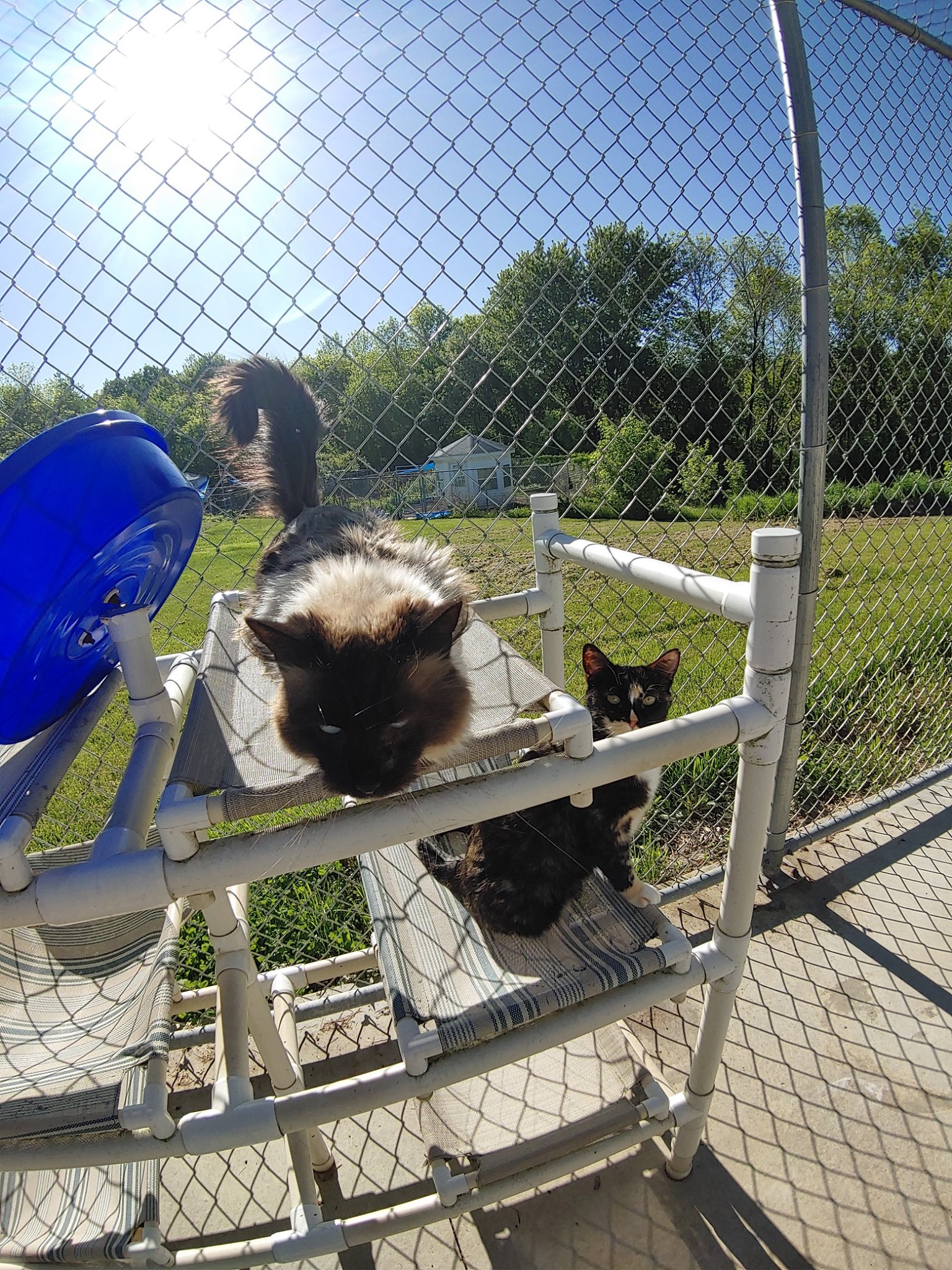 Within a day of becoming a ward of Home for Life®, Sigi underwent a complicated surgery on her fragile bones and then had to be kept quiet for several weeks while the bad break healed. Her surgeons placed plates on the long break of the bone, and Sigi had to be on strict rest and restricted activity to allow the break to heal and prevent the plate from bending.
While hospitalized, Sigi tested strongly positive for feline leukemia on bloodwork run at the University prior to her surgery, confirmed by the IFA assay blood test. Her recovery from the complicated surgery to repair the spiral fracture of her tibia was another hurdle for Sigi.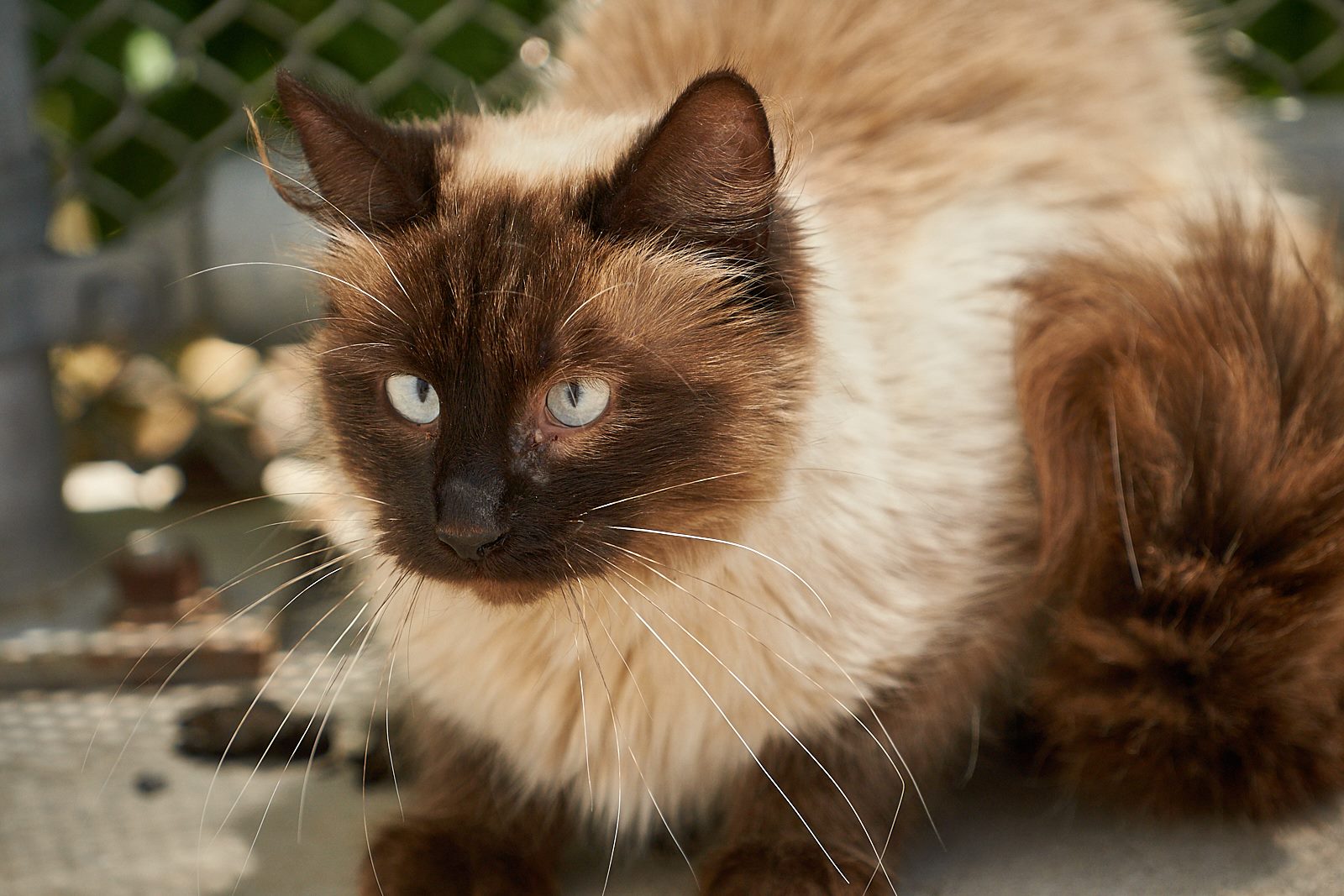 Sigi was a young cat, estimated to be under age one at the time we took her in, so it was important for her future that the leg be given every opportunity to heal correctly. Meanwhile, Sigi spent her recuperation time eating up a storm, nearly her body weight in canned food every day! She was so hungry when abandoned and alone, and she remembered the painful hunger pangs and what it was like to be starving. Sigi will never have to worry about that again now that she is part of Home for Life®.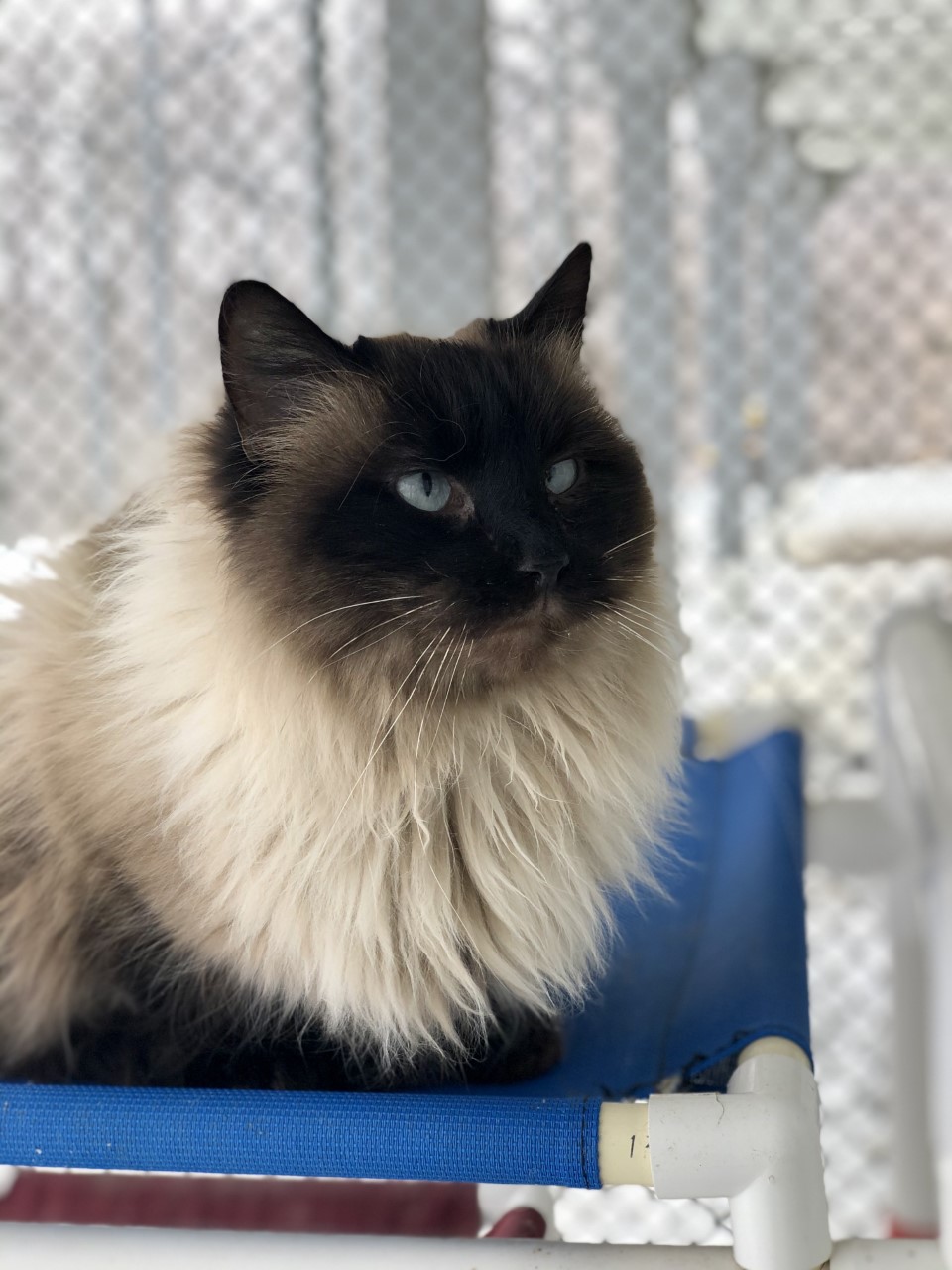 The best news was that as she healed, Sigi became braver about sitting out when our staff came in the isolation room to care for her or clean. Before she would huddle under the blankets, shuddering, dreading what was going to come next
Image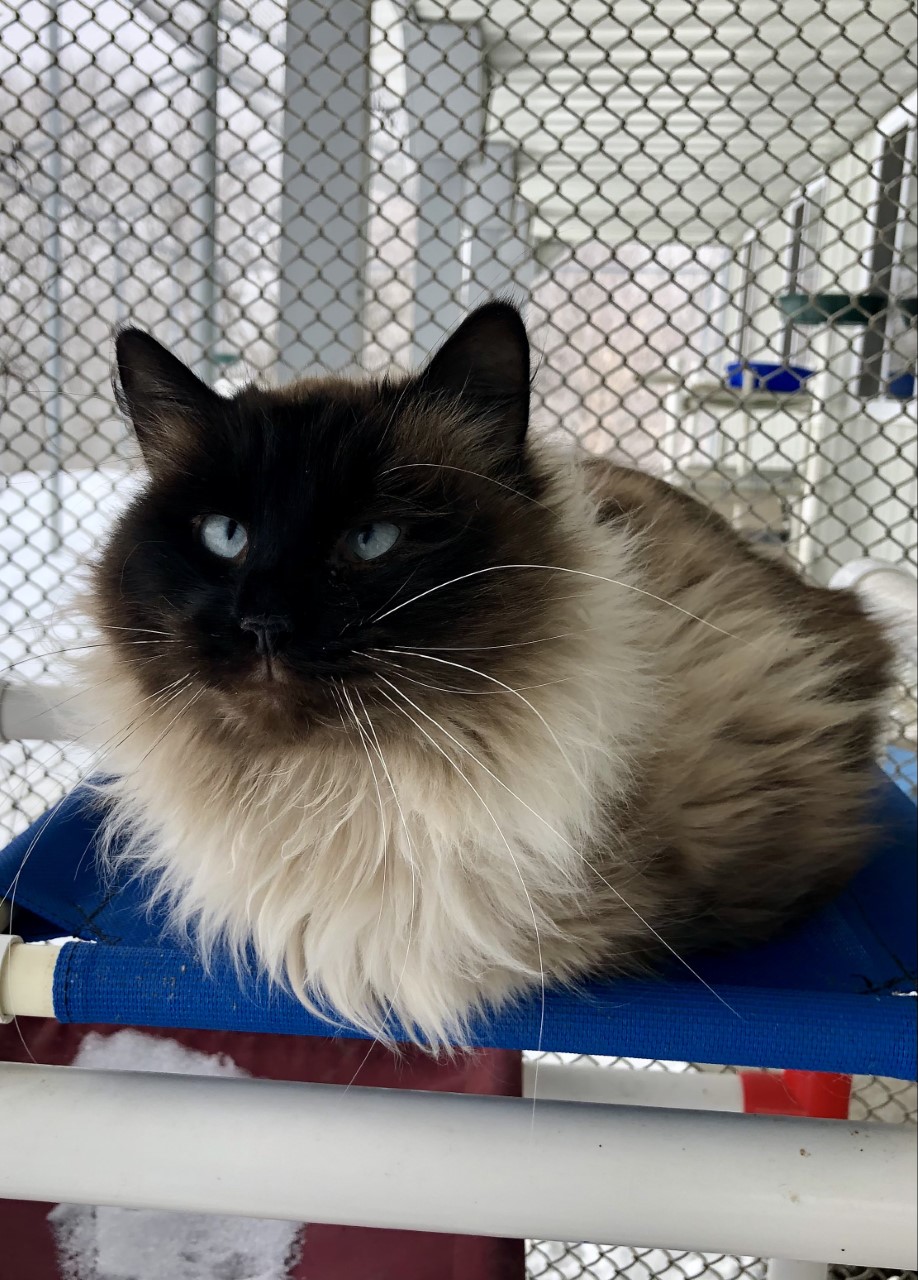 Think of all she had been through in her few months—being lost and abandoned, attacked by a pack of dogs and fighting for her life, fracturing her leg in the struggle to survive, then on quarantine with no treatment, medication, or anything for the pain, a long car ride to Home for Life® at the 11th hour before she was to be put down, then a complicated, difficult surgery, testing positive for feleine leukemia and a long recovery where she has to stay by herself and quietly for a number of weeks. Once her leg healed, she joined our feline leukemia cattery to make new friends.  At last, Sigi's true personality emerged—an intrepid, adventurous cat who loves to be outside year-round and loves Home for Life's® large outdoor cat run where she has the freedom to play and explore safely, without the fear of being hurt or abandoned ever again.