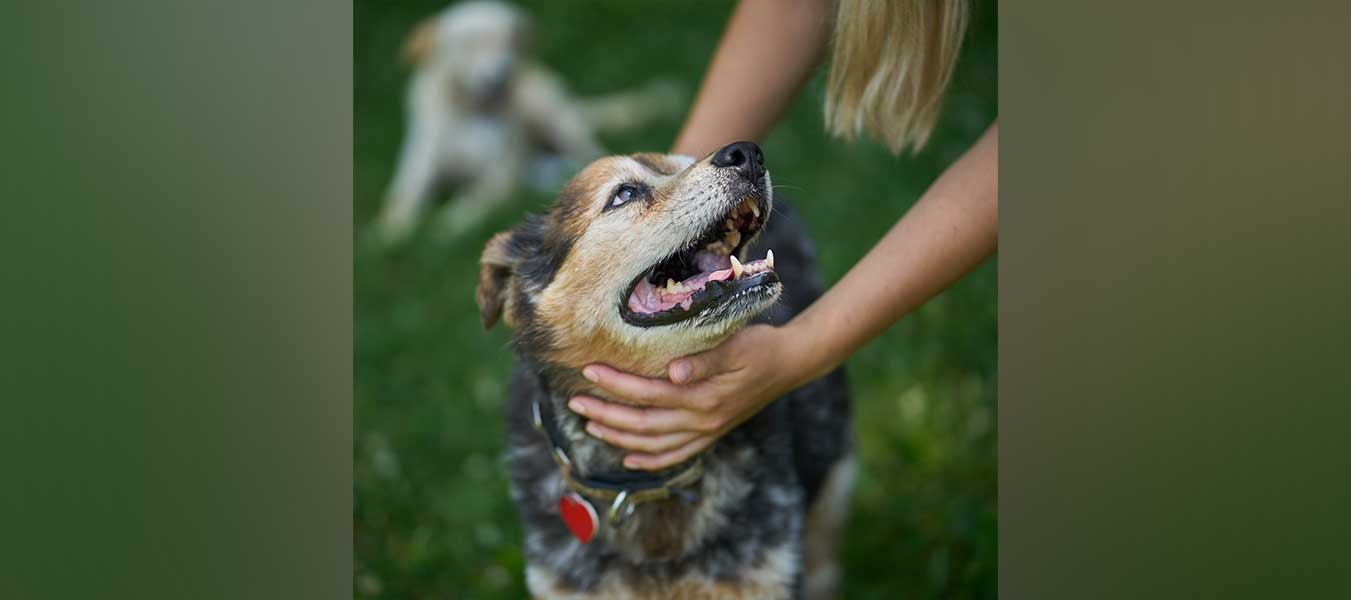 Baxter (above), a senior dog with arthritis, arrived in the late winter of 2021 from South Carolina, after being brought to a shelter, his owner too sick to care for him anymore.
Even before his owner became so ill with cancer, Baxter was left tied out day and night in the backyard, with no contact and with only feeding by a neighbor.  He was terribly matted when he was surrendered to the shelter by the neighbor and was obviously suffering pain from untreated arthritis. He also appeared to have some difficulties seeing and hearing, It was a surprise that he was heartworm negative after years of being tied and left outside.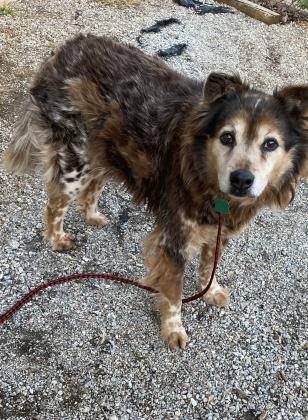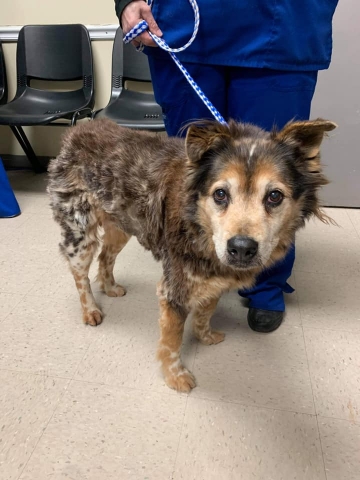 As tough as his treatment in his home was, he was heartbroken to lose his family as it was all he knew.  At the shelter he was vocal, often barking and growling at the staff, and was disinterested in other dogs. With no prospects for adoption because of his ornery attitude and physical problems, Home for Life® offered to take Baxter in to see if we could help him. See this video of Baxter (below) as he waited while 50 cats and dogs from his South Carolina shelter were loaded on a van to travel north to try their luck to find a new home. As for Baxter, he had a home with us!  Baxter got to ride shotgun in the front seat during part of the transport, the first hint that his luck had changed.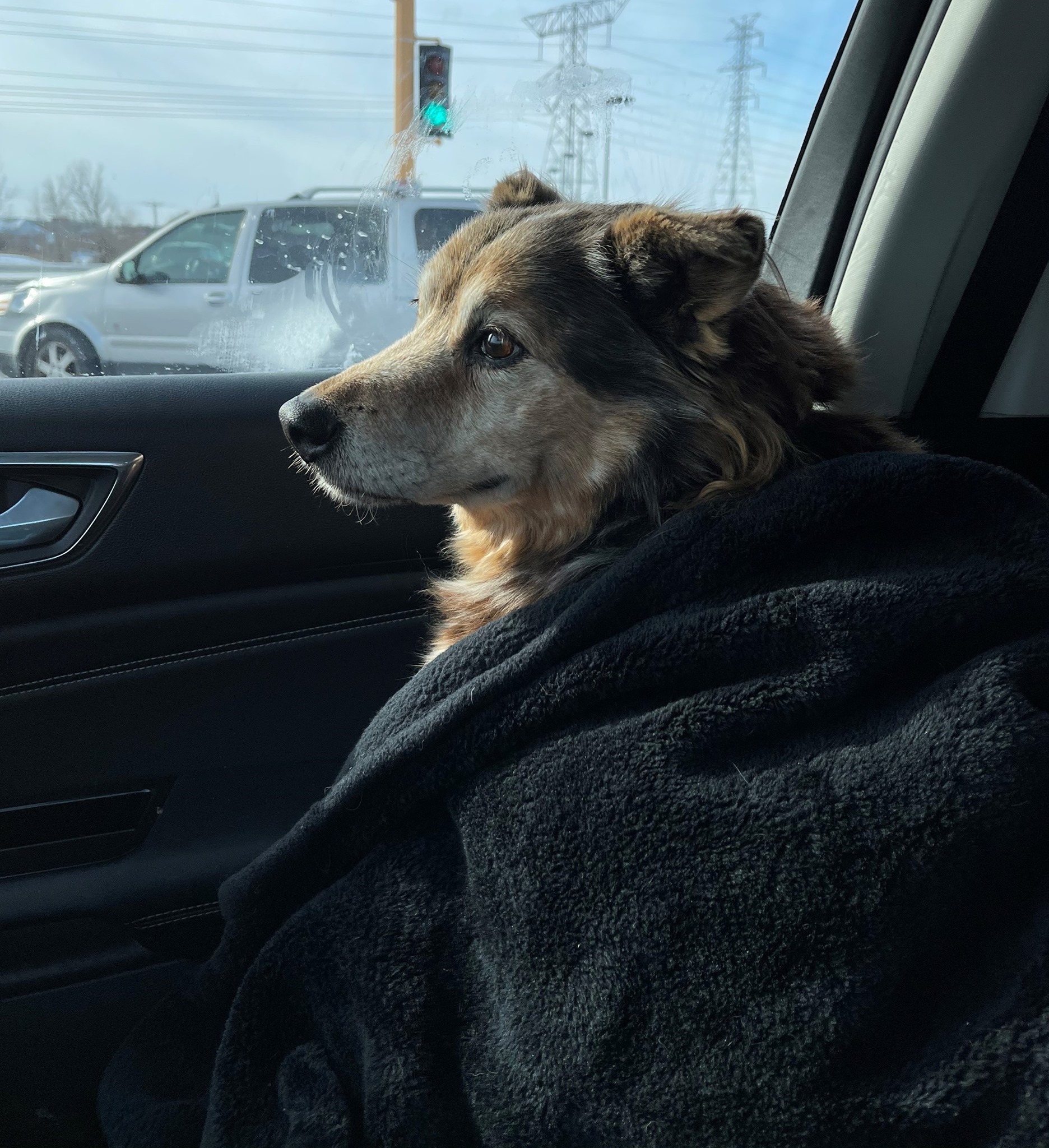 Although he ignored other dogs at the South Carolina shelter, Baxter gets along with his roommates at Home for Life®, the gentle huskies Elke and Chinook, seniors like him, and his closest friends and the younger crew—Perilla, Blanco, Sam, and Emma. All these friends are gentle, but Baxter has the most in common with our huskies, with whom he loves to hang outside on the hammocks and in the dog houses. On colder days, we lock Baxter in for the night or he would prefer to stay outside, sleeping under the stars. With his arthritis, though, he gets better rest inside in the warmth, on a thick cushion.
Underneath all the mats which pulled and tore at his skin, Baxter is quite distinctive looking with a polka dot tail and most resembling an Australian Shepherd mix.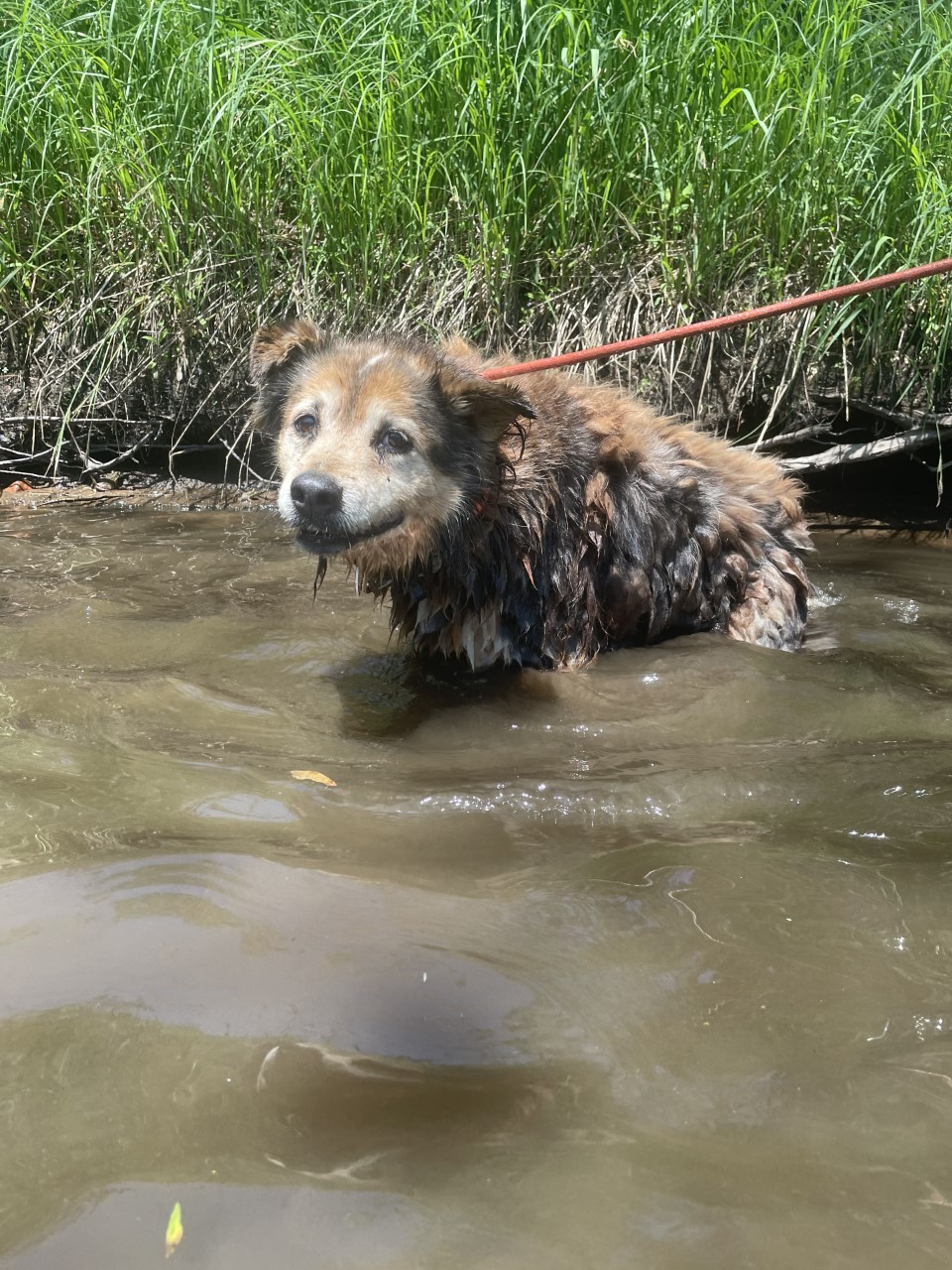 Last summer, we observed Baxter loves the pool in his dog run, and we thought he might really enjoy swimming in the Apple River which runs along the west side of Home for Life's® property. We were right! Baxter took to swimming like a duck to water! Swimming sessions planned again this season should really help him to build resilience and strength after a lifetime of being tied and left outside. Baxter has also benefitted from a food called Joint Support, especially made for sore dogs like him—arthritis medications and cold laser therapy to increase his comfort and help him be more agile despite the arthritis and many years sleeping on the ground outside on his tie-out.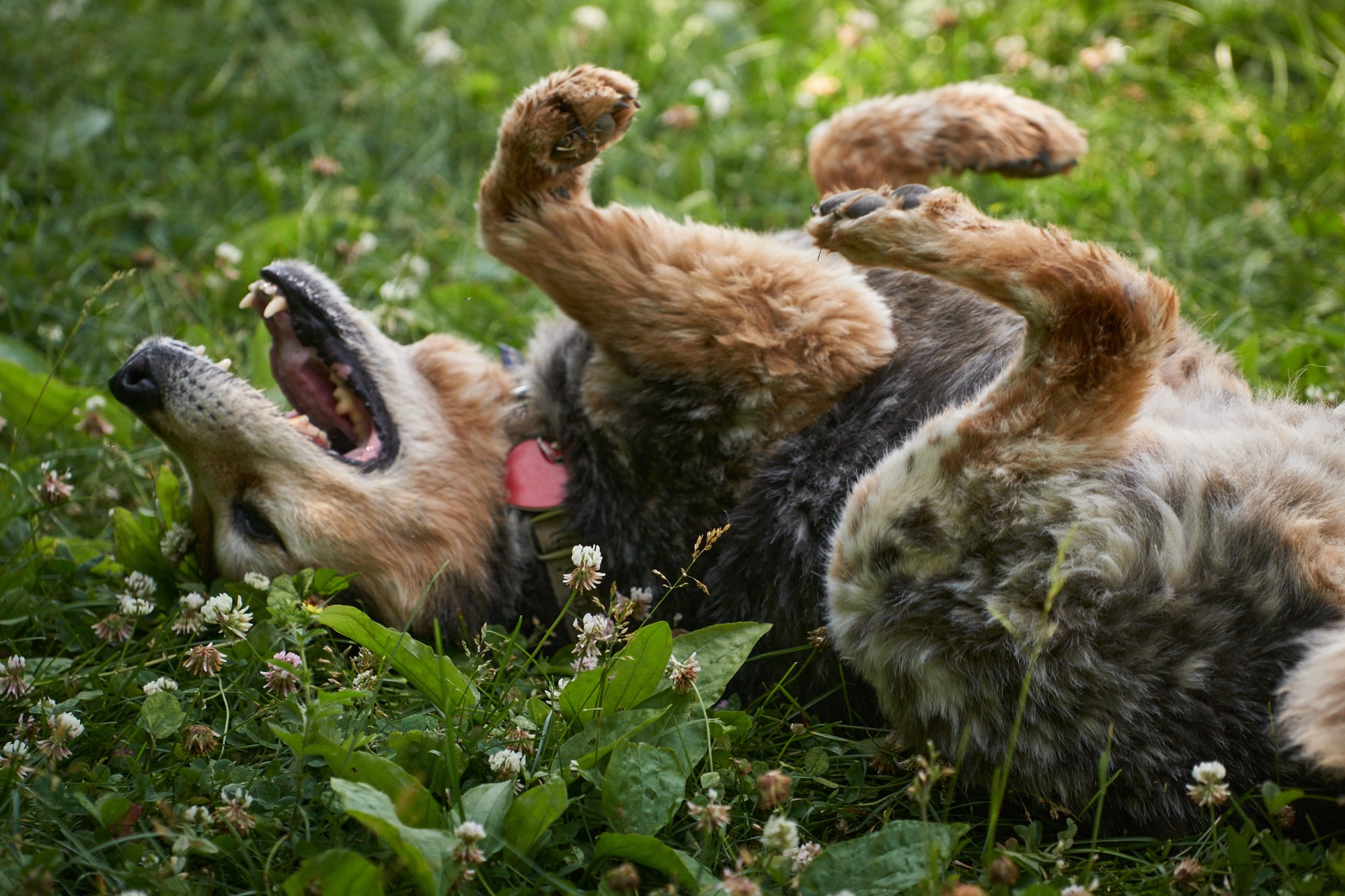 Now Baxter has a home for life with us.  Our "third door®" approach is a light in the darkness for dogs like Baxter who previously had slim prospects for help and were impounded, dejected and depressed.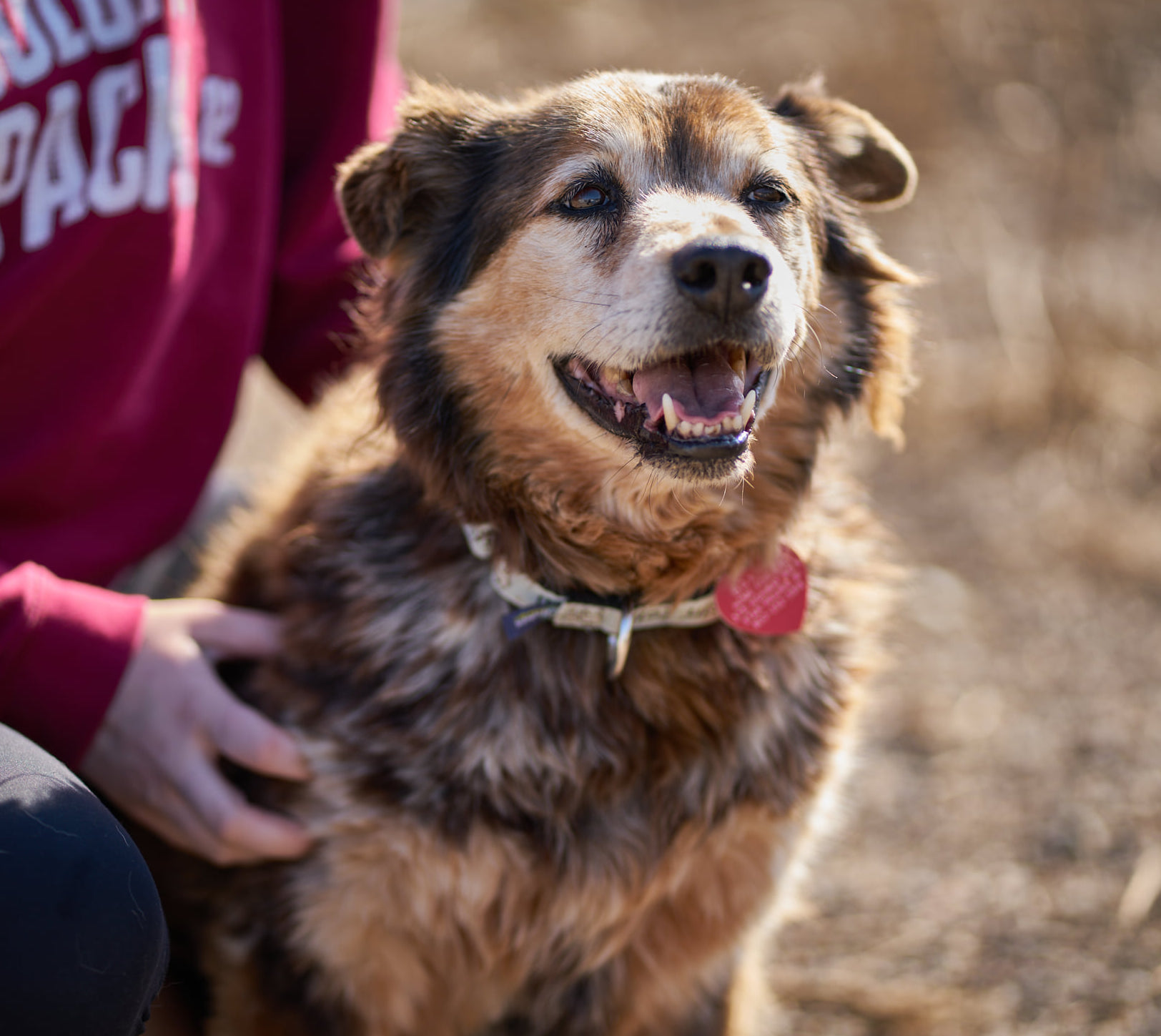 Dogs know. They know when they are unwanted. They know when they've been naughty or especially lucky. They know when they are loved, and they know when they are home. You can see the latter three in Baxter's eyes!.  We hope the next chapter of Baxter's life at our sanctuary will make up for the loneliness, heartbreak, and neglect he suffered for so long.