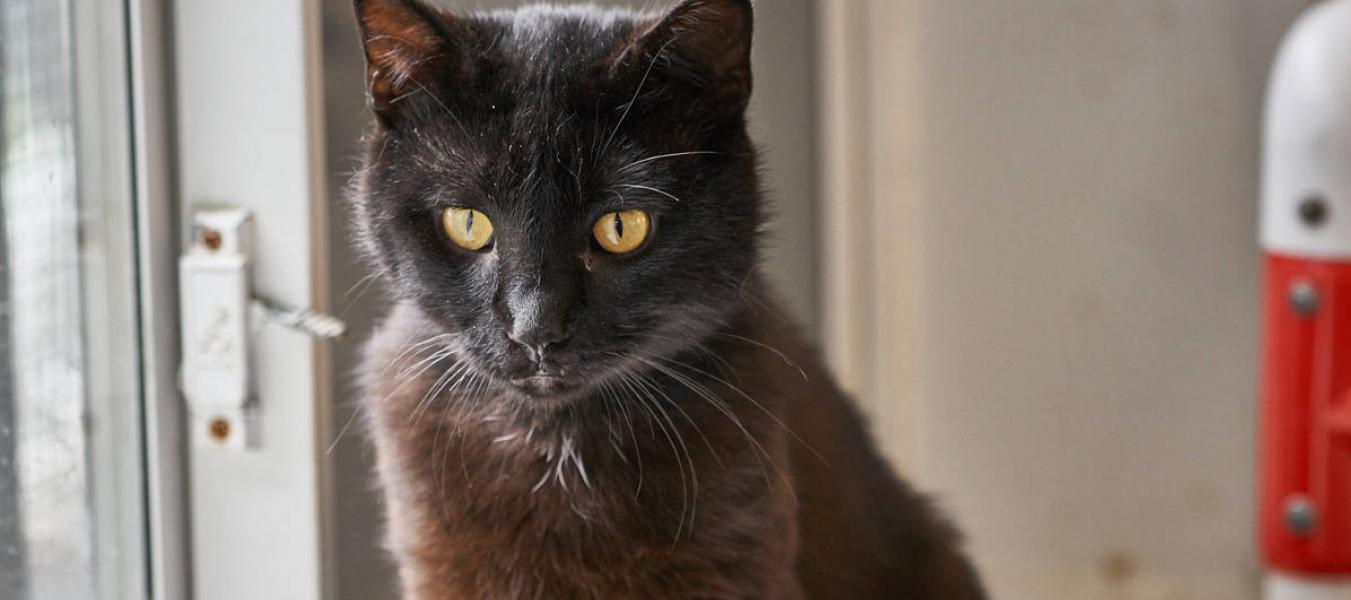 Badger is a small neutered male kitten who when just a year old, came to Home for Life from the Paws and Claws Shelter of Rochester MN. Badger was found in Rochester in April, 2016, taking shelter from the chilly spring weather under a deck at a home in Rochester; the home owners brought him to Paws and Claws, where their staff estimated his age to be just under a year- like a teenage kitten - alone and on his own in the big wide world.
Image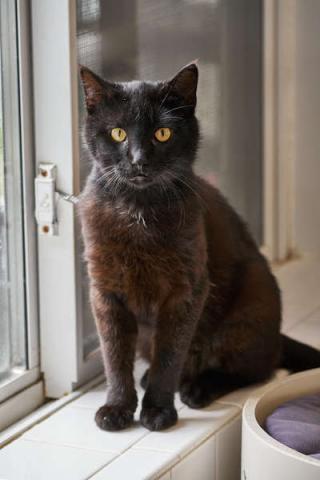 At Paws and Claws,  Badger tested positive for FIV, and this status was confirmed by the shelter veterinarians thru further evaluation with the Western Blot test. As if this wasn't enough of a tough start for this little guy, poor Badger had giardia, ear mites, ticks, an upper respiratory infection and --a large, only partly healed deep lesion on his back, plus similar lesions on his front legs. Whew! That's a lot for one small little cat to contend with when not even a year old! The veterinarians from Paws and Claws believe these lesions may have been burns from contact with a car motor- we've all heard stories of desperate cats and kittens seeking refuge and warmth under the hood of a car. Badger still bears the visible scars from these burn wounds on his back. P & C were eager for Badger to have a safe landing at last with Home for Life- he had been living in a foster home since he was taken in by them, and the foster home was needed for the many kittens and mother cats that the shelter was receiving. Besides, Badger was very lonely in his foster home where he was required to be isolated because he was FIV+. His foster mom Annette brought him to Home for Life herself to get him settled- she was sad to part with him but was happy that he would now have many feline and human companions. She was very impressed with the nice and comfortable room we had set up for Badger to acclimate him to life at the sanctuary, and she told us Badger seemed to like his new home too as he settled in right away!.
Badger has been at Home for Life for about 3 months, and slipped in in time to have his first official portrait taken by Mark Luinenburg when Mark was out to see us in June and then had a follow up portrait taken in August 2016.
Image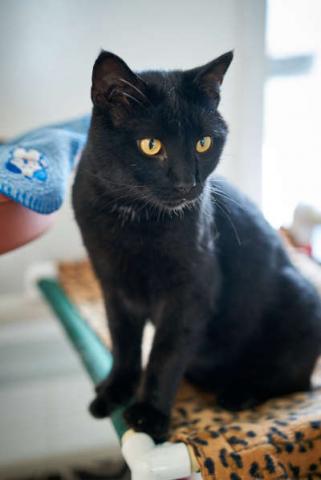 Badger is the smallest cat by far in the South cats- made up mostly of retired Toms, and one regal female cat, Devyn, also from Paws and Claws. Badger has been to hell and back in his short life of one year, and after all he's been through, he doesn't seem too concerned about the easy going fat cats of Home for Life's FIV cattery, In fact, Badger may yet catch up with the other cats if he keeps consuming nearly his own weight in food as he seems to do at every meal- we have three varieties of dry food out, plus the cats all get an array of canned food each day, and Badger is always very anxious to eat, like many cats who grew up not knowing if they would get another meal :( Because of his good appetite, his coat has grown sleek and glossy and although still a small cat for a male, Badger has filled out to become sleek and muscular. He loves to play and has a found a great comrade in arms in another young FIV+ cat at Home for Life, Billy WhiteShoes, a black and white tom who is happy to chase cat toys around the cattery with Badger at all times of the day and night.   
It's so hard to think of Bandit - this small boy, just barely out of kitten-hood, unwanted, and trying so hard to survive as a stray on his own, desperately taking shelter wherever he could- under a porch, under a car hood, hungry and sick. Though Paws & Claws did a wonderful job restoring Badger to good health, he will always be vulnerable due to his rough start in life, and his FIV diagnosis - FIV is a virus which depletes a cat's immune system over time, and makes them more susceptible to conditions like dental disease, upper respiratory infections and other health challenges. But, having found his place in the world, and a place to belong at last, we hope that he will have many years of health and happiness with the loving care he will now have at Home for Life.