Image
Bitsy is a toy poodle mix who came to Home for Life from a Wisconsin, foster-based rescue along with Andre, a miniature poodle mix in 2010. As small, cute white dogs they surely seemed  "adoptable" when the rescue organization pulled them out of an animal impound facility when they were each about age three.
 
Bitsy and Andre were assigned to a foster home affiliated with the rescue; the foster kept them in a home - which seemed like a great idea at the time. However, because the foster worked during the day, these two young and active dogs were confined long hours to crates. When the woman returned home from work at the end of her long days, her many household and family obligations prevented her from giving the foster dogs adequate attention and exercise. Bitsy and Andre were full of youthful energy but had little opportunity to work it off in the foster home setting during the course of a typical day. When they did not immediately find  adoptive homes, the situation became complicated for the little dogs. Frustrated and bored, both dogs ended up getting themselves into trouble, nipping their foster and also members of her family in unrelated incidents. The rescue then determined they were unsuitable for placement due to their "bite history." Home for Life received a call from the head of the rescue who said that both dogs would be euthanized if they could not come to the sanctuary, because they could not be adopted out.  They offered a donation if we would help. We agreed to take both dogs, and within a few days, the rescue and foster drove them to Home for Life during one of our tour days, dropped both dogs off, and departed without leaving their promised donation. We never heard from the foster or rescue again.
Full of energy and very Bitsy has done well at Home for Life with more exercise and activity to keep her bright mind engaged. Bitsy and Andre participated in the  Renaissance Program, working with students at Boys' Totem Town and learning basic obedience and dog manners. Both dogs did very well once they bonded with their assigned student trainers. 
Bitsy and Andre are part of a rowdy, noisy group of  small dogs - the old and young, the quiet and the bold, service dogs and shy individuals who tend to hang back. Their friendship and camaraderie override their differences as they have become a cohesive, loyal group who have a blast together and always have each others' backs. Now almost 9 years old, Andre has developed some arthritis which he takes medication for. Bitsy is a bit less "bitsy" and more stout but still retains her feisty demeanor. She is bossy, and especially likes keeping wire hair dachshund Malcolm in line. Neither dog is great with strangers, and will nip if they are challenged.  But an attribute of sanctuaries like Home for Life is that they can provide safeguards for dogs like Bitsy and Andre, protecting them from situations and provocations that can result in problematic situations, and which can cost dogs their lives. At Home for Life, the daily routine and facility are organized around what our animals require - unlike homes and rescue foster homes, where an animal must adapt to the people's schedule and priorities.
On a recent sunny winter day, the small dogs  ran their hearts out in the one of the meadows adjacent to their doggie suite. People don't realize how much energy even small dogs have and how much they love to run and play, just like their larger canine counterparts. For the small dogs who have to Home for Life with behavior issues, the ability to get sufficient play and exercise time in spacious outdoor areas takes the edge off their problems. Even our older dogs like to get out to stretch their legs and get some fresh air. Year around, the Home for Life Dogs love to enjoy the outdoors and exercise in one of our large fenced meadows.  At Home for Life, the daily routine and facility are organized  around what our animals require - unlike homes and rescue foster homes, where an animal must adapt to the people's schedule and priorities. For dogs like Bitsy and Andre, having the opportunity to be at Home for Life has meant the difference between their lives ending prematurely, and instead enjoying many fulfilled years in a safe and protected setting where their happiness and well-being is our first priority.
Image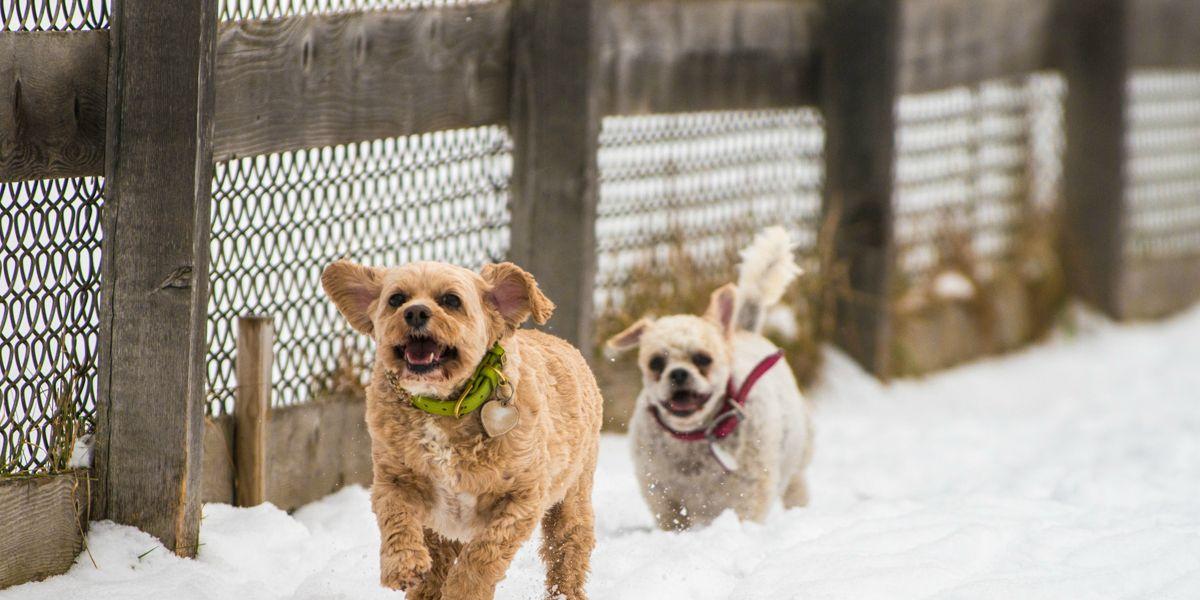 Older dogs like Sammy and Bitsy still enjoy running in the meadows
If you would like to sponsor Bitsy, please click here.