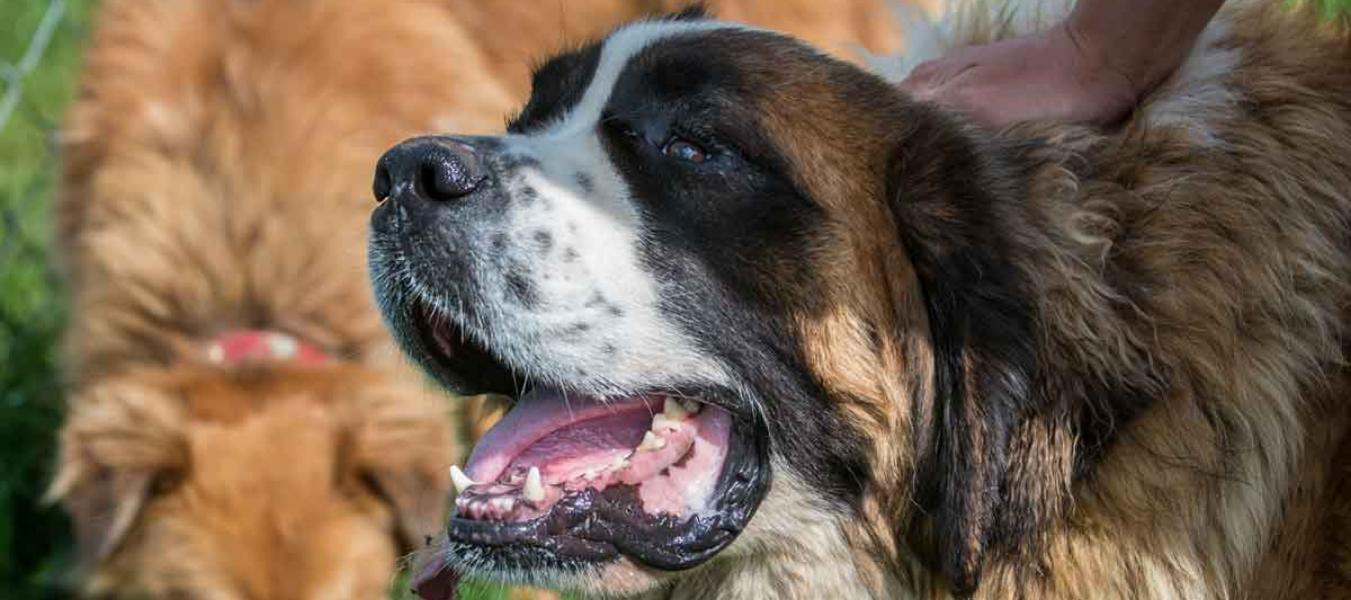 Finnegan is a beautiful St. Bernard who came to Home for Life from the Kendall Animal Control facility in Illinois. He was found as a stray, so no one is sure exactly how old he is, but the thought is he is no older than age 5. He was unneutered when taken in at animal control and was very thin, with a dirty and matted coat.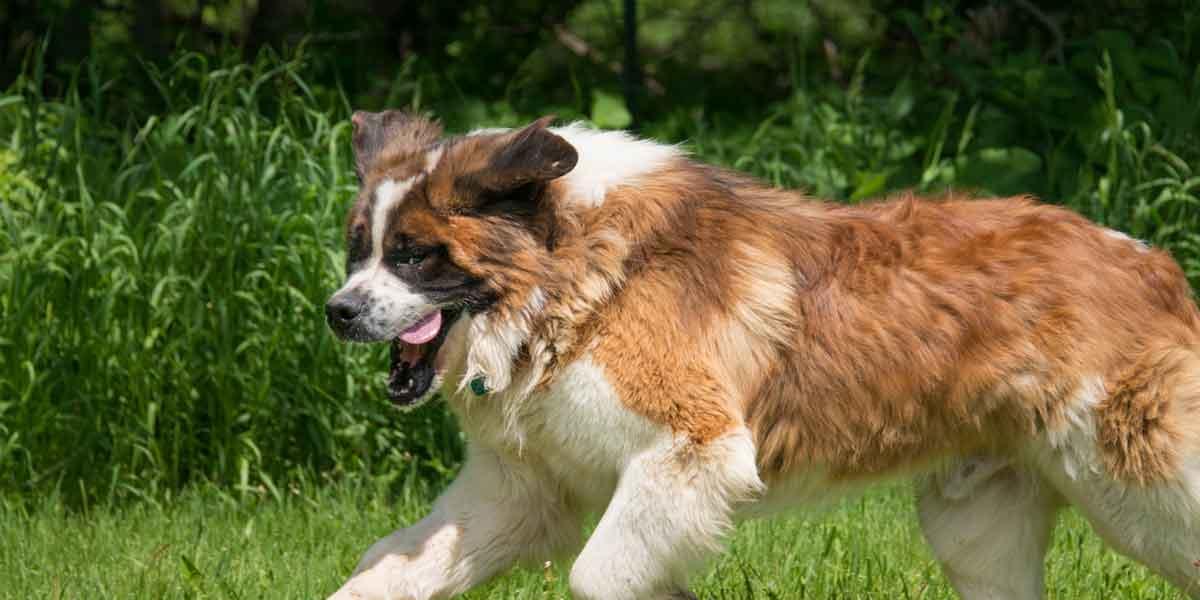 Finnegan, who received his name from the animal control staff, immediately endeared himself to the all the women staff, who fussed over him, as he seemed too traumatized to eat when admitted, The staff tempted his appetite with cheese and other special foods, and gradually got Finn eating a reasonable amount during his weeks with them. He was neutered. As the days went by, Finnegan let some of the employees bathe and brush him, which made him look and feel much better. He didn't seem to mind the kennels at animal control, and on the contrary appeared relieved to be getting the care and attention he had obviously lacked for a long time.
Since he was such a young dog, and so handsome, it was logically assumed that Finnegan could readily find a new home; Kendall's staff reached out to the St. Bernard breed rescue to see if they would help him. But when the representative from the rescue came to animal control to meet Finnegan in the adoption room of the facility, Finnegan backed away from him into a corner, and started barking and growling ferociously. He would not approach the rescue representative, who was a male, even when encouraged by the staff whom he knew and trusted. Several attempts were made to get Finnegan to relax - taking more time, taking him on a walk - but Finnegan seemed to be very intimidated and afraid of the man - and continued his aggressive stature. At this point it was determined that Finnegan was not going to be able to be transferred to the rescue, whose goal would have been to find him an adoptive home.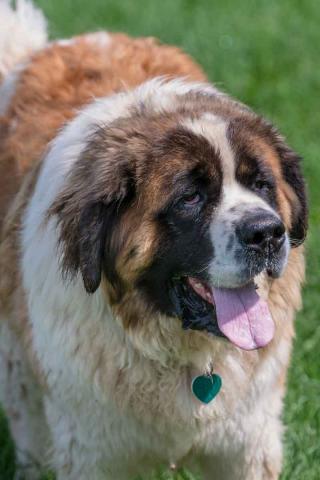 The  animal control employees were now at a loss about what to do for Finnegan. The dog obviously had a profound fear of men. Because he had been a stray at the time of his admission, no one really knew what had happened to Finnegan in his past to cause the fear, but Finn's aggressive posturing towards the rescue representative was of great concern. The staff felt that if Finnegan ended up in the wrong situation, and felt cornered or threatened, he might bite. For such a big dog, this behavior was menacing and potentially dangerous. The animal control staff knew Finnegan as a good and gentle boy, but wondered what could happen to him if he ended up somewhere where his behavior was deemed threatening enough that he would  be put down. There was no guarantee that if he was transferred to another facility he would behave any better or that he would be protected from an obvious trigger - men. The staff tried referring Finnegan to the ASPCA-New York's new behavioral rehabilitation facility located at the St. Hubert's shelter in New Jersey, but they declined to accept Finnegan into the program. At this crossroads, the director of the animal control contacted Home for Life. The staff was distraught at the thought of putting Finnegan down, but didn't want to pack him off to an uncertain fate either. When Home for Life agreed to help Finnegan, members of the animal control staff volunteered their time to drive him to the sanctuary, so they could see where he would now live. Finnegan arrived freshly bathed and groomed, with toys the staff had bought for him during his stay with them, and also all his special foods, blocks of cheese, sausage, and treats - that they had used to get him to eat when he arrived at their facility so thin and desperate. Some of the staff have since visited him to keep in touch with Finnegan and check on his progress. The dedication  of the Kendall Animal Control staff to Finnegan has been very heartwarming to see, and made the difference to his having a safe and happy future instead of a tragic outcome to his story.
Finnegan has been at Home for Life for over two years now, and we are happy to say he has gained more than enough weight back to look like a respectable St. Bernard. With an all woman staff, Finnegan feels safe, and is  gentle and well behaved. His thick and fluffy coat is regularly groomed at the dog beauty salon; initially Finn was challenging for the dog groomers to work with but as he has gained confidence and regained his health, he has learned to trust that no one will hurt him during the grooming session and that the process makes him feel and look much better. He is very proud when he comes back from grooming and barks until everyone on staff has given him a pat and admired how handsome he is! Finnegan is also an escape artist, who likes to get out of amazingly small openings under the fence - somehow he can contort himself to squeeze out of holes that would accommodate a dog no larger than a Shihtzu. The first time Finn escaped was shortly after he arrived - he was found waiting for us in our big fenced off leash field we use to exercise the dogs. It was worrisome because he wasn't yet connected to the sanctuary to recognize it as his home. About a year later, he got out again, during the annual 4th of July festivities which are celebrated by many of our neighbors with powerful fireworks. This time, he knew where he belonged and didn't go far, even though he was scared of all the noise and lights from the fireworks. Our overnight staff easily caught him and put him back in his townhouse.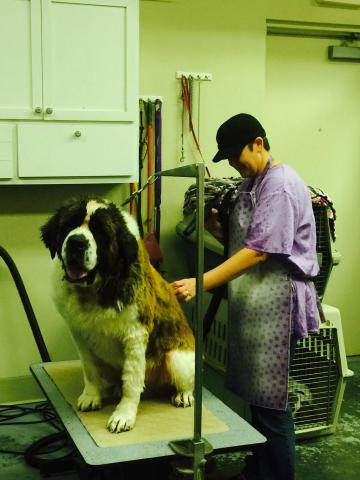 Finnegan has a best friend, his roommate Claire, who is believed to be a  border collie/ChowChow mix with a beautiful golden coat that is nearly as fluffy as Finn's. Claire came to Home for Life from a Minnesota rescue, Ruff Start, whom we were in touch with at the time because of two of their senior dogs we had helped with, the bonded pair River and Smokey. She came up from an overcrowded shelter south of Minnesota to try her luck finding a new home where she might have a better chance. She was only about 6 months old at the time, and though shy, was thought to be very sweet. The rescue, which uses foster homes, found a place for Claire, and she stayed there for many months. But Claire did not immediately find an adoptive family and when the foster was unable to care for Claire anymore in their home, it became tough to know what to do with her. No one felt she would do well in a boarding situation. The rescue believed she could gain more confidence with an assertive foster home, but someone who would dedicate the time to work with a very shy dog like Clarie didn't grow on trees. Home for Life has a special place in our hearts for chows, and believed she could do well with us. Claire bear and Finnegan, who came to the sanctuary at about the same time, have become great friends, and they are about the same age, so share a similar energy level. Claire is still shy, but not with Finn with whom she loves running and playing with in the meadows and in the big dog run attached to their townhouse. They both share a great love of treats and food
The cases of Finnegan and also of Claire raise questions about the rehabilitation of dogs who don't present as ideal adoption candidates due to behavior concerns. The word rehabilitation assumes that the dog can regain a healthy or what is considered a normal state to make them an appealing adoption candidate and safe in a typical home situation. But what if there is nothing to rehabilitate to? No stable or healthy enough state that existed to regain? Can animal welfare still help these types of dogs?
Claire's rescue wondered if Home for Life would work with her so she would develop "confidence", and what kind of training we would do with her to help her more readily meet strangers and not shrink back from people.  With Finnegan, his lack of confidence manifested differently - with a refusal to eat due to stress and aggressive posturing, especially with males, and he needed to be protected from triggers that might result in dangerous and unwanted risk to him or others.  As we told the rescue regarding Claire, at Home for Life, training and rehabilitation is a daily practice, so the dogs are expected to be able to walk on a leash, to be gentle and reliable to work around for our staff when the dogs are being fed, medicated or when their townhouse is cleaned, and to allow handling for grooming and vet care. Within a range, every dog can improve with gentle and consistent treatment so they know what to expect and that they won't be hurt.  But not every dog will be able to "rehabilitate" to meet standards that will make them thrive in an adoptive home.  At a care for life sanctuary, our goal is not rehabilitation to achieve placement, to turn over animals. Our animals are home and that implies that they are accepted for who they are. We believe that acceptance is viscerally understood and felt by our dogs, and they relax and paradoxically become much more receptive to learning and growing.
Image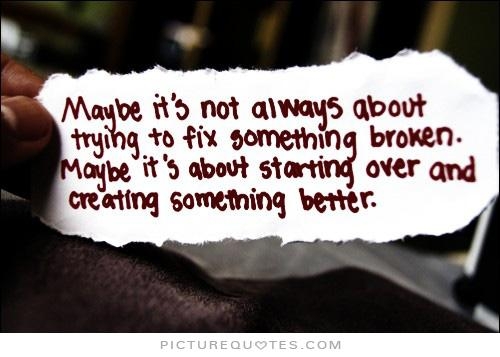 Training with the kinds of dogs we help has already been attempted and either failed or not achieved enough progress to make a dog reliable in the situations they would encounter in an adoptive home.  Even with as much progress as Claire has made, she is still fundamentally very shy, but that is not a behavior we view as a problem to be fixed. Claire is accepted as she  is so with Finnegan and with the regular routine of the sanctuary, where daily life is centered around our animals' needs,she does well and is happy. With Finnegan, it is doubtful that his fears, whose origin is unknown, could ever be overcome to the point that he could be offered for adoption, yet he didn't deserve to have his life ended prematurely either.  At Home for Life,  we have the luxury of time and space to allow our dogs to become the best versions of themselves that they can be. 
If you would like to sponsor Finnegan, please click on one of the links below.