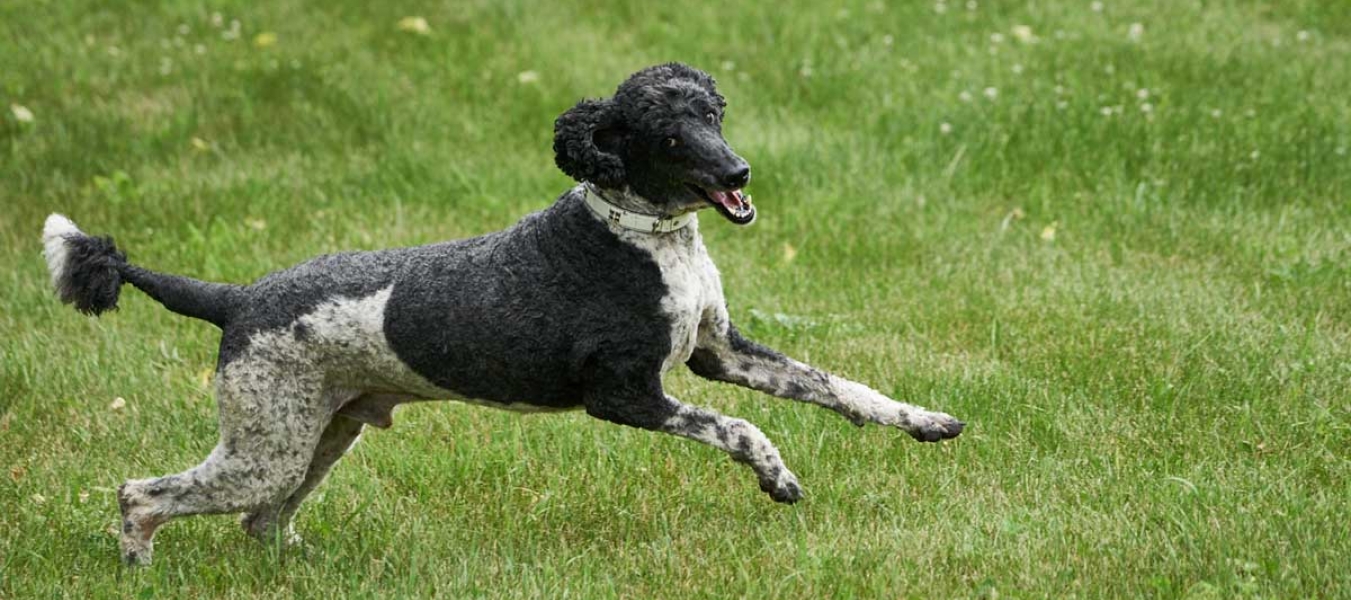 Jacques is a stunning bi-colored Standard Poodle now nearly 8 years old. He is a mono-orchid which means he was born with a undescended testicle so he has many personality characteristics of a stud dog. Jacques was given up by his owner due to many other physical complications - he is partially blind and was born with some heart defects. With the consistent high quality care he has received at Home for Life®, Jacques has been in great health and has been able to live as a normal dog.
Jacques loves to runs in HFL's fenced meadows
Jacques always looks jaunty in his haircuts and is striking with his two-toned color and the big pom-pom in black and white at the end of his tail. But he is no foofoo dog. Poodles were originally bred as hunting dogs, and Jacques is athletic, active and loves to run in our fenced meadows. Over his years with us, Jacques has proved to be a high spirited jolly dog, who nevertheless has had to be carefully matched with other dogs for harmonious living conditions. Jacques thinks he is the boss, and swiftly and very sternly will put any other dog in his or her place who crosses him. For this reason, he has done well living with dogs who are feisty like him, who will earn his respect but not challenge him to provoke him to fight. Jacques participated in our Renaissance Program to learn his basic obedience and worked well with a young man from Totem Town with whom he was paired, and following his completion of training, he has done some work as a therapy dog through our Peace Creatures® program. Jacques is smart and friendly with most people, and we hope that he will soon find an HFL volunteer to partner with to participate in outreach visits on a regular basis.
Jacques' current roommate and best friend is the Cattle Dog/Border Collie mix Skie, a sassy but sweet and shy spayed female, who is smart and active like him. They make a beautiful pair, both in black and white, running and playing together.
Update:
After we lost Jacques' roommate Skie to a sudden onset of diabetic ketoacidosis (Skie had been in good health, and never previously had diabetes so the veterinarians at the University of Minnesota VMC believed there was an underlying cause that created the sudden diabetic symptom), Jacques was bereft and seemed very lonely and lost. He has always lived with at least one other dog, first Posie, a chow mix from North Carolina and BeetleJuice, a collie/doberman mix from the Northshore Animal League, then Skie, and now he had outlived them all and was alone. But Jacques still had a lot of energy and life to live, and even though an older dog, he was not geriatric. Jacques met Holly, and it was a great match: both dogs are about the same age, the same size and have bursts of energy and a sense of play and fun. They are not looking for constant activity and play anymore but don't want to sit around and sleep all day either. We were fortunate to be able to pair them up and have the two dogs bond and form a fast friendship.
As Jacques matured he developed some painful arthritis, and we really felt he would benefit from having more than just his hammocks to rest and sleep on. Even though he takes daily medication for the condition, it was not really enough to keep him in his best form when he was not able to rest on beds with adequate support and cushioning. The problem was that his roommate Holly has pica and loves to chew and sometimes swallow nonfood items. No blanket cushion or even an upholstered piece of furniture was safe from her and she was actually causing risk to herself of a blockage to be allowed to have access to these items. The other issue was that as Jacques had become older, he didn't want to play as much with the more active Holly. We decided, reluctantly, to separate the two friends for their greater good. Holly has a new friend now in Ned, a younger man who can keep up with her and who loves to play, while Jacques has found new friends with Raha's group including Sierra and a younger Giant Schnoodle named Tux. The four friends share a large townhouse and attached dog run, with the three male dogs allowing Sierra to be the queen that she is. Raha also likes to think he's the boss, and the more easy-going Jacques and Tux allowing him to hold that role. Raha is a benevolent ruler and is happy to let his friends live and let live. Jacques now has the friendship that has always anchored him at Home for Life® while also enjoying the comfortable digs—couches and cushions that help him stay comfortable and active as a senior dog. Check out our latest video of Jacques with his friends Raha, Sierra, and Tux below: