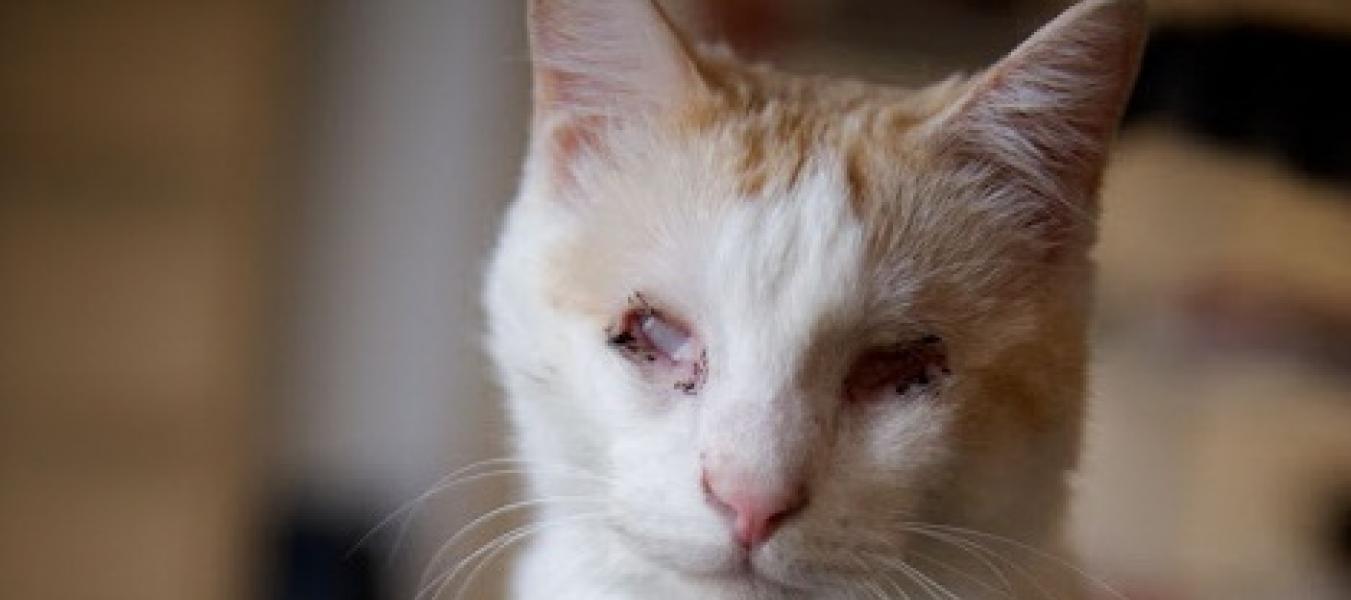 Momo's story begins in Okinawa, Japan, where he was found by some elementary school children. Just a kitten, Momo was also blind (his name comes from the Japanese word for blind "momokun"). Eventually, animal control was called and Momo was taken to the local pound. There, he would have only days to find a benefactor or face euthanasia by gas chamber. Okinawa is a small island only 67 miles long, and the stray animal problem is overwhelming with many unwanted dogs and cats.
Luckily, Momo was rescued. A woman whose husband was stationed in Okinawa had recently founded an animal rescue. A small organization consisting of the woman, her husband, and a few friends, they were paying for each rescue out of pocket. One of the veterinarians at the pound contacted them about Momo. It was speculated that Momo's blindness was the result of an untreated upper respiratory infection;upper respiratory infections are common in Okinawa, where the climate is damp and warm. The rescue group was unable to locate a home for Momo, but they could not give up on him. When they talked with the animal control director about fostering Momo, they were instructed to take a healthy cat instead. They persevered nonetheless, and eventually brought Momo home. They were wary to adopt him out in Okinawa as there is a significant animal abandonment problem, and the rescue could not risk Momo's life a second time. The couple cared for Momo for several months, treating his infection and teaching him basic kitty manners. However, being in the military, their future in Okinawa was uncertain, and they wanted Momo to have a permanent home. Knowing how hard it was to place abandoned pets on the small island, they were hesitant to find a local solution for Momo. Another consideration in their decision to seek a sanctuary setting for Momo was the fact that he had had grand mal seizures while in their care; the seizures were idiopathic- cause unknown.
Since coming to Home for Life®, Momo has had just one seizure, after a day in the car, travelling back and forth to the vet. It seems that if he is kept calm and not put in stressful situations, he does not have seizures. Home for Life® is now happy to be Momo's permanent residence. The rescue organization contacted us on Momo's behalf and flew him to the U.S. to live at our sanctuary. Momo did very well travelling via air from Okinawa to Denver Colorado and then to Minneapolis, Minnesota where we met his flight. Once he has had time to adjust, Momo will see a veterinary ophthalmologist to determine if the remnants of his eyes should be removed. In all other respects, Momo is a healthy, happy cat. Now around 9 months old, Momo loves to be around people and stretch out on his back for naps. He gets along well with his cattery mates, although he has a tendency to nip them enthusiastically. Because he is young and blind, Momo uses all available senses, including taste, to learn about his world. Like all cats, he will learn to "taste" others in a more appropriate manner as he gets older. Momo also uses his hearing as a guide, following his cat friends to learn his way around his new home. He listens for his name and will follow the sound of it when called. In fact, he responds to any friendly voice, even though his first language is Japanese!
Momo has also developed an affinity for holiday music and always ventures closer to the speakers when he hears it. Momo also loves classical music and will get as close as he can to the source of the music, be it a radio or a speaker to enjoy the harmonious sound. Somehow the melodies must soothe him: Mom proves that music is the universal language ( Home for Life® believes in music to soothe the souls of our "savage beasts" and plays music for all the cats and dogs at the sanctuary: their favorites are jazz and classical music (with the exception of opera) and holiday songs!
As you might expect, Momo is especially sensitive to touch. Because he cannot see, the reassurance of being held is very important to him. He looks forward to being brushed and petted every day. We look forward to spending time each day with this special and delightful cat, for many years to come!
Update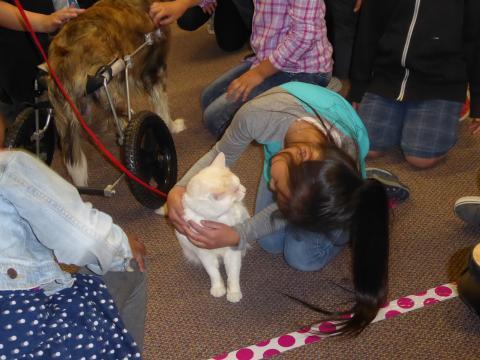 Momokun has continued to experience intermittent seizures: tracking them we have noticed they seem to occur and subside with the moon phases and especially when the moon is full. Neither this medical condition nor his blindness has prevented Momo from serving as one of Home for Life's® therapy cats where he especially enjoys visiting with children and is very welcoming of their attention.  For a blind cat, touch is very important as they can often feel disoriented and lost in space. So unlike many cats in new places and with new people, Momo is receptive to the children who want to pet and hold him.  We find many children are afraid of dogs but like cats and are thrilled to see them as part of the Home for Life Peace Creatures® visits. Read more about Home for Life's® international rescues like Momokun, many of whom participate in our Peace Creatures® outreach programs.
If you would like to sponsor Momo, please click one of the buttons below.