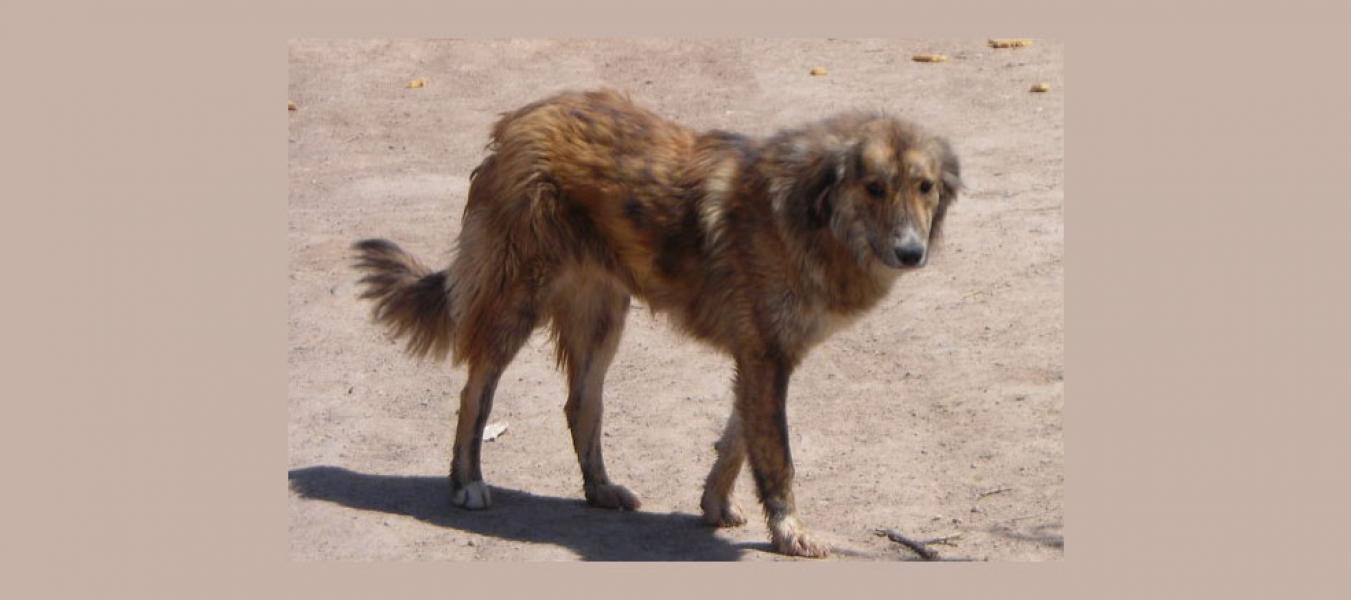 Parichaehr  means " angelface" in Persian. It was her soulful face which first captured our attention on the Vafa Animal welfare site.
Image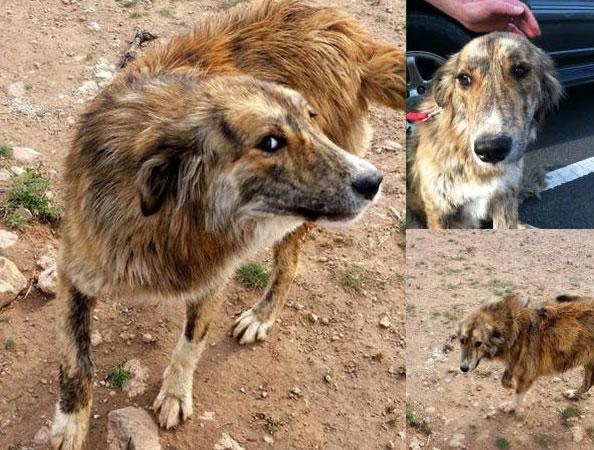 Vafa Animal Shelter located in Iran, cares for over 800 at risk puppies and street dogs at their two shelters. Life in this country is terribly hard for their canine population, who often find themselves neglected at best, and persecuted and abused at worst. Still perspectives and the culture of indifference are slowly changing as many good and caring people like those at Vafa work hard to care for puppies and dogs in need. Home for Life believes in supporting the efforts of rescues internationally, to the extent we are able and wrote about our efforts in a blog post.
Image
Parichaehr or Pari as she is known was luckier than many of the dogs of Vafa who often arrive in deplorable condition and with terrible injuries (Shoja and Mahtab). Pari was found abandoned  and was brought to Vafa as a very young puppy and so grew up at the shelter. However, trying to hold her own as a baby and a young dog, and eating a diet of chicken heads and lentils, left Pari's growing body depleted of many nutrients including calcium that would affect her later in life.
We were able to take on Pari's case when she was just a year old, and she made the long trek to the United States from Iran Via Frankfurt and to the Washington DC area prior to transport to Home for Life. Imagine the shock of new sights and sounds that confronted Pari, a simple "country girl", as she first rode in a jet plane, then flew on a transatlantic flight to the United States. Although those in charge of her rescue and transport were kind and knew that she would soon be in a loving, caring situation, it was hard to help Pari cope with the new experiences she was going through to arrive at her destination. She was understandably unmoored and frightened, far away from everything she had ever known. Upon her arrival in the United States, at Washington D.C.'s Dulles airport, Pari was retrieved by her fosters, new to the Vafa Rescue; they would care for her until she departed on the transport to Home for Life.
Image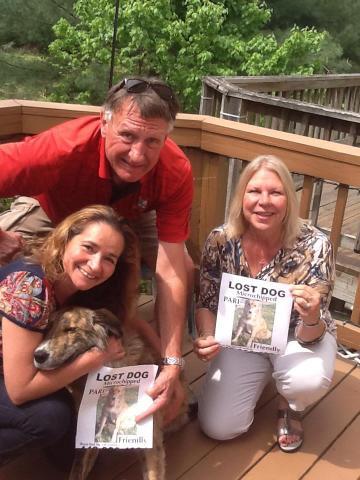 The inexperienced fosters meant well, but were not prepared for the challenge of caring for Pari, who was frightened, uncertain and as part sighthound, fleet of foot. The same day Pari was picked up at the airport, the fosters lost Pari, when she slipped her lead and ran away. She was disoriented, frightened, tired from her long trip, with no idea where she was. She didn't realize that as fast as she could run, she was too far away now, in a different world, to run home, back to Vafa, the only home she had ever known. Pari didn't know any of us yet, and had no bonds or homing instinct to help her return to us- it was a devastating situation, and from Star Prairie at Home for Life, we didn't know how to help. 
Fortunately, Fafah Ravon, now with OnePlanetRescue.org but at the time the US Representative for Vafa, swung into action. She flew out to the east coast from California to coordinate the search effort to locate Pari. For five days, Farah and her volunteers searched the area around Washington DC, Dulles airport and even into the nearby states of Maryland and Virginia and posted LOST Dog photos everwhere. Finally, five days later, Pari was located at last- by a team of search and rescue dogs and their handlers who had volunteered their services, finding Pari thru the scent left on the bedding in her crate from her flight - cowering in a farmer's field in rural Maryland. Everyone was overjoyed and so grateful, happy and relieved that she was found, safe and unharmed.
Image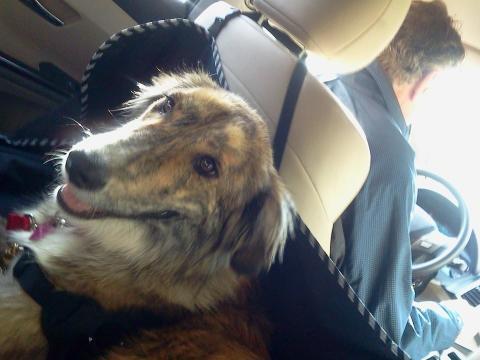 Pari stayed with friend of Vafa and experienced foster Marsha and her husband Stan, and then made the last leg of her journey - which we are glad to report was uneventful! - to Home for Life®.
Pari has thrived at Home for Life, and is the center of activity of her funloving dog group of friends including Dulcie a shy labradoodle, Alborz, who is also from the Vafa Shelter,  Rocket and Tippi.   She seems to be always smiling and is one of the first dogs our visitors to Home for Life meet as she rushes to the front of her run to say hello and then up to the upper exercise areas. As a sighthound, Pari is athletic and active and loves having the space to run and play with her friends. She knows who her friends are now, and where her home is, and while she loves to run, she is always happy to return to us.
Image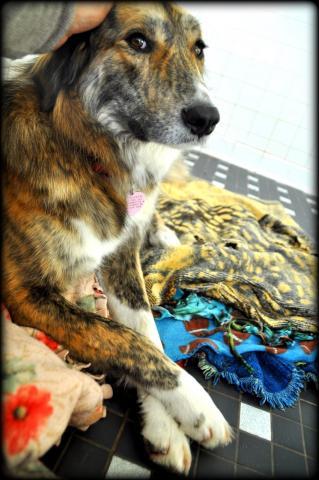 Like many of the Vafa dogs, Pari has an endearing habit of crossing her front paws when in repose, revealing her ladylike side, a contrast to the rowdy, fun loving girl she often is.
Our only set back was six months after Pari arrived at Home for Life- while running in her usual fun loving, joyful manner, she suddenly cried out and began badly limping on her hind leg. Xrays and veterinary work up determined the top of her femur bone had actually broken off -a bizarre and painful injury- thought to be caused by brittle bones from a lack of calcium in her diet as a puppy at Vafa. Surgery at the University of Minnesota Veterinary Hospital was able to repair Pari's leg and restore the mobility of this dog who was only two years old at the time the accident occurred. After an uneventful recovery, Pari resumed her normal activity which includes nonstop fun and activity with her friends. She will always be susceptible to fractures due to not receiving the nutrition she might have had as a young puppy, but building her muscles and strength through daily play and running will support her skeletal frame and the good nutrition she receives now will preserve her good health in the future.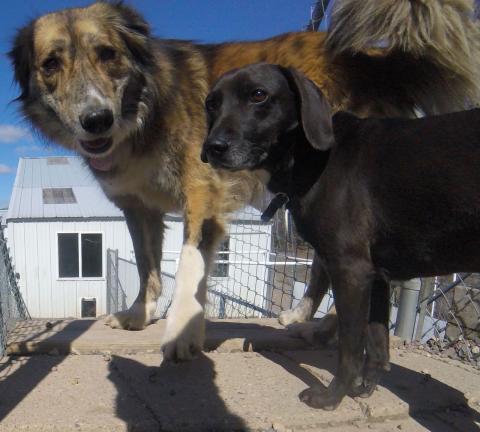 After such a harrowing start to her life, and her new life in this country, Pari is happy to be Home for Life.   
UPDATE
After Dulcie passed away from old age, we decided to reconstitute the Pari's group to include dogs whose energy level was more comparable to Pari and her best friend Alborz. Emotionally, Pari had been very bonded to Dulcie, one of her first friends at Home for Life, but was far more energetic than the senior dog and was also far more robust than the smaller dogs Tipp and Rocket who were older and sometimes stressed by Pari and Alborz and their never ending activity. Rocket and Tippi are now with new dog groups who are a more congenial match in terms of age and size. Pari's new friends are two dogs from the country of Tunisia, Lucky and Amal, who both survived brutal abuse which nearly killed them as young dogs. Those tragic days are behind them now and the four dogs, two from Iran and two from Tunisia, spend fun filled days running and chasing each other. The traumatic events that marked the first part of their lives are forgotten in the happiness they have at Home for Life®.
To meet Lucky and Amal, Pari's and Alborz's roommates and friends click the following links:  Lucky and Amal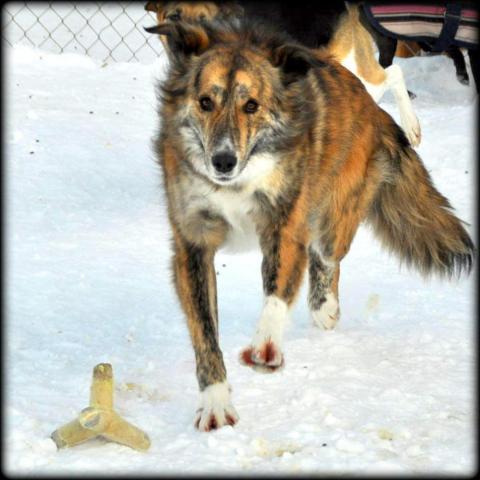 If you would like to sponsor Parichaer, please click on one of the buttons below.