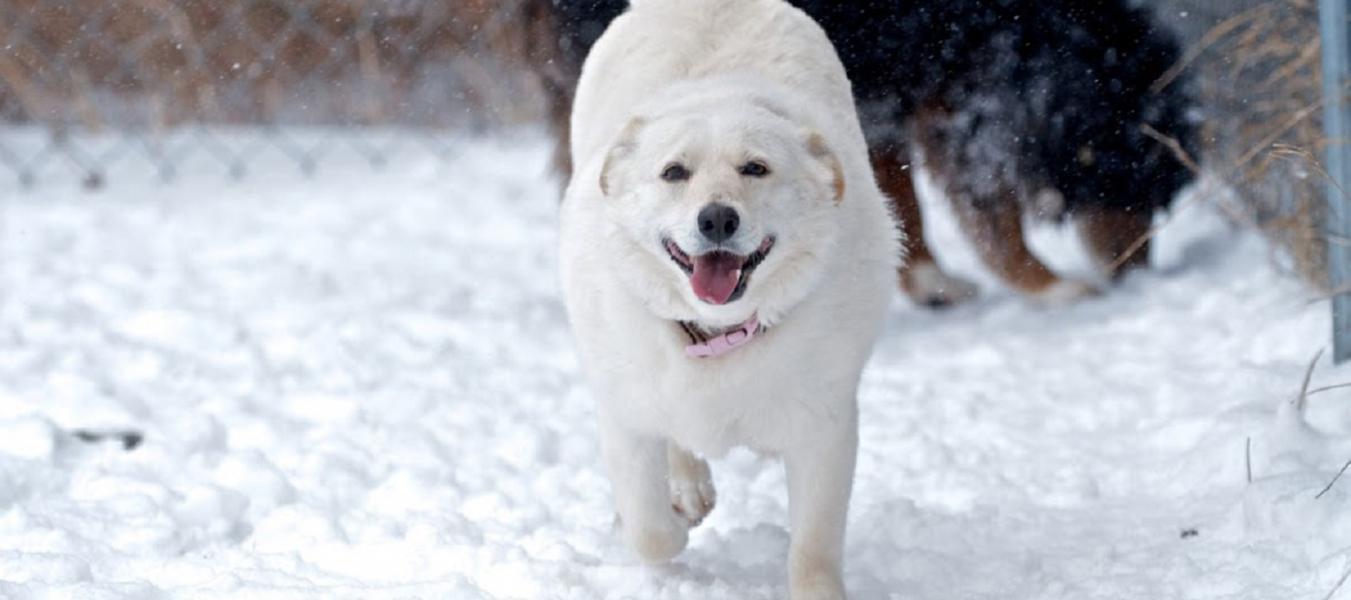 Snowbelle came to Home for Life from the Animal Humane Society in Minneapolis, and is a small shepard mix with a cream colored coat. Snowbelle was confiscated by the Animal Humane Society of Minneapolis in the course of a cruelty investigation along with over 24 other dogs. She was just under a year when seized and was surrendered to Home for Life because of her extreme timidity. In her original home, where she was born and spent he puppyhood, she had never been socialized, treated well or cared for appropriately , and she'd become very afraid of people. We named her Snowbelle after an FIV+ cat from Louisiana , a white male cat named Snowbell who had passed away just a few weeks before the puppy arrived. (This is another tradition at Home for Life- naming dogs after eparted cats and vica versa: See blog post: "Namesakes at Home for Life")
Snowbelle has always loved other dogs; they were probably her friends and teachers in her original home. She was as timid as a wild deer when she first arrived at Home for Life and declined to come near us at all for weeks. With dogs like Snowbelle, who are so shy, they'll learn to trust their caregivers at Home for Life by watching the other dogs. After two years at Home for Life, Snowbelle has at last become much more confident and will make a tentative approach for a pet. Her basic nature with people will always be shy,but she's gentle and easy for us to handle and has even consented to be bathed and groomed by professional groomer Antoinette who's at HFL twice a week to groom dogs. Daphne.one of the HFL border collies, a therapy dog,her mentor and friend/bigsister, has helped Snowbelle gain confidence around people. In these photos Snowbelle saw that Daphne was not afraid of the photographer, and so we got some great pictures of them playing happily in the new snowfall.
If you would like to sponsor Snowbelle, please click here.