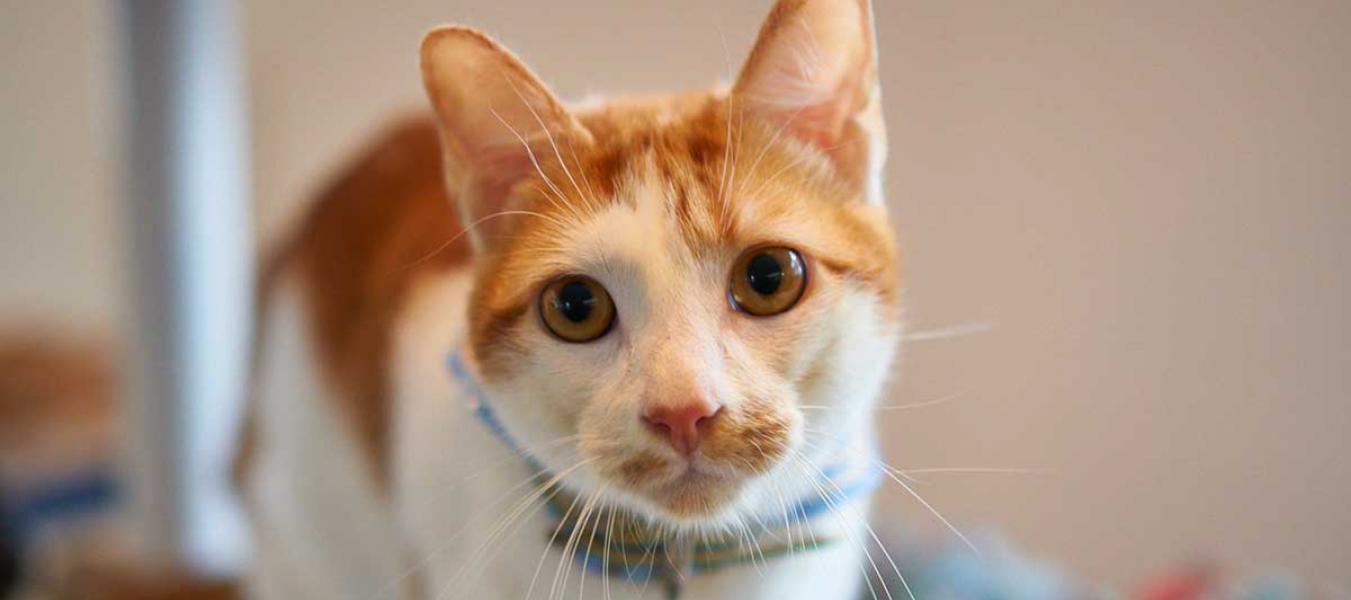 Back in June of 2017, we received the following email from Katie, a 3rd-year veterinary student at Ross University, which is located on the Caribbean island of St. Kitts. Arthur was found on the island by Katie when he was only 4 weeks old, a stray kitten on his own in the world. Adorable as he can be, he suffers from an upper neuron disorder that requires him to have special care to live his best life.
Who would have guessed that just a short few months later, the island of St Kitts would be pummelled by Hurricane Irma and then a second pounding, this time by Hurricane Maria, another Category 5 monster. We initially hoped that Katie or another vet student could care for Arthur, who will be known at Home for Life® as St. Kitts (since we already have an Arthur - Arthur Ashe one of our rescues of last fall from Georgia.)
But as the residents of St Kitts and students of Ross took cover once again from the hurricane onslaught, we thought the least we could do is take the worry for Arthur of St Kitts off Katie's plate and accept him at Home for Life®.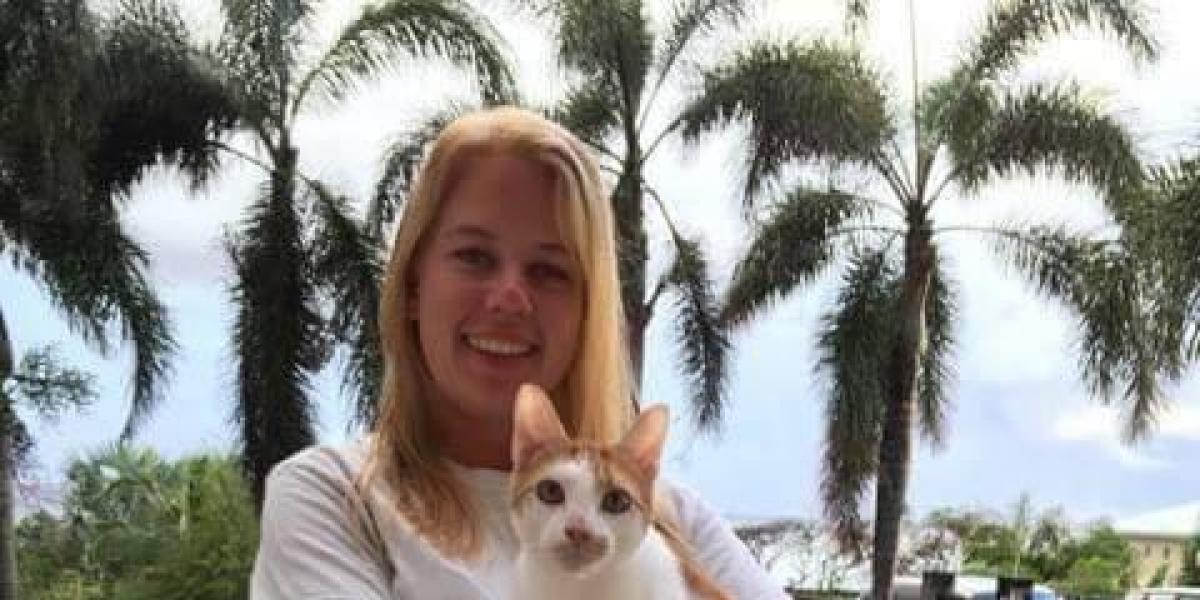 Here is the first email we received from Katie about Arthur: "My name is Katie Moss and I am currently a third-year vet student at Ross University School of Veterinary Medicine. Our veterinary school is located on the Caribbean island of St. Kitts, where there are a plethora of students run animal rescue organizations. I am currently a foster for PAWS (People for Animal Welfare St. Kitts) on the island, and am reaching out to you for your assistance with my foster cat, Arthur. I came across Arthur as an adventurous 4-week old kitten wandering the busy streets of Port Zante, where after a close call with a drainage ditch, I decided to take him home. Other than being skinny and covered in ticks and fleas he appeared to be in good health at that time; however, time showed that he had a neurological problem. Unfortunately, on the island our diagnostic tests are limited, but we have deduced that his problem is most likely congenital. Initially he was incontinent, both fecal and urinary, but with the help of time he is now 99% fecally continent and will occasionally urinate in the litter box. He has an upper motor neuron bladder, which means that he must be stimulated to urinate at 2-4 times a day. Although he has these issues, you could never guess it by looking at him! He is one of the friendliest kittens I've ever had the pleasure of fostering before! He gets along great with my dog and my roommate's cat! He purrs the instant you even look at him, loves giving kisses, and cuddling. To my surprise, we haven't been able to find a home for him on the island, and PAWS is getting anxious about opening up his spot in the program for a more adoptable cat. I would love to keep him; however, my cat waiting for me in the states is not friendly with other cats. I greatly admire what your organization does, and wish there were more organizations like it. I hope that in the future I am able to donate my time and services to your organization and others like it. Please let me know if you can help, or have any other suggestions of places to contact to help little Arthur. Thanks for all that you do, Katie Michelle Moss RUSVM, DVM Candiate 2019."
In the aftermath of the hurricanes, Katie was able to send Arthur (aka St Kitts) with a friend from school who had managed to get a flight off the island to Florida, and who agreed to fly with him to the Twin Cities, Minnesota, 45 minutes away from Home for Life®, where we met her at the airport to pick up our new Home for Life® citizen! In addition to St. Kitt's, Home for Life® has taken in additional hurricane rescues - 3 kittens from Puerto Rico who were feline leukemia positive (Dora, Laura and Thali) and will soon accept a FIV+ cat from that island, Honeybear - doing all we can to help the beleaguered rescue organizations of that island also severely impacted by Hurricane Maria.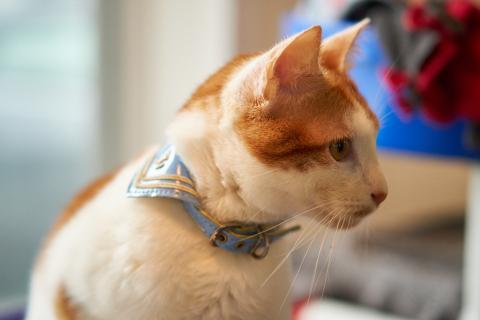 St Kitts, who just turned age 1, and who sports a blue sailor collar in recognition of his Caribbean island heritage, loves Home for Life®, with many new cat friends and always something to capture his attention. He is a long and lean cat with beautiful dark orange mackerel tabby patches against a bright white back ground.  He is an athletic cat, and this summer he has been outside nearly all day and evening in the cat run attached to the North cattery and accessible by cat doors. St Kitts doesn't want to miss anything and will dash inside at feeding time to check out the canned food offering but then rushes back outside to monitor the wild birds, gophers and voles that visit the gardens and feeders.  Having grown up in the Caribbean, St Kitts is right at home in the warm, humid weather we have in the summer. His care to keep him healthy and clean has turned out to be pretty uncomplicated - he doesn't have to wear diapers and with help from staff who express him 3-4 times a day, he is able to stay clean and healthy. Allowing an animal to retain urine in the bladder can cause  many serious health issues not the least is infections, so daily care for St Kitt's is really life critical for him. Home for Life® was created to give animals like St Kitts who can live a quality life, but who need enhanced care that may not be available to them when they are overlooked for adoption. As often happens with the cats and dogs we help, accepting St Kitts at Home for Life®, and ensuring that he will be safe, cared for an loved, also helped a young veterinary student, Katie, who had put her heart into saving his life and who knows that he now has a Home for Life®.
To sponsor St. Kitts, please click one of the buttons below.