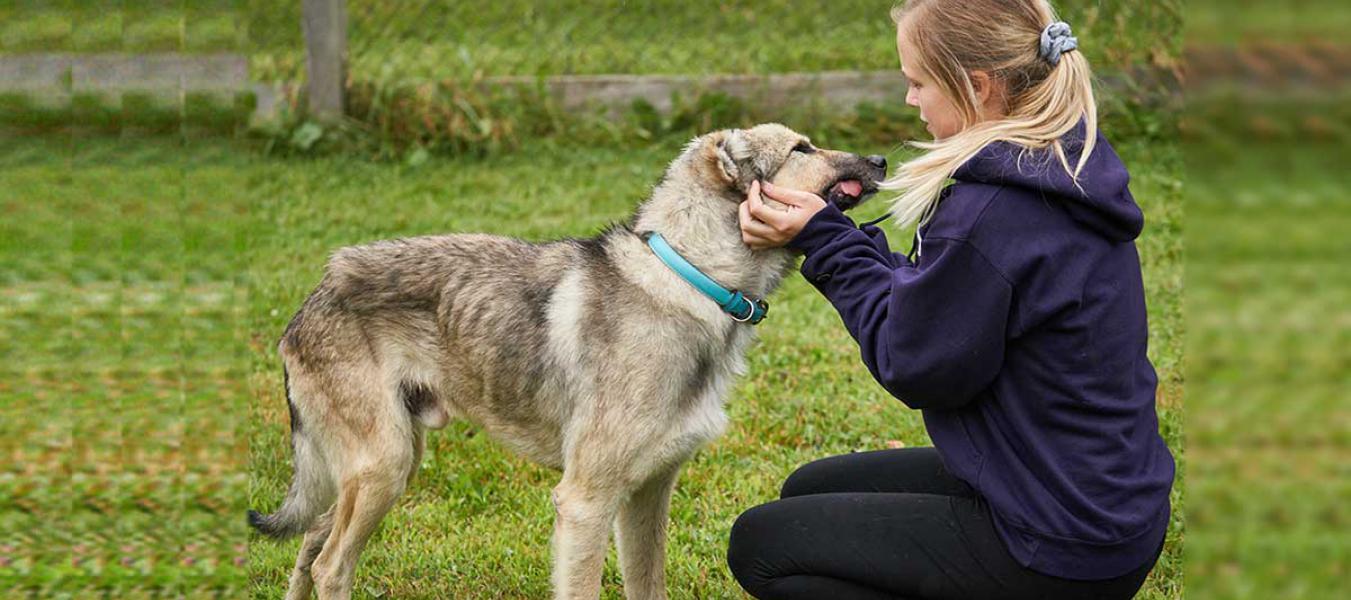 The end of summer had a dramatic conclusion with the admission of Raha to Home for Life. Raha, whose name means " free" and " peaceful" in Persian was accepted at Home for Life from the Vafa Animal Shelter. 
He is a senior dog, estimated to be age now a neutered male and Anatolian Shepherd, a type of shepherd dog found in the Mideast. About 10% of Home for Life's total animal population is from foreign countries.  Read our blog post about why Home for Life helps these special cats and dogs: http://homeforlifesanctuary.blogspot.com/2016/01/home-for-lifes-international-rescues.html.
Click here to Read more and view videos
Read the article about Raha that appeared in the Minnesota Daily!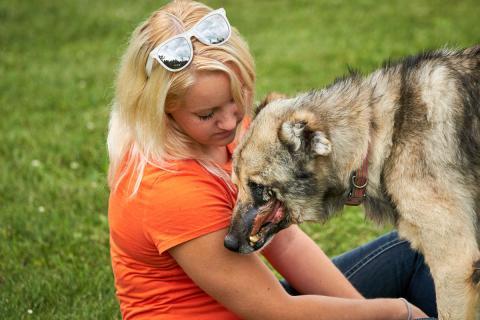 Home for Life has helped many victims of cruelty over our 20 years of existence but Raha is one of the most extreme cases of abuse we have ever seen. Raha was living as a stray, but friendly street dog when some vicious people put firecrackers in his mouth, taped it shut and then set the firecrackers off. It was a near miracle that Raha survived the initial assault but the attack left him with severe facial damage and disfigurement. When Home for Life received him in early August, he was able to open his mouth only 1 centimeter and could eat only a liquid diet. Though the Vafa staff had rescued him from the streets after hearing about his plight, they care for over 700 dogs at their two shelters, and realized Raha would need specialized medical help and ongoing care to survive. He as very underweight, was suffering from a severe infection in his mouth and was slowly starving to death because he was unable to take in enough nutrients to heal and maintain himself. See the Imgur album with photos by Mark Luinenburg taken the day after Raha arrived at Home for Life here: Raha's fire cracker recovery.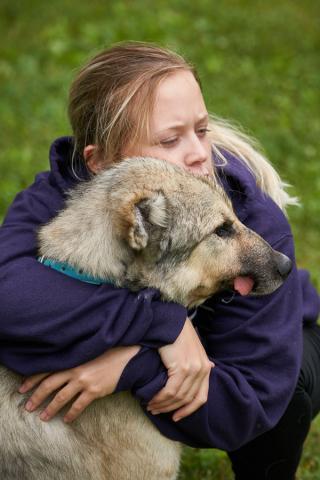 Upon his arrival in the United States, and at Home for Life, we sought immediate medical care for him at the University of Minnesota Veterinary Medical Center. You can view these short videos, narrated by the UMVMC's head of surgery Dr Betty Kramek, below to learn all the details of the care Raha received while hospitalized, the CT scan which provides a 3D image of his skull and the damage he suffered, and learn more about the plan for his further care.
The Rescue of Raha
It's hard to remember Raha's desperate condition on the day we met him just one year ago. Some sadistic people had attempted to blow his head off. They put firecrackers in his mouth, taped his muzzle shut, and then lit the fuse. Miraculously the firecrackers did not explode, but they still did plenty of damage—their intense heat seared away Raha's gums, cracked his teeth, and even burned into the bones of his face and jaw. His injuries left him unable to open his mouth more than a centimeter. By the time we met him, he was slowly starving to death.
Raha was born a street dog in Iran, and he had encountered cruelty before. In fact, his ears had been cut off in a prior incident. He was an older fellow at the time of this latest attack (our veterinarians estimated him to be about age 8). It hardly seemed possible that this lonely, aged street dog from a developing nation could have a future after life had treated him so harshly. But as it turned out, fate had a plan for Raha.
Disfigured and starving, he wandered around for two weeks. Finally, townspeople who had witnessed the attack called the Vafa Animal Shelter for help, and representatives came to his rescue. Vafa took Raha in, but they knew he would need more medical care and ongoing support than they could provide. He was horribly malnourished and he had developed an infection because of his injuries. Vafa reached out to Home for Life® to help with his case.
Raha made the long journey from Iran to Amsterdam, Toronto and finally to Home for Life's® sanctuary in the Midwest, where at last he could receive the complex medical care and extensive rehabilitation needed to restore him to health and happiness.
 
Staring Cruelty in the Face: Home for Life's Emergency Medical Care Fund
Our Emergency Medical Care Fund was established for animals like Raha who need extraordinary veterinary care. Thanks to the generosity of many compassionate donors, we were able to get Raha the help he needed.

Veterinarians at the University of Minnesota treated the terrible infection in his face and mouth resulting from his injuries. Next they cleared away the extensive scar tissue so he could open his mouth. Sadly, one eye and several teeth were damaged beyond repair and had to be removed. Raha was fed a special liquid diet for weeks until he regained weight and strength. His recovery took nearly 6 months, but at last his energy returned, along with his interest in life around him!

There is no excuse nor explanation for the evil Raha suffered, but there is an answer to those who hurt him, tried to ruin his life and kill him, and for anyone who has been cruel to a defenseless animal. And that is the rest of Raha's story, his real story.
Raha's REAL Story
Home for Life® responded to the senseless cruelty Raha suffered by ensuring the recovery of this humble dog whose name means "free and peaceful" in Persian. Even after all he endured, Raha is a kind dog. The same trusting heart that made him an easy target for cruelty has also inspired compassion and protection from caring strangers who were moved by his courage and resilience. We were determined to help him heal and give him a life of purpose and joy. With our supporters' generous help we have succeeded!

Our sanctuary is the first true home Raha has ever known. Here he has found stability, friendship, comfort, and so much more—an opportunity to touch the lives of countless people with his story and through his example.
 
Raha's story,
written all over
his face, tells
the tale of good
overcoming evil.
Raha has become an ambassador of compassion and peace. As the newest member of Home for Life's Peace Creatures® therapy dog corps, he brings hope to people battling adversity: patients in hospitals and mental health wards; families in battered women's shelters; wounded veterans; and students at area high schools.
UPDATE
Today Raha lives a peaceful life at Home for Life where he has friends fun and even the opportunity to give back and represent Home for Life at events like our galas where he was pleased to meet special guests like Dr. Jane Goodall and Ashley Judd! Raha's share as a townhouse with the chow mix Sierra, Jacques the senior Standard Poodle and Tux, the Giant Schnoodle. Raha is the acknowledged leader of this eclectic group but is a benevolent leader, and the other easy-going dogs let him think he's boss.  Raha suffers from arthritis and receives cold laser therapy and arthritis medication which keeps him strong and mobile to join in the fun with his friends and daily lipgloss ointment for his gum where the firecrackers left his mouth so damaged and gum exposed. From the pits to the pinnacle, Raha has remained a down to earth guy who loves his home and his friends and is grateful every day to be Home for Life®.  
See this video of Raha with his roommates below.