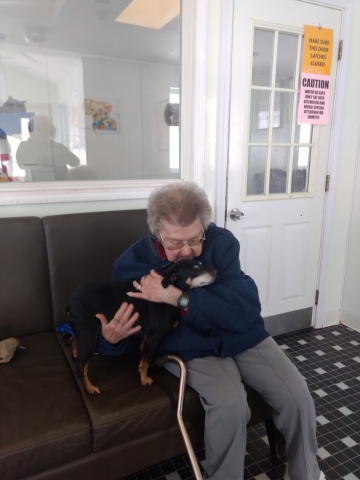 A unique aspect of Home for Life® is the help  the programs we offer provide to both animals and people. The story of Marian and her dog Shadow demonstrates how care for life sanctuaries are in a unique position—like none other in animal welfare—to maintain the bonds between animals and their owners. Sanctuary saves lives, not only of the animals we help, but also the people who love them.
Home for Life® was created to help at risk cats and dogs through responsive, cost effective and replicable model programs which are designed to react swiftly to the ever-changing landscape of unwanted animals who cannot find help through conventional solutions offered by animal shelters and rescues. Read the story of Marian and her dog Shadow to learn more. The match challenge has been extended to September 10. Your gift of any amount, and received by September 10, will be MATCHED—a generous donor has agreed to match all up to $50,000! Your gift will go twice as far and do twice as much to help dogs and cats like Shadow and the people like Marian who love them.
Read the story of Marian and Shadow here.
and make your most generous gift  by SEPTEMBER 10, to be matched  by DONATING HERE.