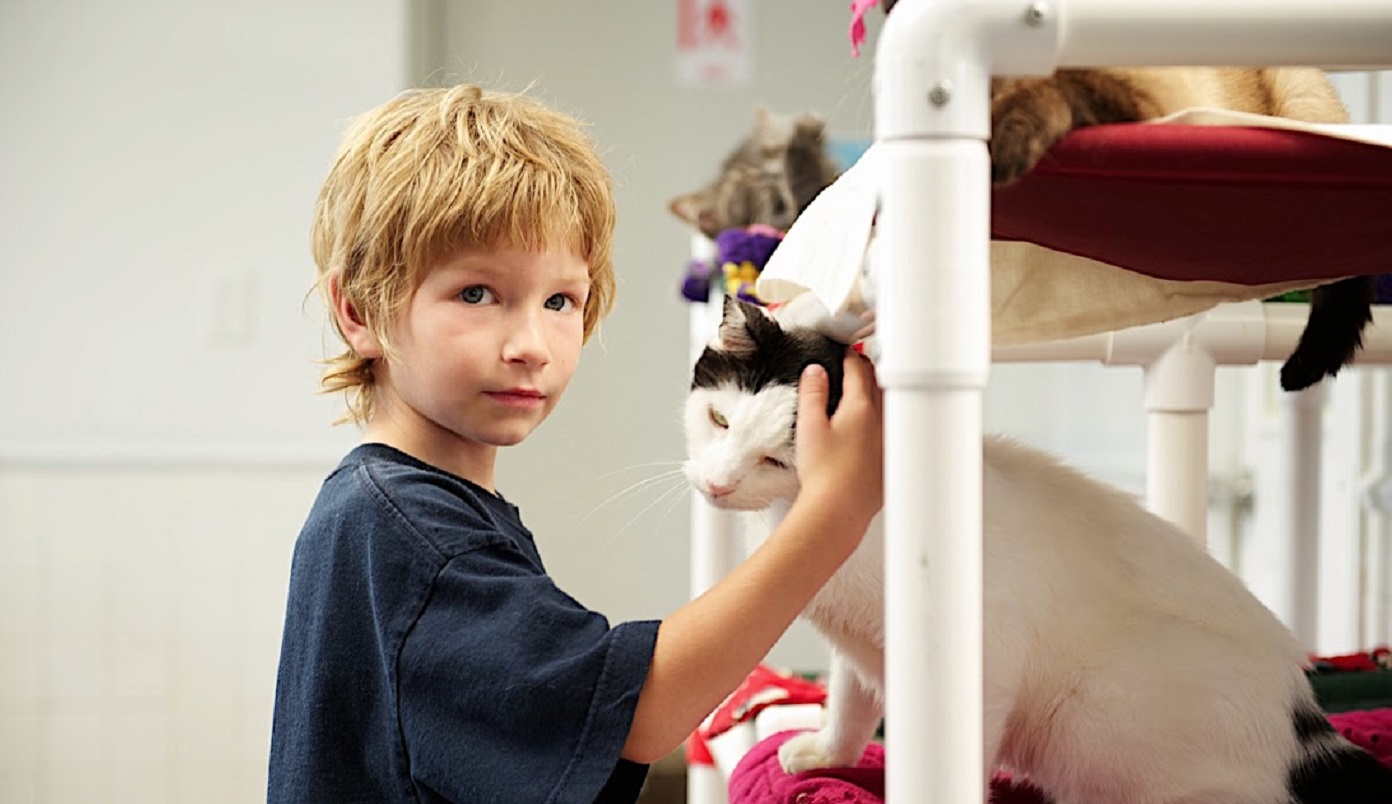 Home for Life Animal Sanctuary is a true home to our animals. To save the lives of as many animals as possible, we need to think more expansively about what a "home" represents for an animal.
From an animal's perspective, a home is a place to belong, that offers  safety, security, and stability.  Many of our animals are not able to live in an adoptive home, and many have come to us after they have become unable to find a new home or keep the home they had. Dogs and cats who may not have been able to succeed in a typical adoptive  home  find understanding and acceptance at Home for Life where expectations are realistic and relaxed, and the schedule and daily activities make them the focus. 
Once a new cat or dog is settled in at Home for Life, their life at the sanctuary is just as fulfilling as the years they may have spent in an adoptive home as they enjoy new found companionship, the freedom to go outside when they want, plenty of daily activity and superior food, vet care and grooming. The stimulation of the daily activity, exercise, and companionship from people, animal friends and many new experiences create all the elements of a fulfilling life for our cats and dogs. Their life may be much different than with their prior family, but the essential qualities that create a home for any animal are present at the sanctuary: loving care, a place to belong, companionship, safety and security.
In early 1999, Home for Life relocated to over 40 picturesque acres on the Apple River near Star Prairie, Wisconsin. The sanctuary is the stunning realization of a long held dream to help animals who have not been able to be adopted but who don't deserve to be euthanized and to create a haven where these dogs and cats can live out their lives comfortably instead of subjecting them to a stressful environment designed for a temporary stay. Home for Life is now the permanent home to about 115 dogs and 85 cats,  including cats positive for FIV and Feline Leukemia. Our mascots include our Sulcata Tortoise "Goliath" and our Moluccan Cockatoos "Penelope" and "Candy." Home for Life believes that the  small sanctuary, scaled to provide individual  attention to our animals, is the most effective way  to  provide care for life for cats and dogs with special needs.
Home for Life abounds with features to accommodate our animals. Most dogs and cats live in common buildings divided into "suites" that have direct access to enclosed open air runs allowing for exercise and  freedom. Dogs that are less reliable with others are assigned to "townhomes" that they occupy in pairs or small groups, ensuring a more predictable  environment without sacrificing comfort, outdoor access and freedom.
There are also separate living area for our cats with FIV and Feline leukemia. Typically rejected at shelters and rescues  because these diseases are communicable, cats with these conditions at Home for Life are housed together in separate facilities that include all the plush amenities of the rest. Every living area for our dogs and cats is  temperature controlled to be cozy and warm in the winter and cool in the summer, designed to maximize fresh air and natural light via large windows and skylights and are equipped with air purification systems, heated floors, piped-in music, furniture, and 24-hour surveillance. The sanctuary is staffed 24 hours a day. A popular feature for the Home for Life dogs  is the opportunity to access the expansive  fenced fields and meadows that surround the  facility. Each outdoor off leash area- Home for Life's own dog parks- offers our canines want they want more than even treats- the chance to run their hearts out.  
We think it's  important for people to see  Home for Life and how happy and content our animals are, yet it is important for us to maintain security and  the tranquil environment because the sanctuary is our cats' and dogs' home. Therefore, visits are offered with the following guidelines:    
Home for Life® offers escorted tours to our sponsors and donors beginning the first weekend after Memorial Day through about mid October each year every Wednesday and Saturday at 1:30 pm, and other days and times if requested. All tours are by appointment; please call or email to schedule a time to visit us! For new friends and those curious about the sanctuary and our work, we host an open house each summer: please check our Events for more information.
These tours are facilitated by our staff and offered on a scheduled basis.
To schedule a tour, call our toll free number: 1-800-252-5918 or send us an email at info@homeforlife.org.
The Home for Life facility features:
Catteries, with futons and comfortable PVC trees and hammocks designed for easy cleaning
Doggie suites and townhouses. The townhouses are designed for dogs who need to live either solo, in pairs or in small groups, due to difficulties with other dogs. 
A separate building for cats with feline leukemia, who must be house apart from other animals to prevent the spread of disease.
Dog and cat runs attached to the animals' living areas and accessed through pet doors
Four off-leash "bliss" areas,  fenced  meadows where dogs enjoy running in Home for Life's open fields. 
All buildings for all our animals are temperature controlled to be cool in the summer and warm and cozy in the winter and feature   air purification systems, piped in music and security cameras and or three main buildings have heated tile floors. All our buildings have been designed to maximize fresh air and natural light via large windows and skylights.