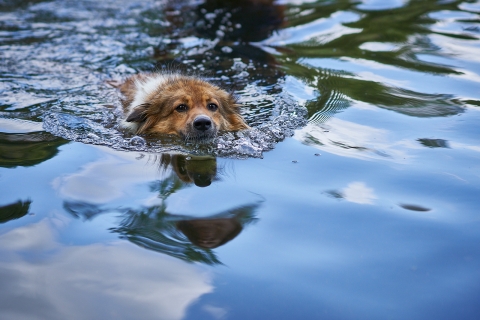 Left: Home for LIfe's® 2-legged Sheltie, Poppy, swims in the Apple River

Home for Life's Best Pool Party of the Year—the Third Annual—and our new event the Caribbean themed Sunset Swim Party are September 8th and 9th and both events are SOLD OUT! 
We got the idea for a pool event after seeing how much our dogs loved to swim; we didn't think there was a need for yet another walk or K95K, but wanted to host an event that would be fun for people and their dogs to attend together. Who knew that our 3rd Annual Best Pool Party would sell out in two weeks! We added a second event, the same weekend, the Sunset Swim Party, and that's sold out too! 
Our supporters look forward to the pool parties, a celebration of the end of summer, all year. It means a lot to us to know that these events bring such happiness to people—it is wonderful to see so many joyful dogs! And to think the idea all started with swimming with our dogs in the Apple River!