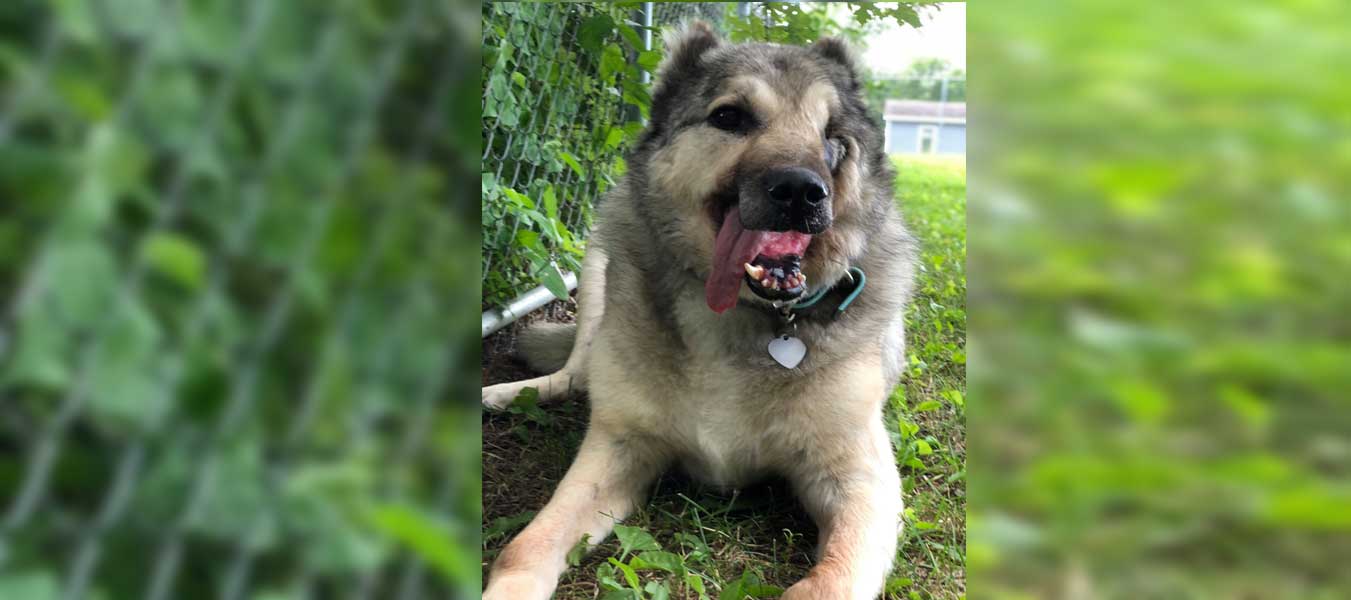 Above: We will miss Raha's beautiful smile.
Raha, the most recognized animal at Home for Life®, passed away at the sanctuary about 10 days ago. Raha was estimated to be 13 or 14 years old. Includes post from Vafa Animal Shelter including video and photos of his rescue in Iran.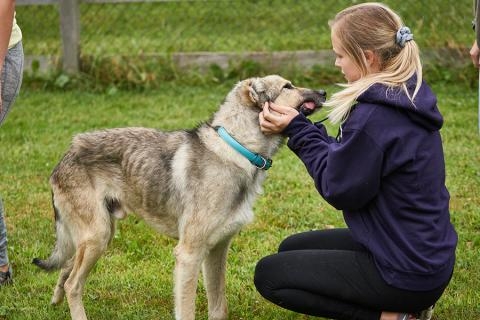 He was suffering from severe arthritis and was on the maximum amount of medication to treat the condition plus special food for arthritic dogs. He had sessions of cold laser therapy each week and slept on his own orthopedic cushion, All these therapies however did not relieve his discomfort, and he seemed to be in a lot of pain in the last 2-3 days of his life. In the end, Raha had stopped eating and was breathing very heavily, from the abdomen, yet bloodwork including a 4DX to check for tick-borne illnesses was normal. We had also had him reevaluated at the University of Minnesota Vet Hospital, to check for conditions like immune-mediated arthritis. The recommendation was for Raha to lose some weight. For a dog who had suffered so much in his life, it was important to be sure he did not endure a painful end so we chose to let him pass peacefully with help to cross. Near the end, he was very detached which was so unlike the Raha we knew. He was at the end of his life and ready to let go.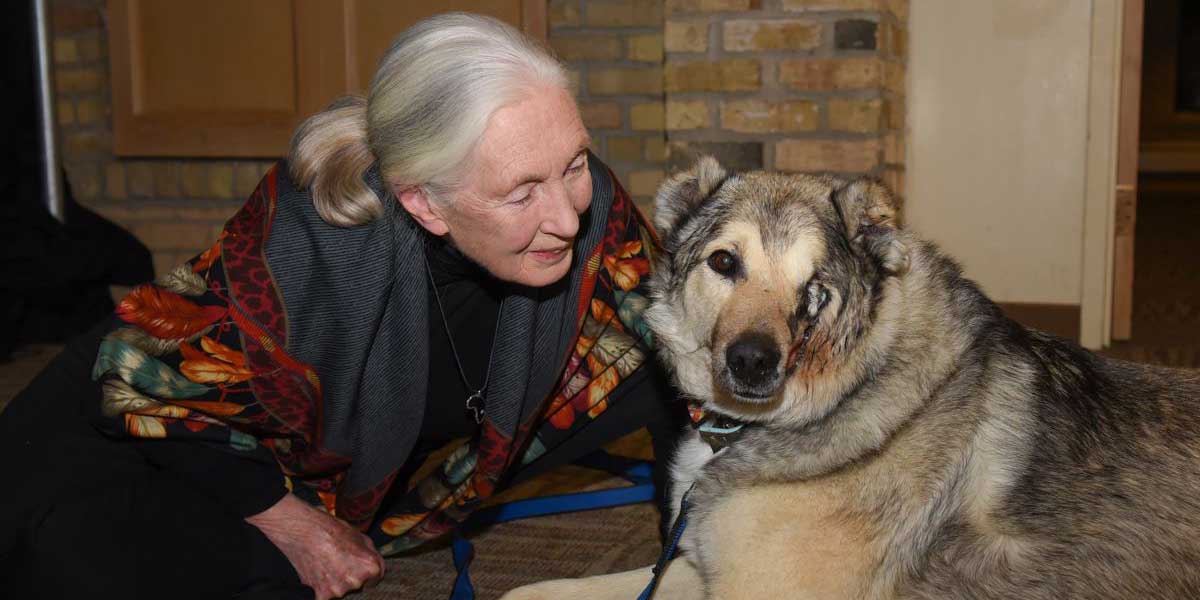 At this point, further intervention would have been for us and not for him. Already older, probably over age 8 when he came to Home for Life® in the summer of 2017, and already arthritic, Raha had lived the hard life of a street dog in Iran for many years. Someone had already cut his ears off. Older, slower-moving, and friendly towards people, he was vulnerable and became a victim of shocking cruelty that left him with terrible facial deformities. The firecrackers that had been tied in his mouth and then set off did not explode but caused extensive trauma including severe burning to the tissues. When he arrived at Home for Life®, we found that he was suffering from a terrible infection and couldn't open his mouth more than a centimeter.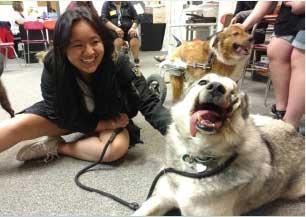 Vafa Animal Shelter had taken him in after he was injured and they were feeding him with a syringe; however, Raha was a big dog and needed far more calories than could possibly be administered that way. He was slowly starving to death. It took us months of intense rehabilitation and a complicated surgery but Home for Life® was able to save Raha's life with the help of many skilled veterinarians. We gave him a life.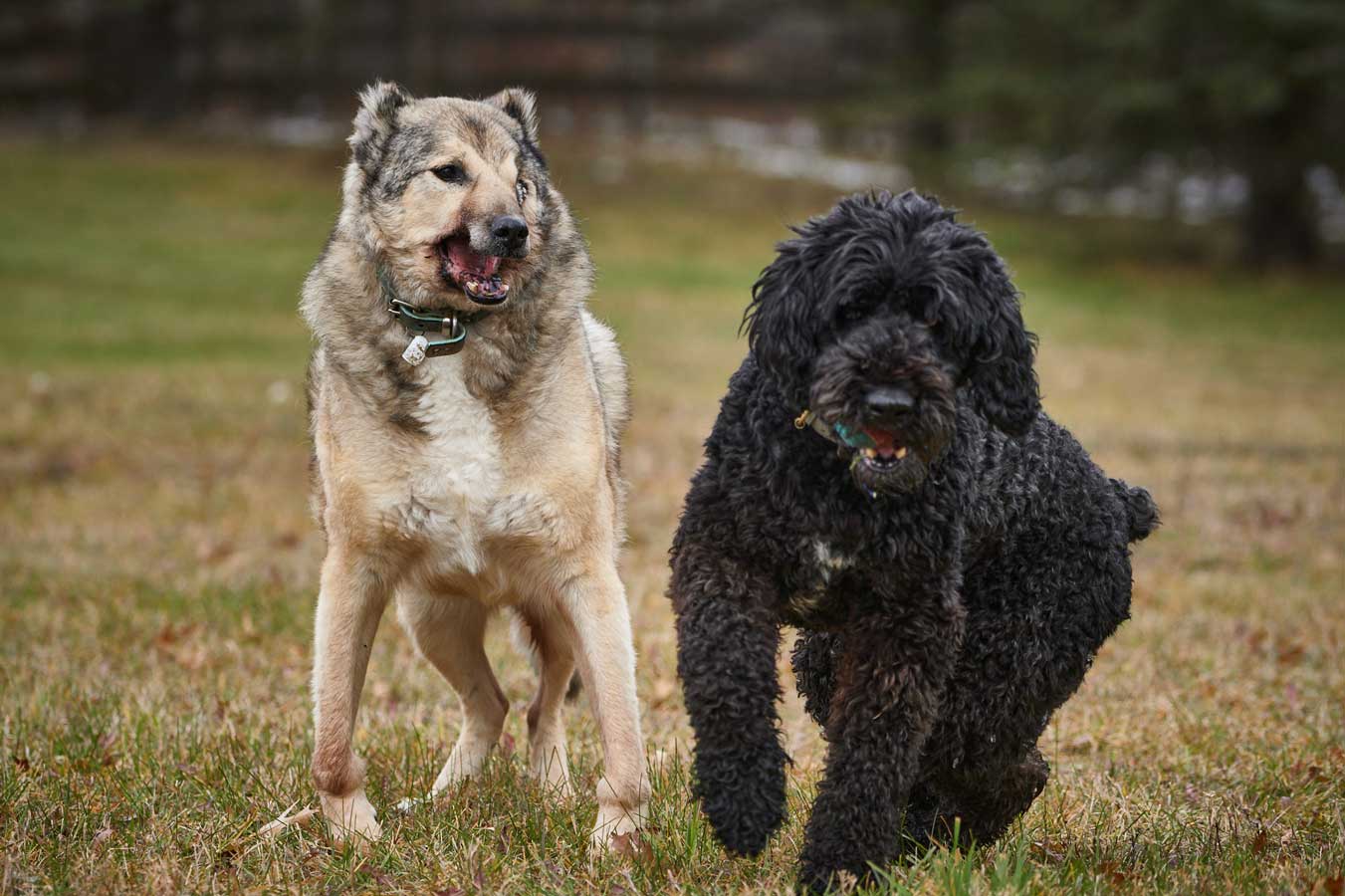 In spite of what had happened to him, Raha still loved people and served as one of our therapy dogs until he became too arthritic to ride in a car and move around comfortably at our outreach sites. He even had some brushes with fame, meeting actress Ashley Judd and Dr. Jane Goodall at Home for Life's galas. We could have never imagined the impact Raha would have on so many people when Vafa asked us to help him back in 2017. Raha was so well known because of the evil he had survived which maimed him so horribly. But he wasn't a victim and I think that overcoming the injustice that he had suffered is what touched the hearts of anyone who met him.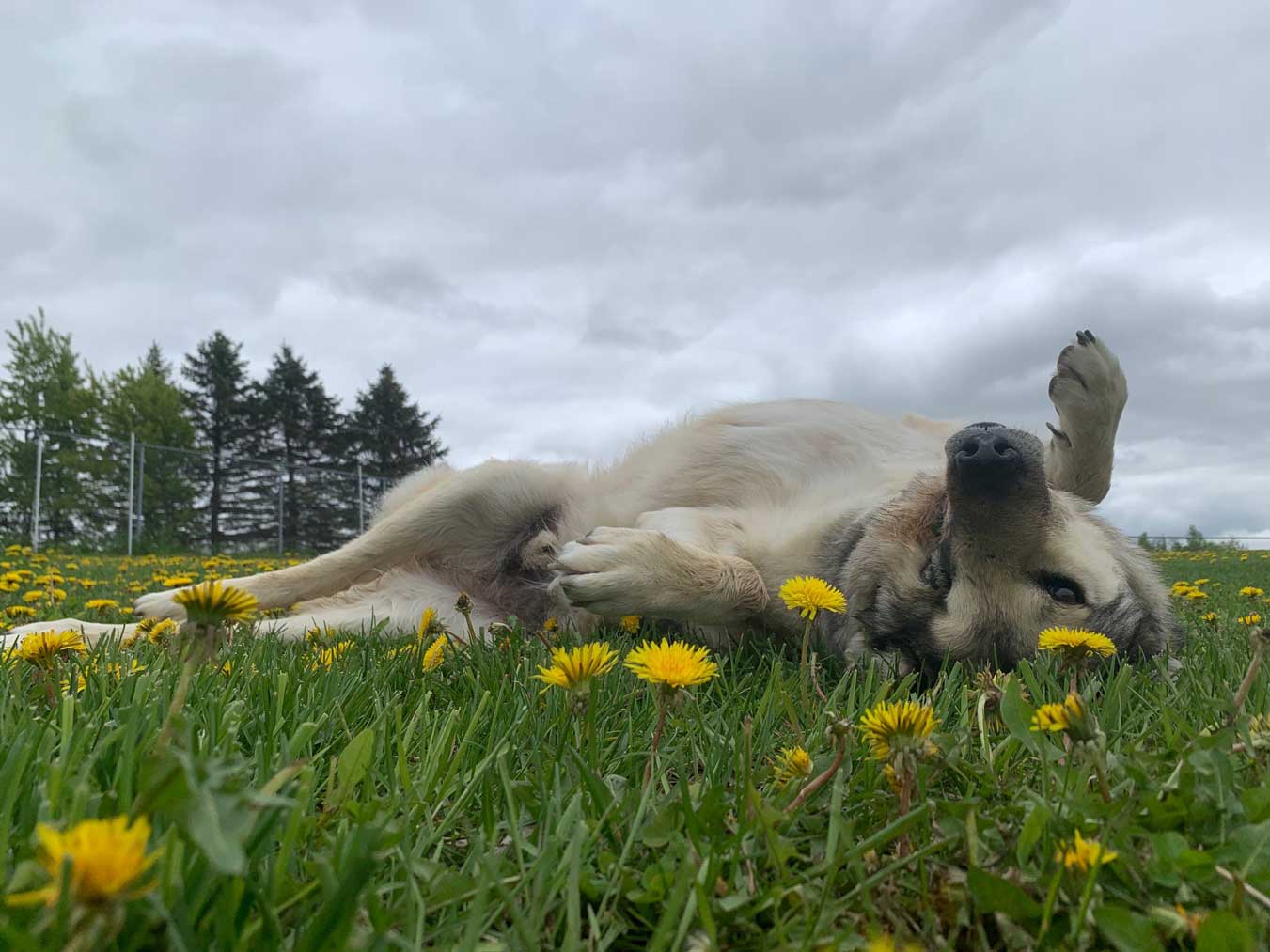 Thanks to the many people who were inspired by Raha and who loved him as we did. Home for Life® was able to ensure that the brutality inflicted on him never defined him and was not the end of his story. Raha's beautiful smile and his soul will always live in the hearts of those who cared about him.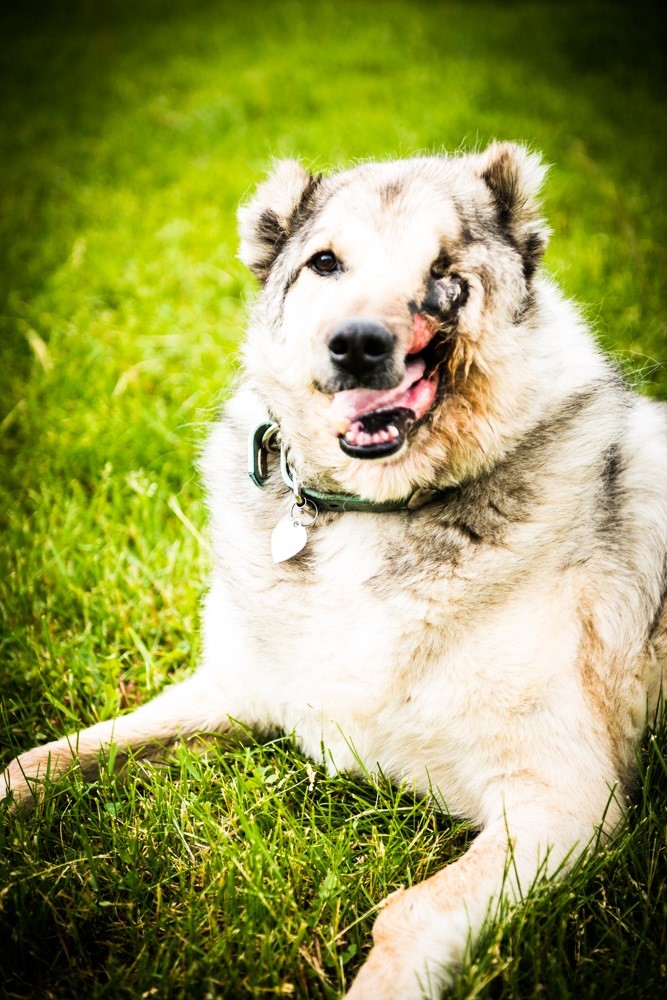 Raha by Vafa Animal Shelter (see video below)
When Reza Davari and Mohammad Reza Raminnia went to a small town in Abhar to rescue an injured dog, they saw a calm dog that had lost half of its face. The village residents told them that on "Charshanbeh Soori" (firework festival), some people tied firecrackers to his snout so that they might laugh a little and have fun with the explosion.

Volunteers named him Ghahreman (hero) and transferred him to the Vafa shelter. But unfortunately, his condition was not well, and he could not eat, so he was sent to Tehran several times for treatment. Finally, in Vafa, they did everything possible for him, but after receiving admission from the Home for Life® sanctuary, Gahreman(AKA Raha) left Iran for America.

Farah Azari and Majid Hooshmand were with him at the Tehran airport. Then, a kind passenger took him to Toronto. Finally, Raha arrived in Toronto on August 4, 2017, and Vafa's friends in Toronto welcomed him. They were all upset to see such cruelty inflicted upon an innocent creature. Mr. Touraj fostered him for a few days, and Vafa's friends did not leave him alone for a moment until Amir and Farnoosh finally sent him to America.

In "Home for Life®," Raha had freedom. The staff and volunteers did everything for him during his five years there. Raha was about eight years old when he arrived in the United States. Burning half of his face, losing an eye, having a severe mouth infection, and arthritis were not the only illnesses he faced.

With a deformed face and sticking tongue, he soon became a prominent figure, The symbol of a victim, the victim of the ignorance of those who have not been taught that the life of other creatures on earth must be respected. They have not been taught that life for every animal on the planet is sweet and that even if you do not appreciate all life, at least do not harm them. These individuals have not heard that Gandhi once said, "The greatness of a nation can be judged by the way its animals are treated."

Raha became famous. He was one of the most popular dogs at Home for Life® at every party and event. Famous and prominent figures in various fields, such as Jane Goodall, the ambassador of the United Nations and animal behavior scientist, and Ashley Judd, the Hollywood actress, have a photo with him.

Although Raha was happy and had a good life in Home for Life®, his problems worsened as he got older, until he died in early April 2022. We thank our friends at Home for Life® for their love and kindness, efforts to alleviate the suffering of injured animals, and everything they did for Raha.

Dear Raha, we will never forget you.
Rest in peace, innocent soul.
Home For Life® Animal Sanctuary