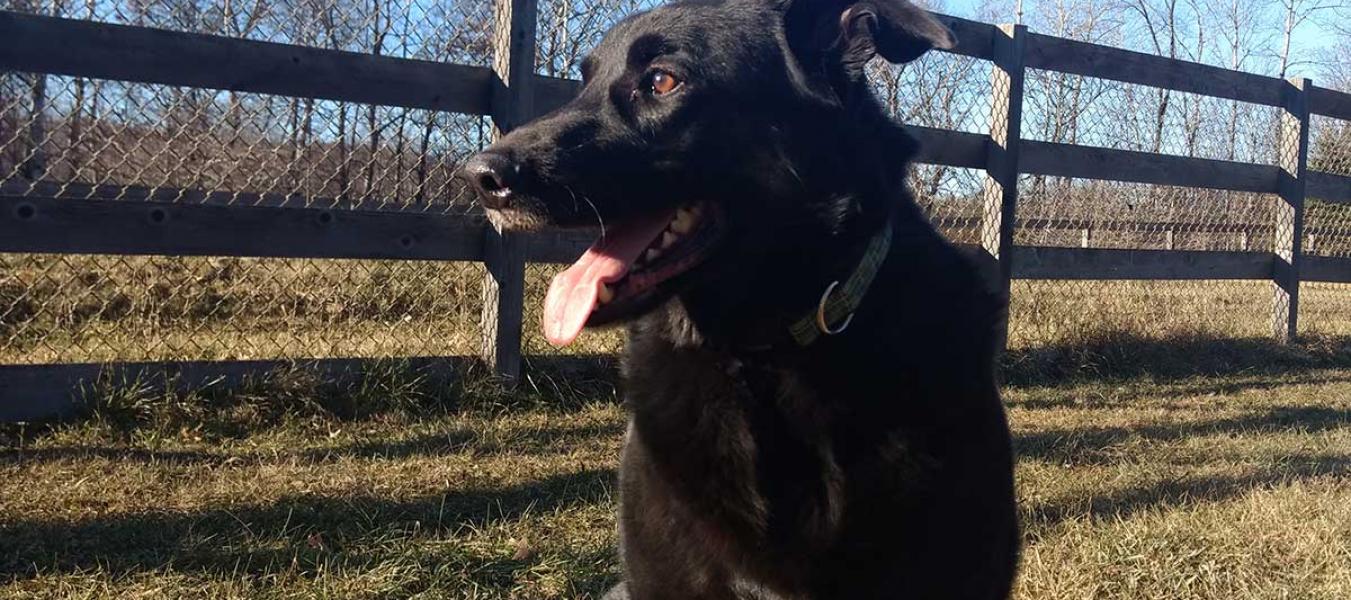 Here's a dog who really needed a Home for Life®, the 3rd Door in animal welfare. You might imagine it's Mana, the two-legged dog in the wheelchair. But no, the dog who really needed sanctuary was her friend Pickles, the black lab/shepherd mix. At the age of 5 years, Pickles had exhausted options available to him in a rescue world predicated on adoption and based on a market place model. Adopted as a puppy with his sister Olive, Pickles lost his home when only age 4 when the family split up and lost their home. Pickles and Olive were fortunate to be accepted by the Rescued Tails organization who enrolled them in their innovative prison program at Lino Lakes Correctional Facility where they lived with the inmates and received dog training and socialization to prepare them for placement. Both dogs did pretty well although they didn't like people in reflective vests. Rescued Tails was able to find the siblings a home together, and Olive remains in that home to this day. But Pickles had a more difficult adjustment, and was returned from his adoptive home after he was alleged to have leaped at a delivery man and grabbed a man while on leash on a walk. Although it wasn't a "bite", it was still a worrisome incident for Pickles' adoptive family and a situation they didn't want to deal with again. The rescue was full however, so Pickles had to go to a foster home. There he stayed for the next several months, well and lovingly cared for, but crated for many hours a day with a foster who worked full time and with other dogs in the home who were dog aggressive. Although the rescue highlighted Pickles in need of an urgent adoption, there were no takers. 
There was Pickles, age 5, not a young dog but not a senior either. He had been adopted twice, been in rescue and two foster homes (counting the prison)  and now was without options. What was his fate? To reside in a crate for the rest of his life, hoping for the magical day when he might get adopted? As a middle-aged, black, large and mixed breed dog, full of energy, his placement prospects were very bleak.
What we are seeing is that, often, it's not the disabled or old or those that derive from dramatic circumstances like natural disasters or extreme abuse (for example the dog meat trade rescues) who desperately need sanctuary, the 3rd Door of animal welfare, but dogs and cats like Pickles - the regular animals who find themselves boxed out of the animal welfare discussion and without options. Dogs and cats like Pickles who have been through multiple placements and who lose their home(s) through no fault of their own are not unusual at Home for Life®. ( http://homeforlifesanctuary.blogspot.com/.../why-sanctuary.ht...). Pickles does so well at Home for Life® and we have seen none of the problem behaviors that he was accused of in his previous home. He IS a very energetic guy who loves to run and play and would probably find life hard to bear in a home without an opportunity for plenty of exercise and play. But at Home for Life®, with the chance to go in and out via a dog door from his townhouse whenever he wants, and friends like Mana to play with all day long, he is able to work off that exuberance through appropriate outlets. His foster worked with him and he is very responsive to all treats, always has a big smile on his face and a happy bark for us. He sits nicely for attention and pets, his tail wagging, in anticipation, at top speed like a cartoon dog. Pickles also has really helped us manage Mana who, despite being a paraplegic is strong and intense and sometimes overbearing in her interactions with other dogs when she wants to play. She is about the same age and size as Pickles, and they have really clicked as a pair, keeping each other busy and in great spirits, playing all day long. Pickles has achieved behavior modification with Mana that reprimands and training could not have produced. Pickles is her match in energy and is not intimidated by Mana, but instead thinks she is a ton of fun.
Pickles is just one of the "invisible animals" of rescue who recycle through adoptions, fosters and shelters multiple times in their short lives, yet fail to find help in a system that is often unable to offer them any recourse. The third door of animal welfare, animal sanctuaries, can help give many of these desperate animals like Pickles a place to belong and a home for life .
To see Pickles and learn about his story shines a light on a widespread phenomena in animal welfare which leaves scores of cats and dogs just like him adrift with their lives at risk in the name of "rescue." It's real, rather than data. As a care for life sanctuary, standing at the end of the funnel, so to speak, when animals can't find a new home but shouldn't be put down, we hear about cases like his that may escape the notice of the average animal lover with a passing acquaintance with "rescue." Because the truth is, everywhere animals are being "rescued" but not truly saved, and there is a difference. Read more about the invisible animals of rescue: http://homeforlifesanctuary.blogspot.com/.../the-invisible-an...
To sponsor Pickles, please click one of the buttons below.