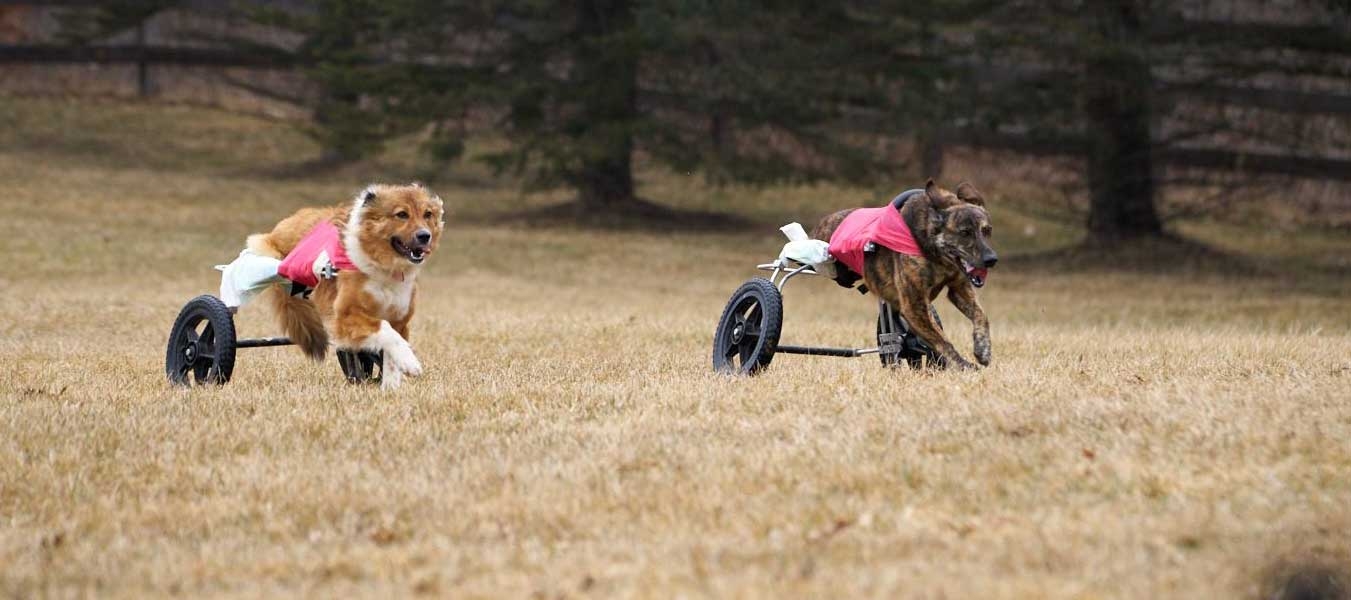 Above: Poppy and Soosan another of our 2 legged dogs
Poppy was rescued as a small abandoned puppy. Found in Iran, she had been struck by a car and left for dead. The guy who found her said as he was putting her in to his car, the villagers came over and told him that the dog was hit by a car about 10-15 days before—she yelped and went in to hiding. They claimed they hadn't seen her since then! We guess she wasn't more than 3 months old at that time. The picture taken of Poppy at the time of her rescue shows a fragile, shy puppy lucky to be alive.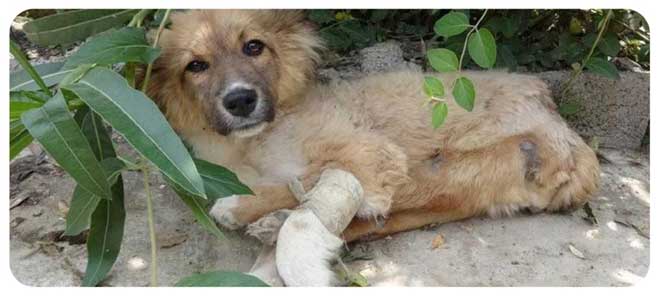 The accident damaged her pelvis and caused her knees to turn at a 180 angle. Two of her vertebra were apart and seemed dislocated. She was then taken in for MRI in Iran where the accident had occurred.  The scan revealed severe injury to her spine. The vets in Iran's Vafa Shelter did perform a surgery and fixed her vertebra and protected them from infection and sublation of her bones. They then scheduled amputation of the back legs in August of that year. The intention had been to take both the legs off at onetime but while she was under, the vet decided to stop after amputating one leg(due to overbleeding) ... the 2nd leg was finally removed a few months later.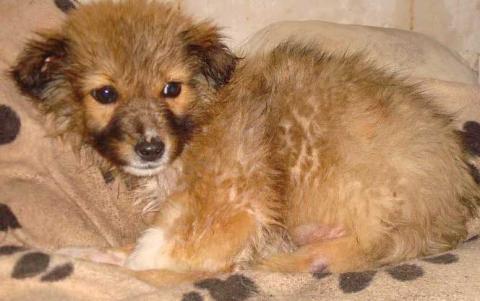 Poppy faced a bleak future as a 2-legged dog in Iran, where even regular dogs who are strong and mobile often suffer from maltreatment and neglect. Organizations like Vafa Shelter  are working hard to change perceptions about dogs and animal welfare, but Poppy needed immediate care and couldn't wait for help. After we received the request on her behalf, we couldn't bear the thought of leaving Poppy so vulnerable and alone in her condition, and with all she had already been through during the first year of her life. In the Fall of 2016, Poppy made the long journey to the United States and Home for Life®.
Poppy's injury left her very vulnerable, with only two legs, but the main issue with dogs who lose their back legs or their use is not paralysis but incontinence and that's why they are often overlooked for adoption, and why they need specialized care to keep them healthy.  Like many Shelties (Shetland Sheepdogs), Poppy is shy and very sensitive. To expect her to hold her own among the nearly 700 dogs at the Vafa Shelter, with her unassuming personality and paraplegia was not realistic. She had overcome a formidable challenge at such a young age, surviving a traumatic accident and then the amputation of both back legs. She needed to be in an environment that would foster her recovery and help her develop her abilities, and not bein a situation which required her to fight for her very survival, with limited mobility. With her long fur, paralysis, and incontinence, constant vigilance would be needed to keep her clean and healthy and prevent infections. She also needed to build up the strength in her front legs since without her two back legs, even in a cart, her front two legs would bear all her weight and that can become tiring.
Since arriving at Home for Life®, Poppy has thrived physically but was challenged by some of our more assertive dogs. She needed an accepting, gentlehearted group of friends where she would be able to be part of a group without constantly having to fight to get a foothold in a pecking order. She was too gentle a personality to assert herself but with her group of friends in  Frank's group, she is accepted for the spirited yet gentle dog that she is and has found a special friend and protector with  Frosty, our wonderful  paraplegic Amercian Eskimo dog.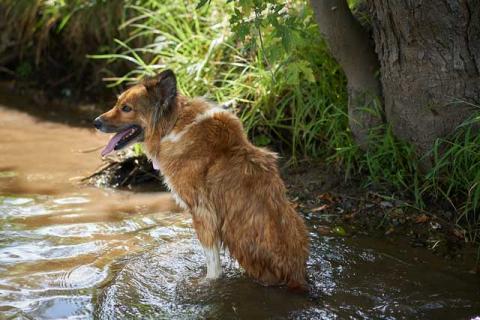 Though she requires a concerted effort of care for her to live her best life, the extra attention is so worth it. Poppy has a special cart adapted for her unique  physical condition, which affords her the opportunity to move and even run like any dog, with a cradle for her pelvis where the leg holes would normally be. Swimming has helped her build strength in her upper body so she can support herself and even run when in her cart.  When out of her cart, a onesie adapted from those made for babies, protects her seat from pressure wounds so she can move around during the day . She is light and can balance on her front legs and moves around with amazing agility. The only time Poppy is confined is while sleeping when she is left without coverings so her skin can air.  With all the special efforts on her behalf, Poppy has become a confident, active and happy dog.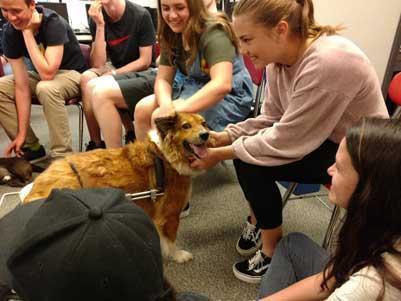 The initial impression, to see a dog with only two legs is sometimes shocking and frankly disturbing. But with the attentive care she receives from Home for Life's® staff, Poppy has thrived and never gives her missing legs a second thought, focusing on all she can do, and not the lack of her legs. Poppy's determination to make the most of her life, despite her traumatic start, touches the heart of  anyone she meets. Poppy has started work to become one of our certified therapy dogs in our Peace Creatures® program with visits to Como Park Senior high school in the spring of 2018 to help students there during the stressful period of  final exams.
At Home for Life®, Poppy's traumatic start and missing legs have not stopped her from living a full life, with friends, the opportunity to run, to swim and even to give back through Home for Life's® outreach programs. Fate must have had a plan for Poppy when she so miraculously survived her injury, alone for nearly 2 weeks without care, the amputation of both legs and surgery on her back and then the long journey to Home for Life®. Her sweet nature and hope, as well as her determination to live life to the fullest inspires those she meets who might be facing their own challenges that seem insurmountable. To meet this little two-legged dog with the big smile reinforces that life is precious and worth preserving. Poppy had much to live for and  much to give though her start seemed so bleak and filled with despair before she was even a year old.
If you would like to sponsor Poppy, please click one of the buttons below.