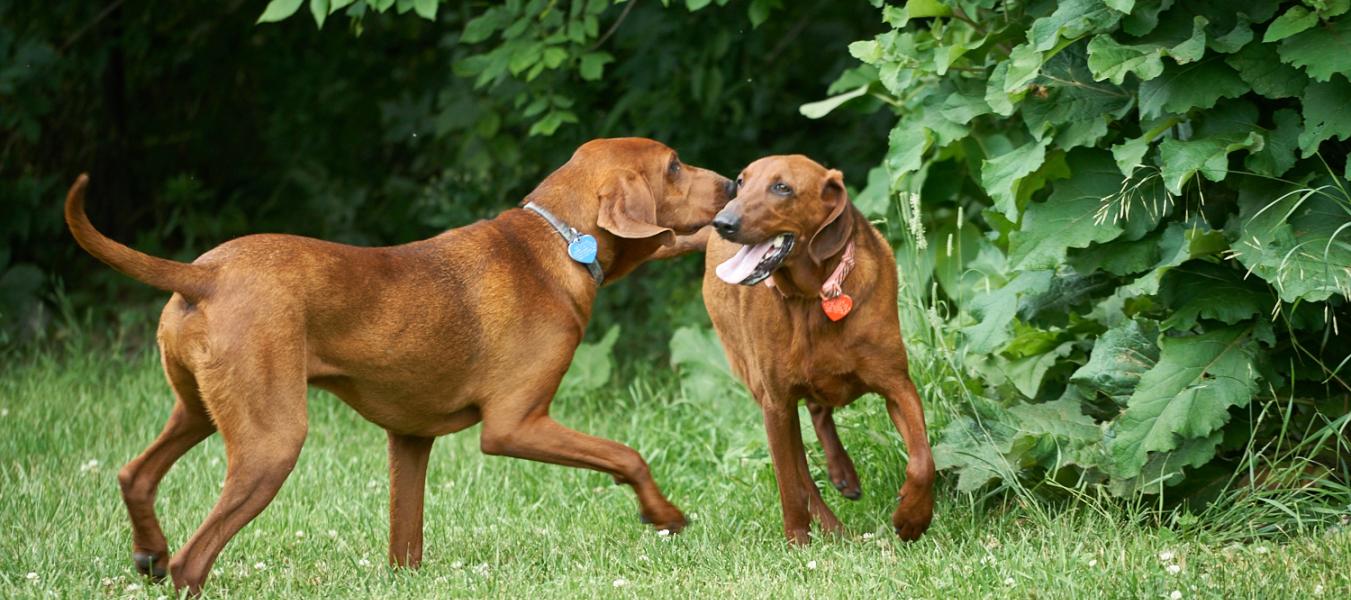 Reggie and Georgie are two of Rory's puppies. They are Red Bone Coonhounds and were the last of the 10 puppies born. Georgie was the smallest and shortest of the male puppies, and Reggie was the smallest of the 3 girls and by far the smallest of the litter of puppies - the obvious runt.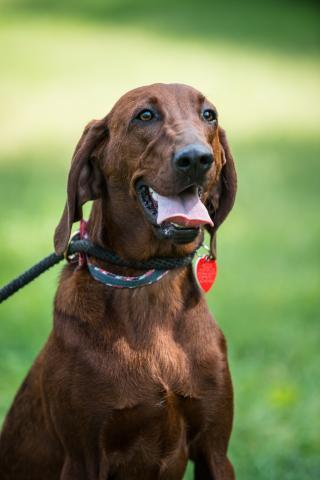 We offered the puppies for adoption, and were successful in sharing their story through several media outlets. However, Reggie and Georgie each had only one party interested in them and neither prospective owner cleared our adoption screening. For example, the party who wanted to adopt Georgie, was actually interested in a Bloodhound and liked his "look" but didn't want to spend the money on a purebred Bloodhound so were willing to " settle " for Georgie. They had just put their Weimaraner of 10 years to sleep for pooping on the floor occasionally the month before and were all set to take a new puppy into their home. They lived in a suburban setting affording no opportunity for play or running, and with both adults in the home working and two small kids, Georgie would have been crated several hours a day. The prospect for Reggie was equally as dismal, living a questionable lifestyle in a rental property in a city, with several other animals.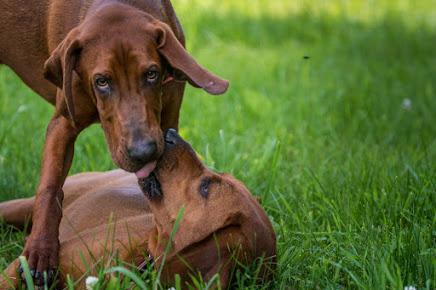 We wanted better for Rory's pups after all she has been through, and the effort our staff had put into making sure they survived. We thought of shipping the two puppies to another rescue to try their luck to find homes, but in the end, we decided against it. Home for Life was invested in these puppies and their mother, and knew them best. They had that puppy adorableness, but many people underestimate the demanding, energetic nature of the hounds; they are intense and energetic, with loud barks and the longing to run and move. They were safest and had the best chance to have a good life with us, and so Reggie and Georgie have remained Home for Life at the sanctuary. Read about their early years and puppy class they attended at the Boys Totem Town through Home for Life's Renaissance Program:  http://homeforlifesanctuary.blogspot.com/2015/07/httphomeforlifesanctuaryblogspotcom.html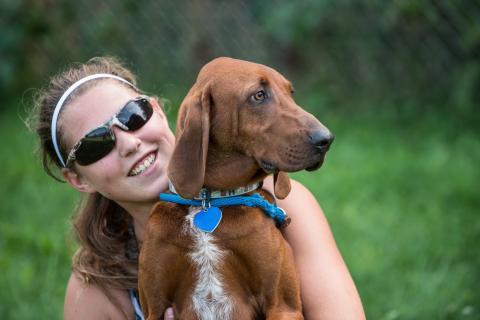 Georgie is a sweet, gentle hearted boy and very earnest. Perhaps because he was the smallest of the male puppies, he had to struggle more to hold his place in feeding and play, and as a result is very determined- some might call him stubborn - and has been the hardest to train of the puppies.  Reggie his sister, is a pretty mahogany color, and petite. But she is a red headed firecracker, and makes up in intensity what she has always lacked in size. She was the most  energetic (some would call it hyper) and fiery of the puppies, and always has been, from tiny puppy hood. Reggie and Georgie, spayed and neutered of course, are extremely bonded and the best of friends, playing together, sharing a townhouse and having a blast running and wrestling in our fenced fields. Red Bone Coonhounds are very slow to mature, not really becoming an adult dog in size and temperment until they are at least age two, which both dogs now are. It is our hope that the two dogs can have a great career as therapy dogs through our Peace Creatures programs giving them another outlet for their loving hearts, intelligence and energy.  
Update:
Huckleberry Finn has now joined his brother and sister in their townhouse! This trio is full of fun and always up to something! They are now known as the 2 Stooges of Home for Life
If you would like to sponsor Reggie or Georgie, click one of the buttons below.