Image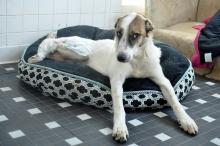 Image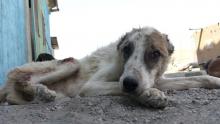 Above and adjacent left is Shoja, mid-January 2016 at Home for Life®!  Ajacent right is Shoja at the Vafa Animal Shelter, Tehran in October, 2015
Many people have been touched by the photos of one of Home for Life's recent most arrivals, who had obviously been through so much in his short life before coming to the sanctuary.
Shoja, which means brave in Persian, lost one of his hind legs after it was crushed when he was run over by a car. He was found on the side of a road, laying in the snow. He also had both his ears and tail cut off by some cruel person before being rescued by Vafa. While recovering from the amputation of his crushed leg Shoja, unfortunately, contracted distemper. In this emaciated condition he was lucky to survive but now finds it difficult to walk and has a constant tremor.
Image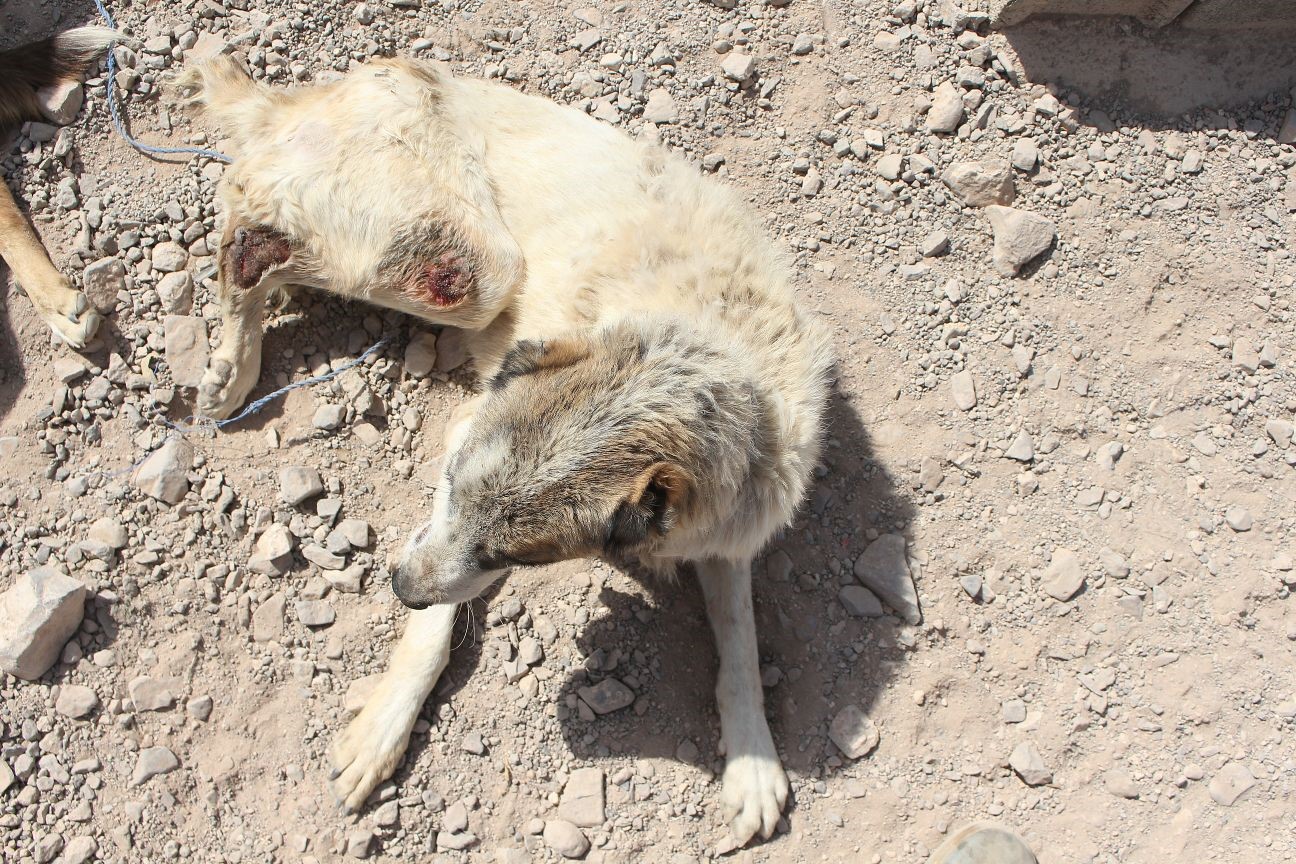 Shoja looks to be a sighthound mix. He is meant to be slender but obviously needs some more weight on him. Still smiling despite all he has been through, his short life reveals the courage and forgiving hearts of dogs.
The team at Vafa wrote with his rescue story:
"Shoja was found by a guy who was driving on the Tabriz to Qazvin road right before Persian new year in mid-March. Apparently, he was hit by a car and was laying in the snow and in the middle of the road by the retaining wall. Vafa Qazvin( the newly opened 2nd shelter) team received the call and plea for help. His leg was crushed. The shelter vet put him on antibiotics right away to avoid infection until he was seen by the Tehran clinic (as our regular vet was away on holiday). That's where they decided to have the leg amputated. Unfortunately, he suffered from distemper following surgery."
He had obviously suffered much and had a very difficult life. Unlike all the Vafa dogs we have received to date, who have always been at good weight with beautiful coats, Shoja was obviously malnourished and not rebounding even with the good care he received at Vafa. He has a tic as a result of his bout with distemper and is finding it very difficult to get around. He seemed so exhausted in the photos we saw of him while he was in Iran and was suffering from significant pressure sores on his remaining hind leg. He seems very shy and sweet like many sighthounds. In this photo, the amputated ears and tail can be seen. To be only age two, the prime of life in dogs and look as he did only a few months ago was heartbreaking to see.
We will plan to help him with some water therapy to build his strength and stamina once his weight is up and he's feeling better. A complete medical workup revealed normal bloodwork but he was wormed as a precaution, He has steadily gained weight to cover his ribs which had stuck out like a washboard when he first came to us. His coat now has a healthy sheen instead of looking like a scrub brush, standing on end, harsh and dull.
We were just so happy to be able to get our hands on him, to take him in at Home for Life and take care of him!
Image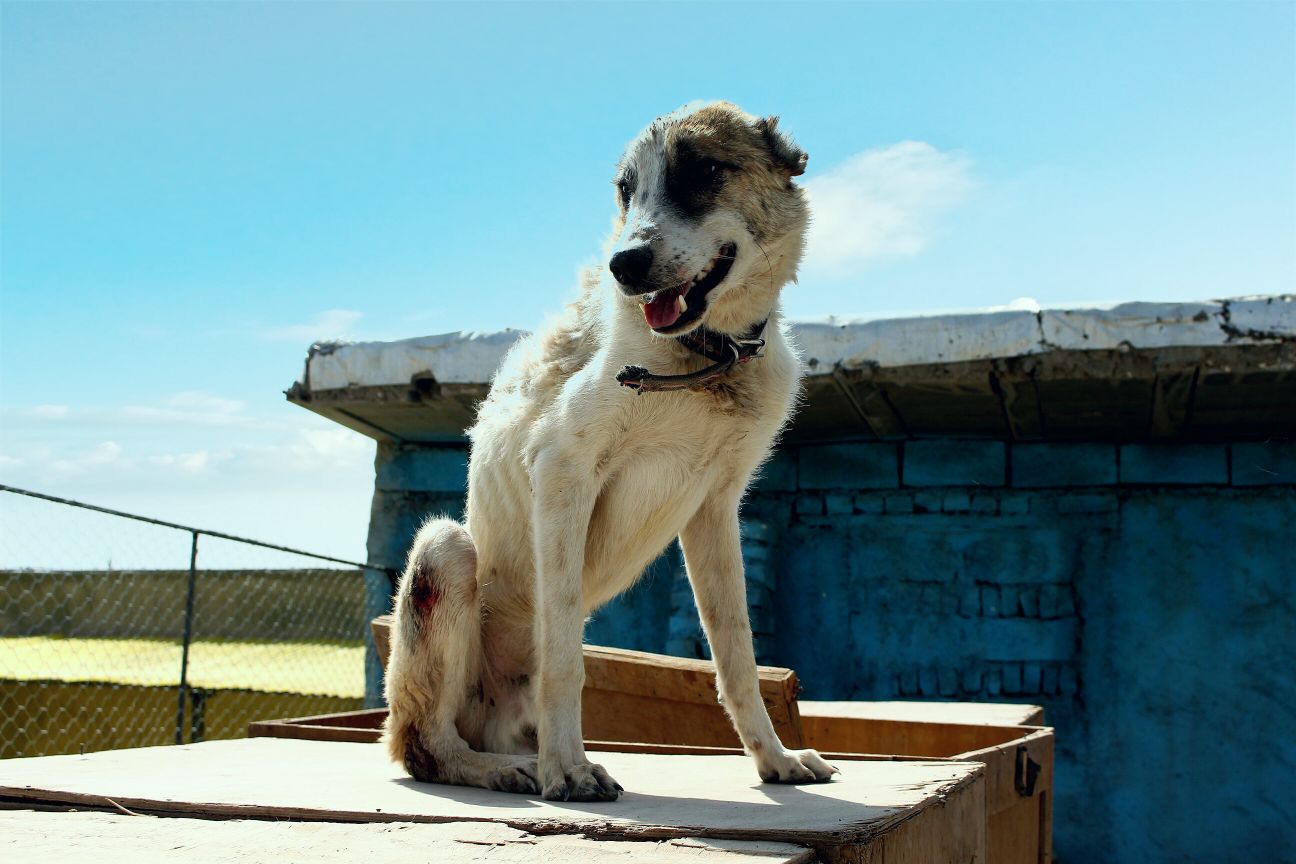 The obvious question is why Home for Life® would take a dog who lived thousands of miles away in another country.? When we heard Shoja's story and took one look at his photos, we couldn't disregard him just because of where he was born. No matter where he came from, it was obvious he had few options and desperately needs our help. As the writer, Maya Angelou wrote, "Love recognizes no barriers. It jumps over hurdles, leaps fences, penetrates walls to arrive at its destination full of hope."
Part of Home for Life's® mission is showing what's possible—that animals like Shoja CAN live a great life if just given the opportunity, in a setting suited for their needs. Animals like him (and we help many like him from the United States too!) deserve a chance and want to live, but adoption into a typical home is not an option. While shelters and rescues focus on the "adoptable" (a malleable term depending on whom you're talking with) dogs and cats, few opportunities are available for special animals like Shoja. Home for Life®, the third door in animal welfare, provides a loving, life-saving, and innovative alternative for animals who may never find an adoptive home, but for whom euthanasia is premature and inhumane.
Read more about our international rescues: http://homeforlifesanctuary.blogspot.com/2016/01/home-for-lifes-international-rescues.html