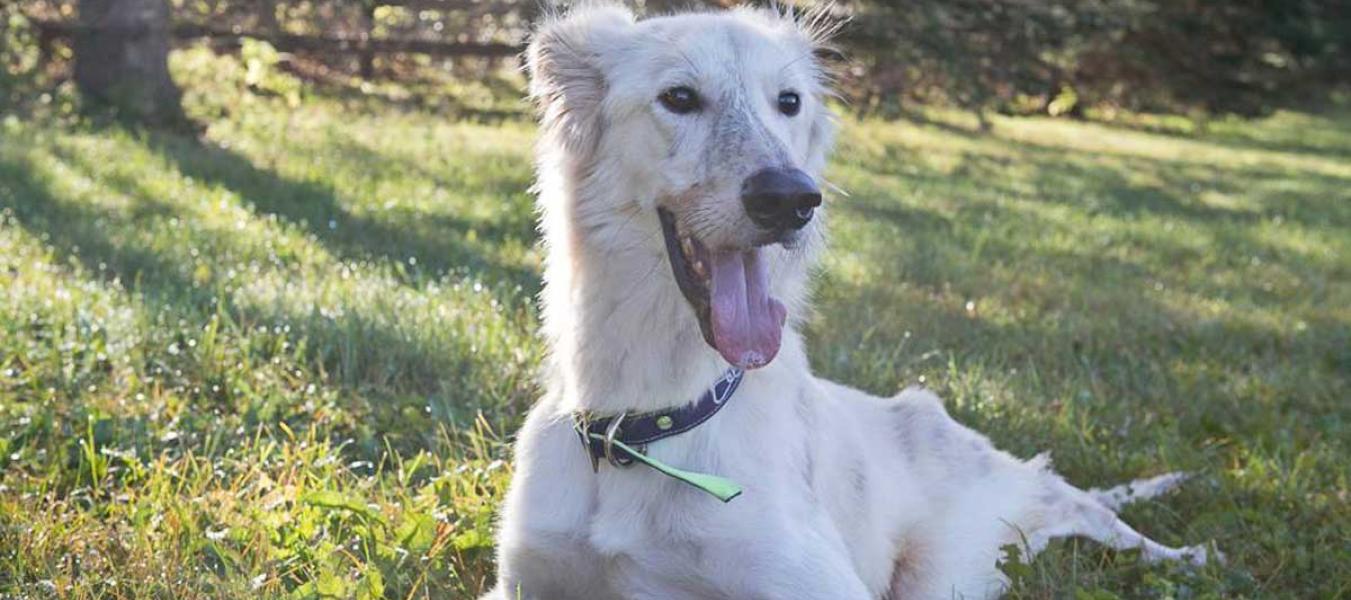 Zavier is a beautiful white Saluki mix, originally from the country of Qatar.  His name means "bright and shining"  in Persian—we wanted a name that would bestow strength and hope on this ghost of a dog, so desperate and despairing when he first arrived at Home for Life®.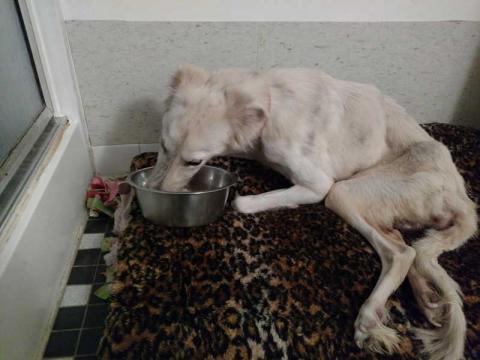 Zavier came to Home for Life® from the Pups with Passports rescue organization, formerly known as Gulf Canine Rescue. Pups with Passports was founded by an American teacher who was working in Qatar, a Mideastern country, and observed the very poor treatment of many dogs in this country. In an effort to help the dogs who were at risk, she founded her rescue once stateside, with the goal of raising awareness of animal welfare in the country and providing immediate help to the many at-risk dogs in this country like Zavier.
In the case of Zavier, he was a street dog and had been shot by a cruel person, and left for dead. Zavier survived the assault but was left paraplegic and incontinent. He was lucky to be brought to a vet clinic for care and shelter, but had no prospects for adoption or a future. The clinic provided rudimentary care for Zavier but he had no rehabilitation and no cart to help him be mobile. The clinic was a business owned not by the attending veterinarian but a business man who ran it for a profit and would not have been happy to learn that there was a a waif with no prospects, a useless eater, on the premises. Still, the vet protected him as best she could, and reached out for help to Pups with Passports who subsequently contacted Home for Life® to see if we could help Zavier.  Read more about Home for Life® position regarding international rescues in our blog post  here: http://homeforlifesanctuary.blogspot.com/2016/01/home-for-lifes-interna…
Home for Life® strongly believes in helping advocates working so hard to help desperate animals in countries where animal welfare is not a priority and dogs and cats are at significant risk and where many suffer greatly.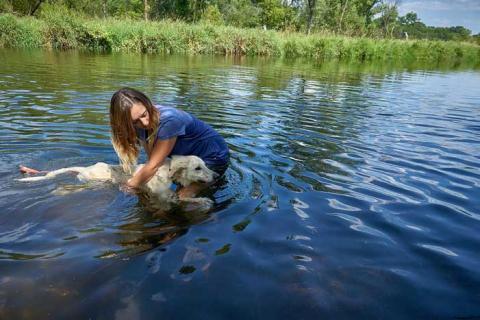 In Zavier's case, not only was he a paraplegic, but he was very shy and timid; many sighthounds have a tendency towards timidity and suffering abuse didn't help Zavier develop confidence and a comfort level around human beings. He remains very shy and wary, and is most comfortable around other dogs.
We were very concerned and frankly shocked when we received Zavier after his journey to the United States and transport to Home for Life®; he flew in from Qatar to Chicago and then travelled via a transport relay to Home for Life. He was so terribly thin when he arrived, even for a sighthound, that we were heartbroken. In fact he was so thin that our veterinarians did not want to neuter him until he put him on some weight. Zavier had survived and was alive, but at Home for Life®, it's more than keeping body and soul together, We want to see our animals thrive.  Zavier quickly responded to our tender loving care, and gratefully relished his generous portions at meal times, filling out his lanky frame. Although Zavier is still a long slender dog, and he now has some muscling and is not so bony. He has the strength to support himself in a cart and can just fly when outfitted with his wheels: check out the video below~!   
https://www.facebook.com/homeforlifeorg/videos/1568424819914802/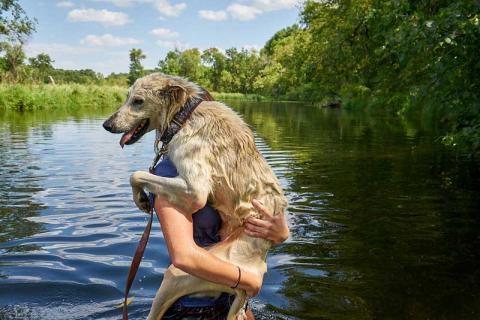 Zavier remains a very wary, shy dog; even though only age 2, the abuse and trauma he suffered from the gunshots that left him paraplegic have permanently scarred him, physically but also in his spirit. The patient care he receives at Home for Life®, and also the time he has to heal and gain strength and confidence on his own timetable is an attribute of care for life sanctuary—traumatized dogs and cats have the space and time they need to heal without an arbitrary deadline hanging over their heads. Zavier has made remarkable progress in regaining his physical strength as well as an outlook on life that has been restored to optimism, buoyed and supported by the loving care he receives at Home for Life® and the friendship of his many dog comrades, who reinforce his belief that it is possible to leave a painful past behind and look to the future with hope.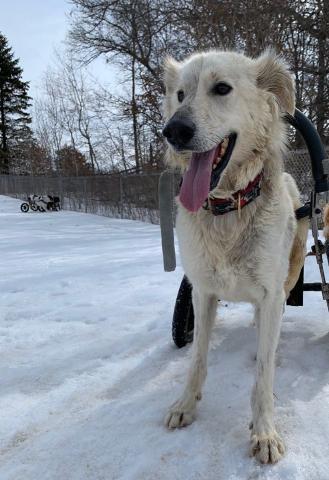 To sponsor Zavier, click on one of the buttons below.