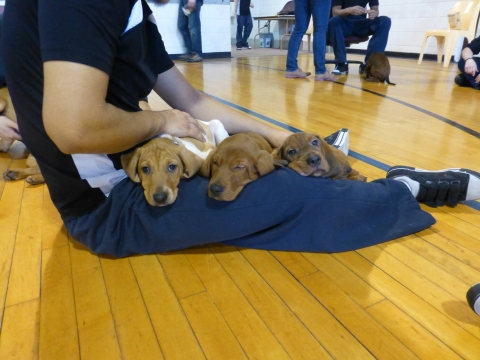 Rory's pups made the news once again when they joined one of Home for Life's outreach programs. Home for Life is partnered with the Totem Town Juvenile Correction Center of St. Paul. This center provides housing, education and counseling for adolescents with a criminal record. It is an alternative to state juvenile detention.
Home for Life brings dogs to Totem Town for the boys to train. The boys teach the dogs basic commands such as sit and stay, which helps them achieve their certificates to be therapy dogs in hospitals and nursing homes. 
The puppies are up for adoption and will not be therapy animals with Home for Life, but the program will teach the young dogs valuable skills that make them excellent companions once they find their forever homes. The boys benefit from the affection of the playful dogs. 
To watch the puppies during one of their classes, see the Fox news feature here. 
Read the news story and watch the WCCO feature here.