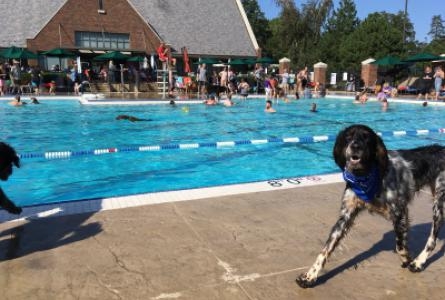 ANNOUNCEMENT! Attention Best Pool Party of the Year 2019 fans:
They say imitation is the sincerest form of flattery. Well, our Sunset Swim Party on a Saturday afternoon was such a success that the Town and Country Club members decided that time slot would work better for THEIR event. HOME FOR LIFE'S® Pool Party event is still on, and will be a one day event only, BUT it will be a nearly all day extravaganza and combine the best of both our events from last year!
NEW DETAILS:
Event: THE 4TH ANNUAL BEST POOL PARTY OF THE YEAR!
Date: Sunday September 15, 2019
Time: 11 am until 6 pm!
Place: right back at the beautiful Town & Country Club
Tickets on sale: July 1, 2019,
Event features: Home for Life® will combine the best of our two 2018 parties to create the ULTIMATE in dog pool events . The event will open at 11 am with the DJ spinning the tunes, an amazing Caribbean inspired buffet, gourmet s'mores for dessert, tropical drinks, frosty beer, thrilling demos from the DockDogs Northern Stars - DDNS, dog races featuring our wheelie dogs and loads of swimming and sun. By 3 pm, Minnesota's premier steel band, 33º North, will be on hand to set a more mellow vibe for the afternoon, and a small plate buffet will be served for those still hungry. MORE swimming and sun expected. Gift bags for all attendees.
As far as price points for tickets with the new time line, we expect to have a slightly higher price for those who want to experience the all day event in all its glory, and a lower ticket price for those who want to show up for the 2nd half of the day. Details announced soon! One caveat: there will be limited availability as it is a one day event. We will try to accommodate as many dogs and their people as we can and still keep the event a safe and fun day for all!

Photo Credit: Richard Chin
Image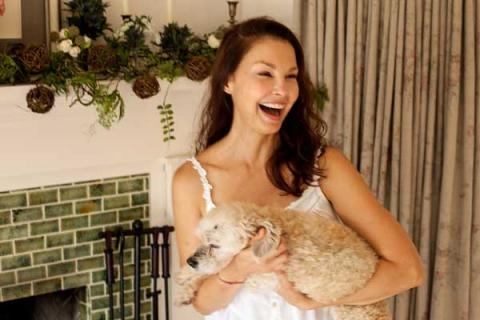 November 9, 2019:
Home for Life's® Fall Gala, the Fancy Feast
Special guest Ashley Judd!
The Metropolitan, Minneapolis, MN
The 2018 gala with our guest Dr. Jane Goodall will be hard to ever surpass, but we will try!
In 2019, Saturday, November 9, Home for Life® will welcome the A-List actress, conservationist and U.N. representative and humanitarian Ashley Judd as our special guest. Ashley was very interested in being part of the Home for Life® gala as she is such an admirer of Dr. Goodall, and like her, loves dogs and works hard for conservation efforts, particularly on behalf of bonobos apes in their native Congo. Ashley also loves and cherishes all animals, and has relied on her beloved dogs for emotional support animals during turbulent times of her life.
A graduate of Harvard University, she is an ardent advocate for support animals and conservation for animals in the wild, particularly primates - and is an articulate humanitarian with that Hollywood glamorous sheen that will add a sparkle to Home for Life's® annual event!  Her focus in the presentation will be her work on behalf of conservation and the great apes, as well as her dogs, her book and her new movie coming out in 2019 based on the Bruce Cameron book, "A Dog's Way Home." See the trailer here:  Bruce Cameron is the author of the acclaimed book: "A Dog's Purpose".
The glamorous evening will also feature all the exceptional amenities associated with Home for Life® events including music, silent and live auctions with one of a kind offerings, a delicious dinner with wine service and a program highlighting the animals of Home for Life®. Mark your calendar as you won't want to miss this special night! Reservations will be available July 1, 2019.
Interested in sponsoring this gala evening?  Please contact Home for Life® for more information: info@homeforlife.org or 1-800-252-5918.