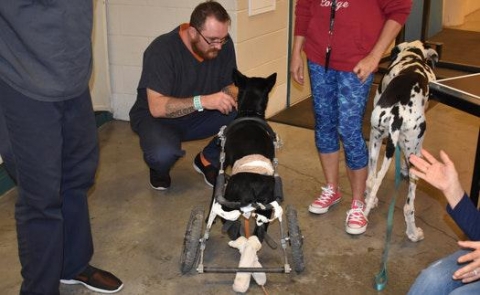 Home for Life's® Peace Creature® Pet Therapy programs in the news! Our newest initiative at the Washington County Jail is featured in Sunday's Minneapolis Star and Tribune. The goal of Peace Creatures®, which we offer at no charge to the community, is to provide pet therapy to those kids and adults who don't commonly receive this service and all the healing benefits it can provide ... Home for Life's® therapy dogs visit over 100 prisoners at each session, men, women and juveniles. Pictured in the article are two of Home for Life's® therapy dogs, Program, a paraplegic from the Soi Dog Foundation of Thailand and Dodi, a harlequin Great Dane. Thank you to the Minneapolis Star and Tribune for their coverage of this important program. We love our visits and the inmates are so good to the dogs!
Reprinted from Star Tribune: Therapy dogs are regular visitors to the Washington County jail—A partnership with an animal rescue sanctuary is helping reduce stress at Washington County jail. Twice a month, the Washington County jail in Stillwater opens its doors to visitors who know what it's like to live through trauma, who can commiserate about being left on the fringes of society and can empathize with inmates' desire for human contact and kindness. And they do it all without saying a word.
Their wagging tails, on the other hand, speak volumes.
For the past several months, dogs from the Home for Life® animal rescue sanctuary in Star Prairie, Wis., have participated in the jail's new Therapy Dog Program, designed to help reduce inmate and jail staff members' stress while enhancing their emotional wellness. The dogs, themselves often dealing with disability or other circumstances that prevent them being adopted by families, also visit with inmates' children who are visiting at the time.
"Our goal is to have inmates leave our facility better off mentally, physically and spiritually than when they came in," Washington County Sheriff Dan Starry said of the no-cost program that kicked off in August 2017. "For us, it helps reduce tension, calm anxiety and reduces the anger that some experience in the jail."
Turns out, it's pretty beneficial to the dogs as well, said Lisa LaVerdiere, founder and executive director of Home for Life®, which has about 200 dogs and cats living at its 40-acre refuge on the Apple River. "What we bring to the jail are dogs that have been deemed unadoptable," she said. "Those that participate in the program are very people-oriented and the inmates just surround the dogs and love them up. At the end of our visits, the dogs are just exhausted."
Home for Life began in 1997, accepting animals from all over the United States and foreign countries. Some of the dogs need wheelchairs to get around. Some have epilepsy. Some are blind or deaf. Some are elderly.
But, rather than keeping them cloistered at the sanctuary, LaVerdiere had the idea of getting them out into the community, interacting with people who would benefit from patting them on the head, scratching them behind the ears and learning their life stories. The dogs visit area shelters for victims of domestic violence, hospitals, nursing homes and assisted care facilities, she said. The organization charges nothing for its work.
Commander Roger Heinen, the jail administrator, said Washington County is "always trying to introduce new programming for the jail population."
In March 2016, officials completed a family-style makeover of the jail, adding children's books and murals and bringing in volunteers to explain to children what they will encounter when they enter secure areas of the jail. There is also a creative-writing class for female inmates and a domestic violence healing circle, Heinen said.
After seeing therapy dogs at area hospitals and nursing homes, officials began checking to see it such a thing had been tried in jails.
"We found out that no other jail, outside of the one in Brown County, Wisconsin, had a program like this," he said.
While there are prisons that raise dogs and train them as therapy animals, the shorter stays for inmates at local jails — up to a year, but eight days on average — meant it made more sense to partner with an outside program.
The biweekly visits usually take less than two hours. The dogs visit staff offices and each of the jail's 10 housing units. There is no data, Heinen said, but officials believe it's helping — the humans and the dogs.
"They make a connection," Heinen said, adding that no inmate is required to participate. "A lot of times, folks come here and feel lonely, discarded. Having an animal that doesn't judge you, well, it can reconnect you with outside world."
"And," he said, "the dogs just love being petted."