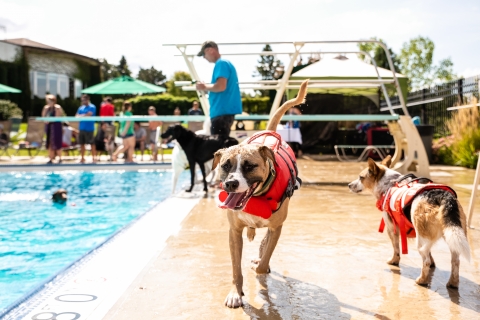 They're here! Photos captured by KME Photography of the 3rd annual Home For Life Animal Sanctuary Best Pool Party of the Year Sunday, September 9th, at the Town & Country Club. Please credit @kmephotomn when sharing photos. If you wish to order high resolution prints, follow this link: https://kmephotography.zenfolio.com/hflpool2018
AND!
THERE'S MORE!   Photos from our newest event, the Caribbean themed Sunset Pool Party, which was the Saturday afternoon before,  Saturday, September 8th: please credit photographer Pam Romain when sharing photos: https://photos.google.com/share/AF1QipPH7Y7lCymOaPK0OcsNuWKfpX6nWAsQE8t33OPczFuAmrG5RfKJC-Hzx0zijyEnCw?key=aDEyN0RjV3JLeVFuQS1lbmU2VzBMQVllZ3VocUFB
We lucked out again this year with beautiful weather for both dayssunshine and warm temperatures, and even going head to head with a Vikings vs 49ers football game on Sunday, we still had a full house both days.
It means a lot to Home For Life® Animal Sanctuary that our events brings so much happiness to so many dogs and their owners. People tell us that the pool parties are the highlight of their summer, and that they look forward to these event all year long. That means a lot to us. I think both photographers did a terrific job depicting the happiness of the guests—2 legged and 4-legged—who were part of this special day. Thank you again for supporting Home for Life® by being part of our Pool Party—see you next year!
ONE MORE THING:  Don't miss WCCO Channel 4's feature on our Sunset Swim Party for more happy faces, pups and people!: https://minnesota.cbslocal.com/video/category/news/3931612-puppy-pool-party-celebrates-last-days-of-summer/
Additional Pool Party Photos by by Ryan Corcoran