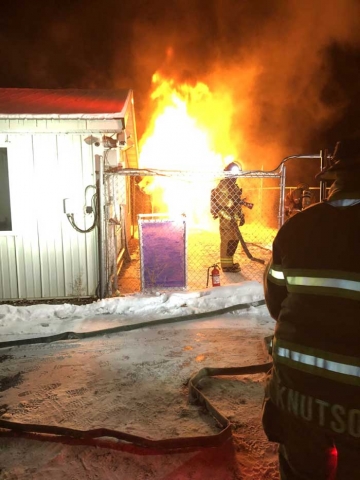 Early Monday morning, February 8th, at about 1 am, Tammy, one of our overnight staff discovered "Sandy's Townhouse" was on fire. Thank God we have always had on-call night staff who monitor any sick animals overnight plus ensure the facility is secure; and thank goodness Tammy, who was on duty Sunday night, was on her toes. She smelled smoke and went to investigate the source, found smoke coming from Sandy's townhouse, and upon going inside saw that the wall was on fire. Tammy called Lisa, the Executive Director, and then both Tammy and Lisa called the fire department. Tammy located a fire extinguisher and got the three dogs out to safety, but the fire was beyond an extinguisher. Lisa also called one of our staff, Grace, who lives the closest to the sanctuary, and even though she had already worked a long day, she came in to help and support Tammy. Together they got the dogs moved so they were indoors and warm as it was well below zero.
The fire department responded with 8 trucks and it was soon a complete madhouse out there with dogs barking and the firemen trying to get the fire under control and prevent it from spreading.  We had some frightening moments as they couldn't get the hoses working at first because it was so cold.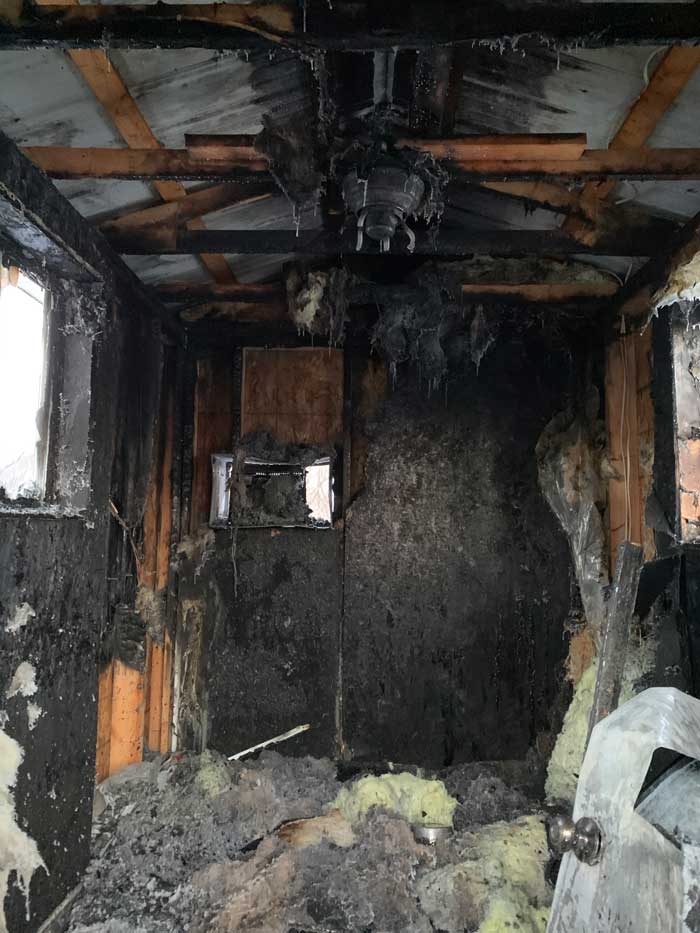 Above: the heartbreaking aftermath: the townhouse is a total loss.
In the end, we were very lucky. None of the three dogs who lived in the townhouse were hurt or killed or even had smoke inhalation—they were just grumpy at having been woken up in the middle of the night. Sandy's townhouse is a total loss, but we have insurance and will rebuild on the site. Now, we are waiting for the adjuster to come out and assess the damage before we demolish it and build it anew. It was our oldest townhouse and the cause of the fire was electrical. We are extremely lucky the fire didn't spread to any of the other buildings where other animals live. The biggest hassle is that the dogs are displaced now and especially when so cold, but it's a minor issue compared to the heartbreak had we lost any of our precious animals.