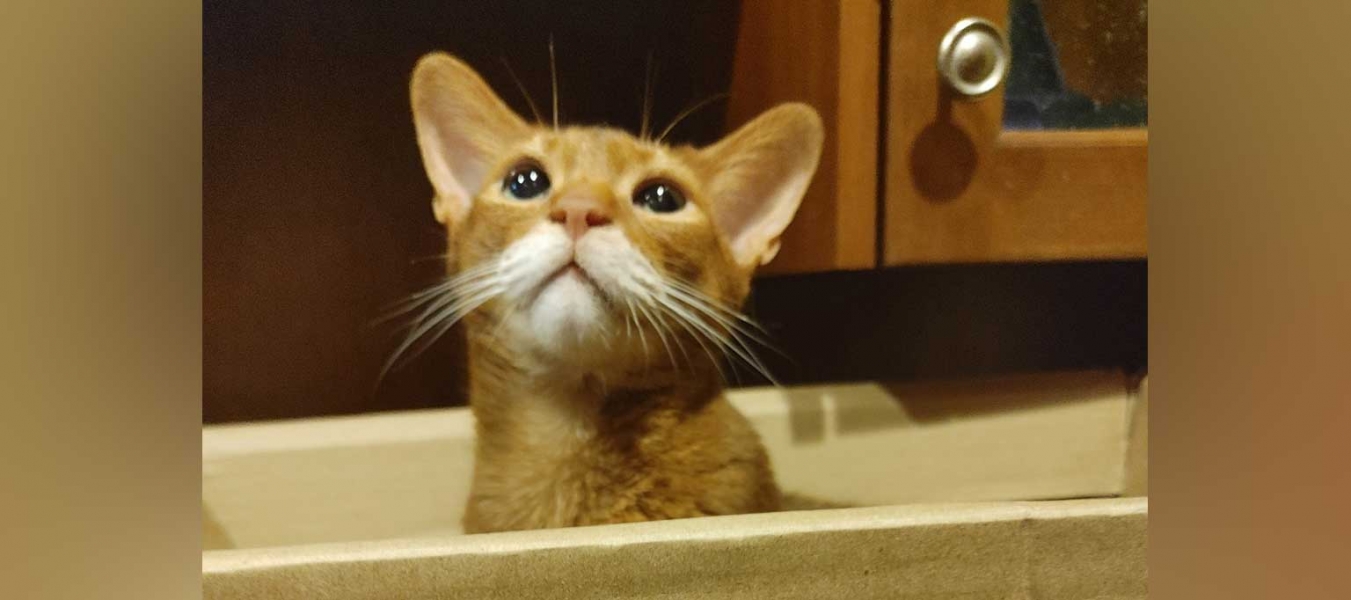 Above: Rusty at animal control for the second time!
Rusty's story has really touched the hearts of animal lovers far and wide. He is representative of the types of cats and dogs who become invisible in rescue, and the very types of animals Home for Life was created to help, and to provide a lifesaving service like no comparable organization.
Rusty is a 9-year-old purebred Abyssinian, a declawed front, neutered male. He has certainly been through the rescue roulette over the last 4 years and somehow became one of the invisible animals that so often find their way to us.
When his owner passed away in 20,  Rusty landed in a Minnesota animal control where he was reported as aggressive.   Notwithstanding that behavior, Rusty was still taken in by a local rescue and then adopted out.  It's true that purebred and attractive animals will be given a chance that a cat or dog of more humble heritage and less distinctive appearance may never get.  
Fast forward to 2022 and once again, Rusty found himself back at the same animal control. This time, he was accused of biting in his second home, where he had even been medicated with the sedative-type medicine they give cats sometimes. The rescue who had adopted Rusty out to his second home elected not to take him back as a ward of their organization.  There was another local rescue that "tagged" him but got scared off—there was a letter from the first rescue that spooked them. At a time when the facility was packed and Rusty's number was up, two rescues had backed away, leaving him at risk of euthanasia.
The story and his rep seemed odd. In our experience, cats don't engage in aggression by biting. Usually, their first line of attack is their front paws—swatting and here, Rusty was even declawed. He was also age 9, bordering being a senior—how bad could he be?  The animal control officers had taken him out of his cage and brought him into a room to see how he would be—after he got his bearings, he was congenial, and the officers described him as a "great cat".
It just seemed incredible that this exotic guy was blacklisted and without rescue options. We were asked to give him a try, as a last resort, as he was otherwise going to be put down the next day.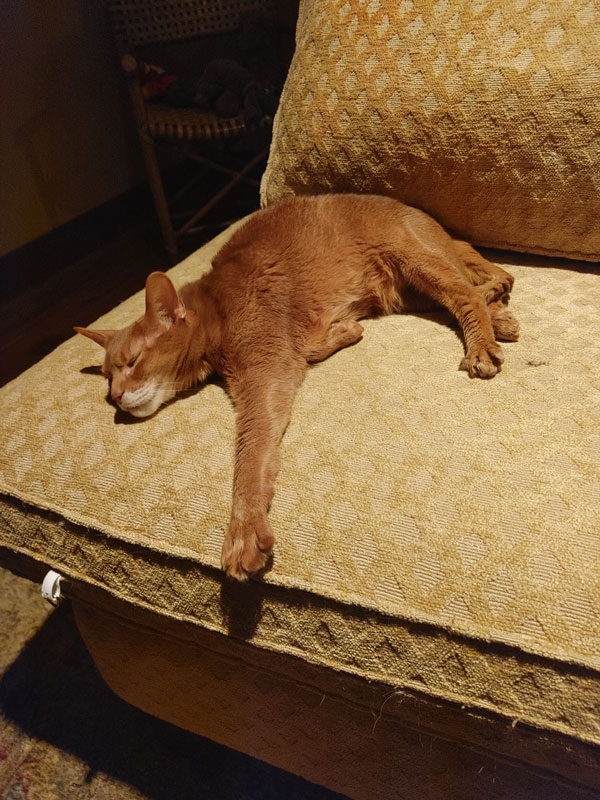 With QUITE a lot of trepidation, we agreed.  With the reputation preceding him, the challenge was daunting.  We don't employ the sedatives commonly used for cats and didn't have any on hand when we took him in. But we put Rusty in his own room for a while and worked to get to know him. With the reputation he came with, we were admittedly intimidated.  We found he loves canned food and especially fish flavors.  He was happy to stay by himself for while; he focused on eating and resting- he seemed very tired from his long ordeal,  In a few days, he was ready to check things out. Another nerve-wracking bridge to cross given what we had been told about him—would he initiate a full-scale attack?  Instead, he sauntered out and strolled about then asked for his dish of fish.
Rusty is a beautiful, intensely red color with a fur coat so sleek, that a typical shorthair cat would look fluffy next to him. He has a white mustache and goatee or so it seems to look at him, in purr son—his ears are not so large and airplane looking as in photos. We have seen only one incident of agitation with Rusty—when one of the other cats was getting a bath and complaining. Rusty got upset and wanted to intervene to save that cat's life. Otherwise, there's been no aggression at all and in fact, he is an affectionate and charming boy. Rusty's energy and demeanor is a bit different from other cats—more lithe, more intense, and his movements more staccato.  It's hard to explain but probably typical of Abyssinians.  I don't have him on any medications or sedatives or even calming food or additives.   It's been several weeks of not letting my guard down but I think it can be assumed he won't bite. 
He is not big on being picked up and isn't cuddly and it might be these boundaries he had weren't acknowledged. Anyone could understand how tempting it would be to want to hold and pet such a beautiful cat but Rusty seems the type who wanted that kind of attention on his own terms. Maybe the drugs he was given disinhibited him and made his tendency to be high-strung worse and warped his sensitivity so he became reactive.  Somehow this purebred handsome boy had become another invisible animal, and about to have his life ended prematurely.
Rusty's a wonderful cat whose life has been a rough ride for the last 4 years. In and out of two homes and rescues and in animal control twice.  With the reputation he had, you'd think he was some kind of red Tasmanian devil instead of a lonely senior guy looking for a little understanding and his home for life.