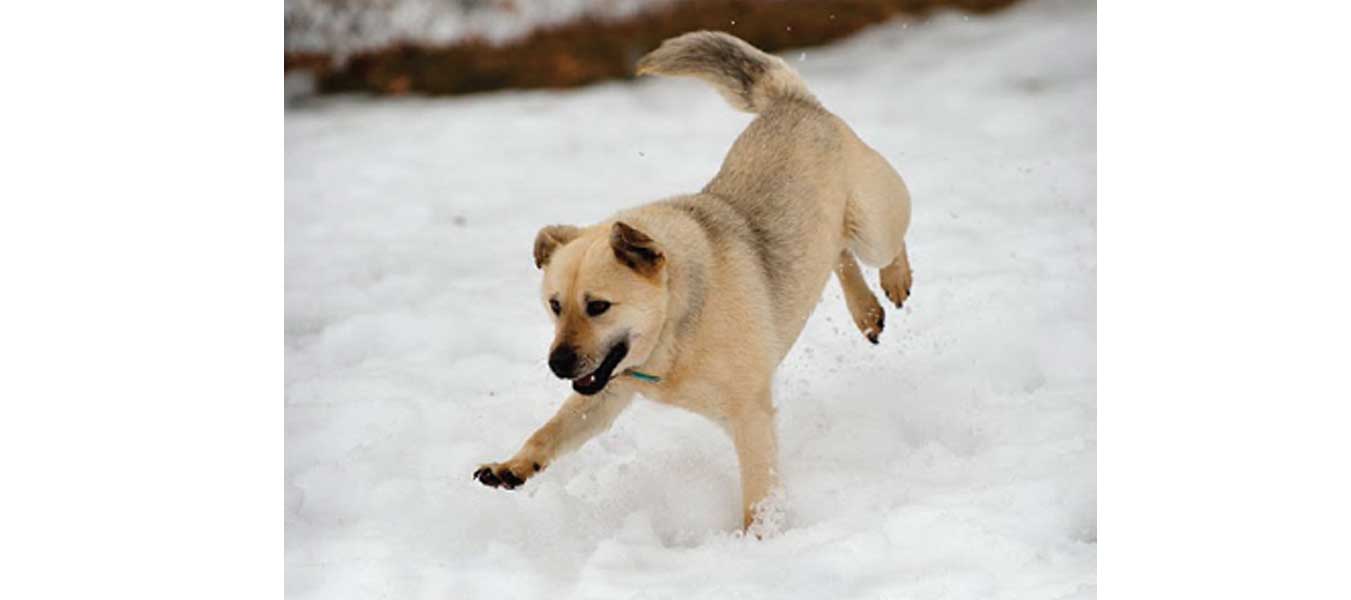 Above: Our winter appeal once again will feature a wonderful illustration by Iain Welch inspired by this joyful Mark Luinenburg photo of Ben
Thanks to your generous support, Home for Life® met our match challenge with our 2023 Winter Appeal, featuring  Ben, a small blind and brain damaged shepherd mix who survived a brutal beating as a puppy but who overcame that cruelty to have a happy life at our sanctuary. Ben came to us when only 6 months old and is now nearly age 14!
As gratifying as the donations were the many meaningful comments about how Ben touched their hearts and how his story had brought love and light to the tough and bleak winter of 2023. Read about Ben's inspiring story and don't miss his video!
Thank you again so much for your generosity and support of our work on behalf of overlooked, vulnerable cats and dogs like Ben!
Image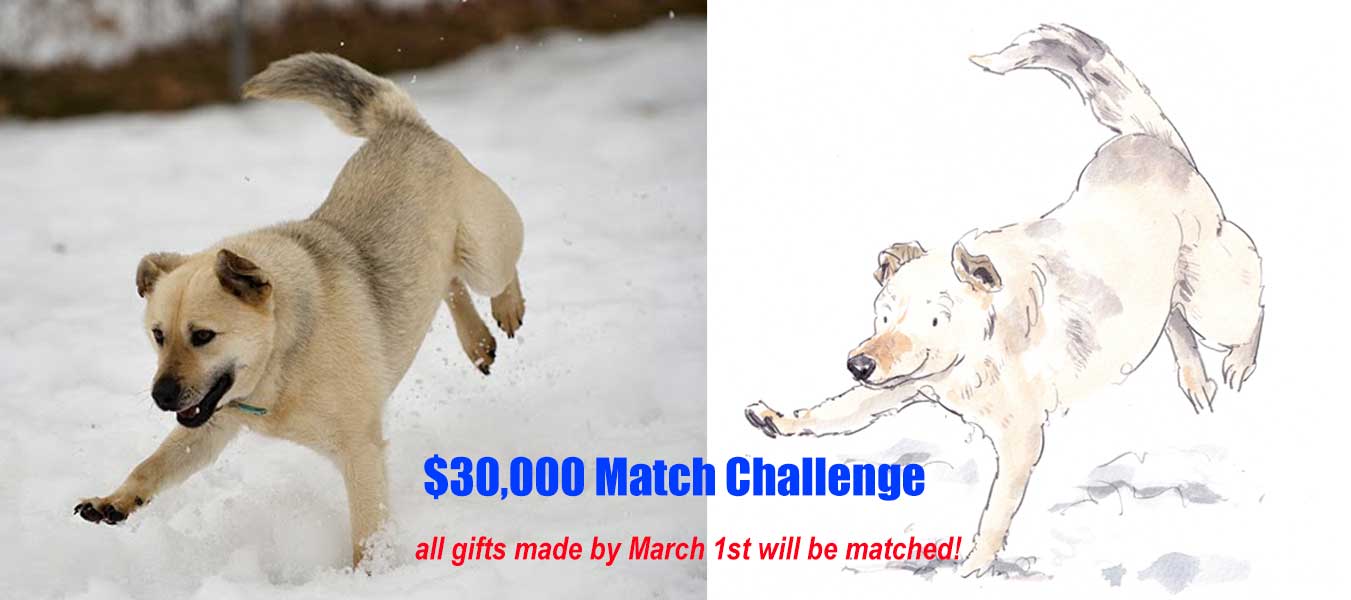 Dear Friends,
Looking out on the world through Ben's eyes, the world Ben must have seen on that awful day he was left so terribly injured, could crush the spirit of any animal lover—a world of heartless cruelty that made no sense.
What haunted us ...
was the last thing Ben saw, before he lost consciousness—the people beating and kicking him. He was only a puppy when it happened, the beating by a gang of boys in Chicago. The sheer cruelty left even the hardened Chicago cops shaken. They drove off the boys, picked up Ben and rushed him to the Animal Welfare League, a shelter in urban Chicago. Ben lay in a coma for days at the shelter, as their medical team fought for his life. They saved him, but Ben was left brain-damaged and blind. Though his eyes were structurally normal, he had sustained so much trauma from the beating that his optic nerves were damaged beyond repair.
Image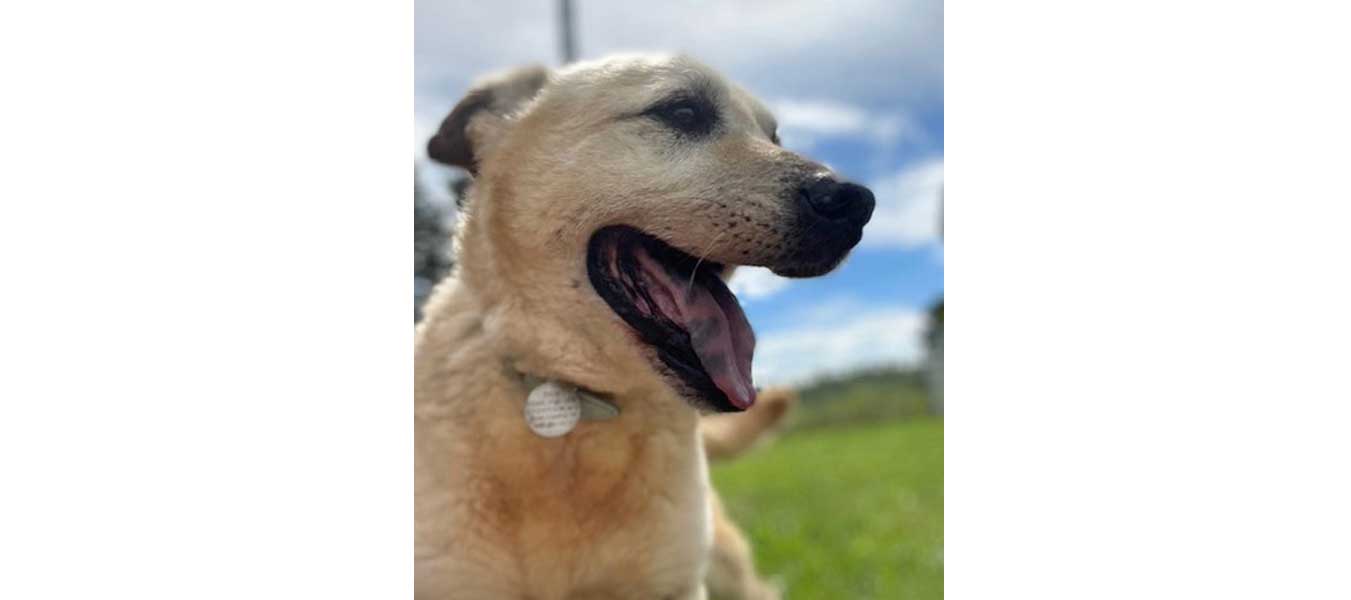 As shocking as the abuse was that Ben suffered, his traumatic background was not the biggest challenge he would face. Though he had survived, he had become one of so many unwanted dogs and cats looking for understanding and a place to belong. Like these many cats and dogs, Ben now faced a different kind of trauma—being unwanted, with dim prospects of finding a home, of having no place and no one to care for him. Think of Ben's world now: a world where animals in need abound, whether they end up in the rescue and shelter system through a dramatic story of abuse, like Ben, or because they are no longer wanted. Thinking of a world where so many animals like Ben, alone and afraid, are unlikely ever to find help, breaks the heart of any animal lover.
The lifespan of a typical dog or cat is usually at most, 15 years or so. Yet, many animals spend a good percentage of their time alive circulating through rescues or shelters or waiting for their "fur-ever" home.
These years that many cats and dogs spend in this kind of limbo, waiting, can represent a quarter to a third of their life. In their short lives and their prime years, a dog or cat often circulates through the system, "rescued" multiple times but never saved. Organizations may process hundreds or even thousands of animals for adoption annually, but with over a million animals still euthanized each year, these numbers passing through rescue matter little in the larger scheme. Until the life of each animal is cherished, dogs and cats will be rescued in large numbers, yet never saved.   
Image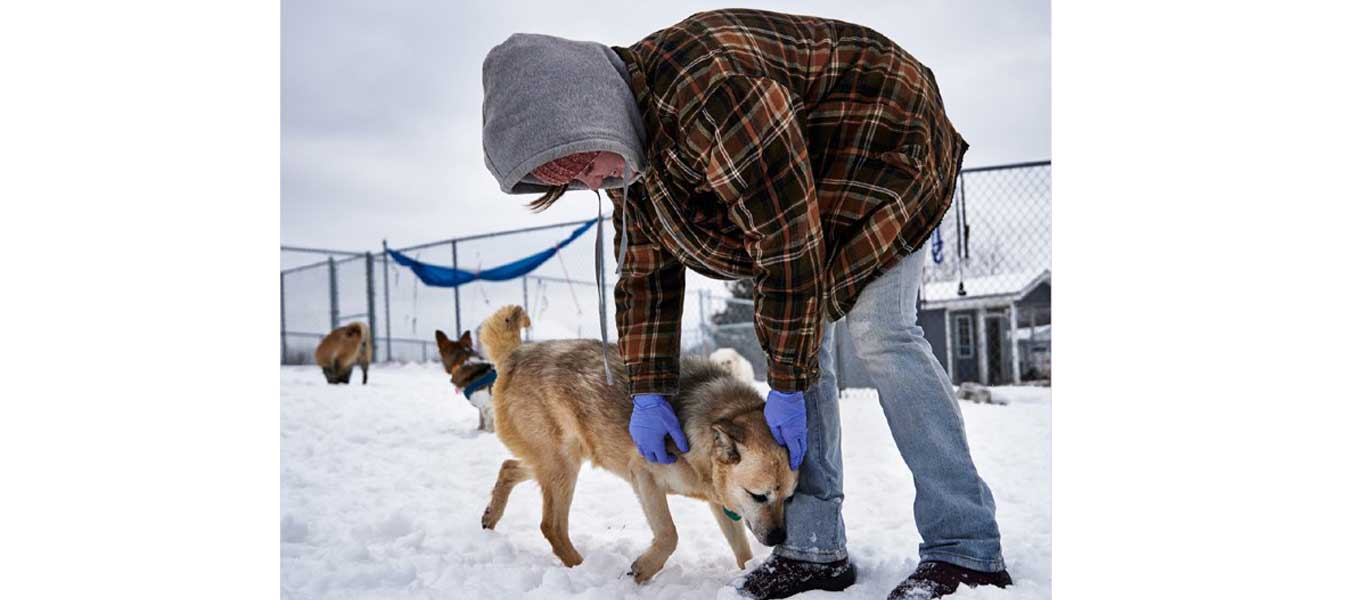 The first cats and dogs of Home For Life® Animal Sanctuary came from a no-kill shelter where most of them had waited months and some, years for a home. Many had already had two, three, or even more prior placements, equaling a huge percentage of their lifespan. What was their fate? To stay at a shelter facility meant for temporary holding? To reside in a crate or cage in the home of a foster for the rest of their lives, hoping for the magical day when they might get adopted? We thought we could challenge the conventional wisdom and the system of animal rescue by looking at the world from the animals' point of view: we could give these special animals an opportunity for a stable, loving home—a home that might look different than a conventional adoption, but where a cat and dog would find a place to belong, be wanted and accepted. Isn't that what any cat or dog (or even every person) wants?
There's a distinction between the typical animal rescue or shelter and a sanctuary like Home For Life® Animal Sanctuary.
Even some places calling themselves sanctuaries are really adoption clearing houses, keeping dogs and cats until they can be moved along.
A care-for-life sanctuary has a different approach, where animals in need are not just rescued but saved. It is a true home for the dogs and cats in all the ways that are meaningful for an animal: security, safety, great food, veterinary care, grooming to stay good-looking and healthy, warmth in the winter and comfort in the hot weather, the freedom to go outside or stay in, to have friends of their own kind and to socialize instead of living a solitary lonely life, and to have loving humans to care for them. In all the ways that matter for a cat and dog, Home for Life® is a true and loving home for our animals.
And we're a stable home, where many animals in rescue circulate in and out of placements. Stability—homeostasis—for animals and plants is an important quality of life. You can water and fertilize a plant and keep it near a sunny window, but if you move it and transplant it again and again, it will give up and die. Animals are like that—they need to put down roots and have a stable foundation, and a place to belong. They wither and give up without it.
Giving our animals a place is one of the most important things we do.
And we're in it for keeps. When Ben came to us as a six-month-old puppy, blind and brain-damaged after being beaten nearly to death, he survived but was left very vulnerable, a slow learner who has never learned to walk on a leash or climb stairs, and who needed protection and loving care for him to live his best, most joyful life. Ben is now 14 years old! He has been safe, protected, and loved; and had dog friends and a wonderful life despite his tragic start, BECAUSE he was part of Home For Life® Animal Sanctuary.
Image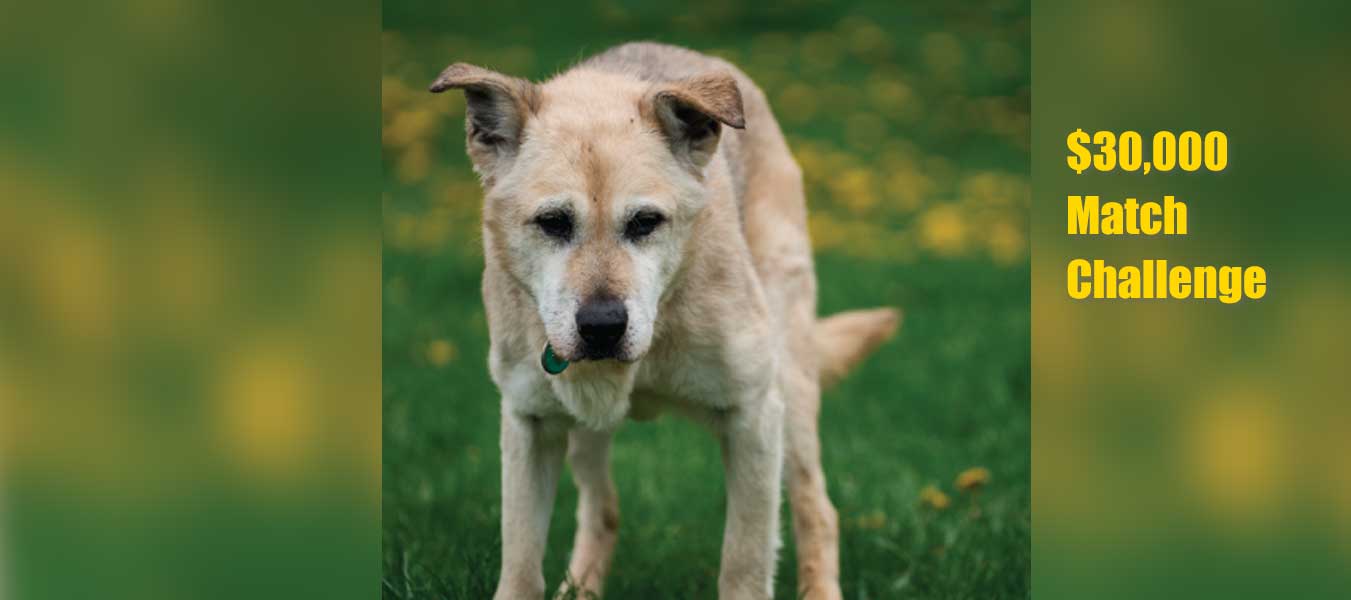 A Commitment for the Long Run
When a dog or cat like Ben comes to Home for Life,® in need of lifetime care, we don't derive the adoption fees from this rescue that a typical animal organization gets. Nearly 35-90% of a typical rescue or shelter's annual revenue is derived from adoption fees. It takes more than mercy in the moment to help a special cat or dog like Ben—it takes a commitment of energy and funding for the long haul and the lifetime of the animal. Because of you, Home for Life® has been able to care for Ben for nearly 14 years!   
Our sanctuary has transformed the world for Ben, and though his eyes may be blind, they are still filled with the joy of knowing he has a place to belong. Challenging a cruel, uncaring world, as well as a system where animals are often treated as commodities, reshapes the world for us too, who care about at-risk animals and dare to imagine a different outcome for vulnerable cats and dogs like Ben.
 
Home for Life,® an internationally recognized care for life sanctuary, and in 2019, voted one of the 10 Most Amazing Sanctuaries in the country by USA.
Today offers a service to animals in need like no comparative organization. Many shelters and rescue organizations aspire to find a home for every animal and dream of the day when there will be no homeless animals. At Home for Life,® that's what we want too—and that's what we provide—for dogs and cats that are overlooked for placement. Home for Life® has created a new idea, the care-for-life sanctuary—a life-saving and life-affirming alternative for dogs and cats who have not been able to find a home or keep the home they had, and for animals who have lifelong special care needs. We call our idea the "Third Door" in animal welfare, which gives at-risk dogs and cats, animals who might have been passed over for adoption, an alternative to an undeserved death. The dream of a home should be an opportunity that is available for all dogs and cats, and now with Home for Life,® and the innovative model we have created at our prototype sanctuary in Star Prairie, WI, it can be!
"A Bottle of water can be .50 cents at supermarket. $2 at the gym. $3 at the movies and $6 on a plane.  Same water. Only thing that changed its value was the place...So the next time you feel your worth is nothing, maybe you're at the wrong place" --Kobi Simmons
As with water, so with the dogs and cats at Home For Life® Animal Sanctuary who have found a place to belong with us.  The same animal that was rejected by everyone in the system is cherished at a sanctuary, by staff and supporters and by their own dog and cat
Watch our videohttps://www.facebook.com/watch/?v=6881116148571059