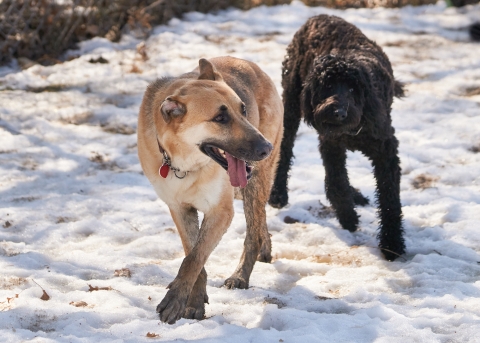 How can you do well by doing good? Collaborate with Home for Life® Animal Sanctuary, an internationally recognized care-for-life sanctuary for cats and dogs! Your company's corporate sponsorship of Home for Life® will inspire, educate and mobilize people who love animals and are moved to help the most vulnerable cats and dogs. Touch the hearts of people who love animals and want to make a difference by rallying them to support your business while helping the animals at Home for Life®!  Your support will help Home for Life® transform the direction of animal welfare by demonstrating what's possible and that the most powerful thing any of us can do to make a difference is to care!
Above: Curly running with Zena in the snow by Mark Luinenburg
Corporate sponsorships provide critically needed funding for Home for Life's® programs which help pets and people. Did you know? In 2019, Peace Creatures®, our innovative, cost effect model pet therapy program, reached over 8000 at-risk children and adults. Our animals are ambassadors in the community for our mission and our conviction that all life is valuable. Our animals from the sanctuary together with our volunteers and staff comprise Peace Creatures®, an innovative program that provides solace and joy to fragile and lonely kids and adults—it's at-risk animals helping at-risk people! 
Home for Life® Sanctuary changes the status quo for cats and dogs often overlooked, invisible and boxed out of the animal welfare discussion. Their stories are known, they are seen and the sanctuary demonstrates on a daily basis that our cats and dogs are more than a data point, not a problem to be solved but an untapped treasure. Home for Life®'s dynamic approach to saving the lives of the most vulnerable cats and dogs creates a safer world for all animals at risk.
Learn more about corporate sponsorship of Home for Life® and the creative opportunities available: Home for Life Corporate Partner Inquiry | Home for Life