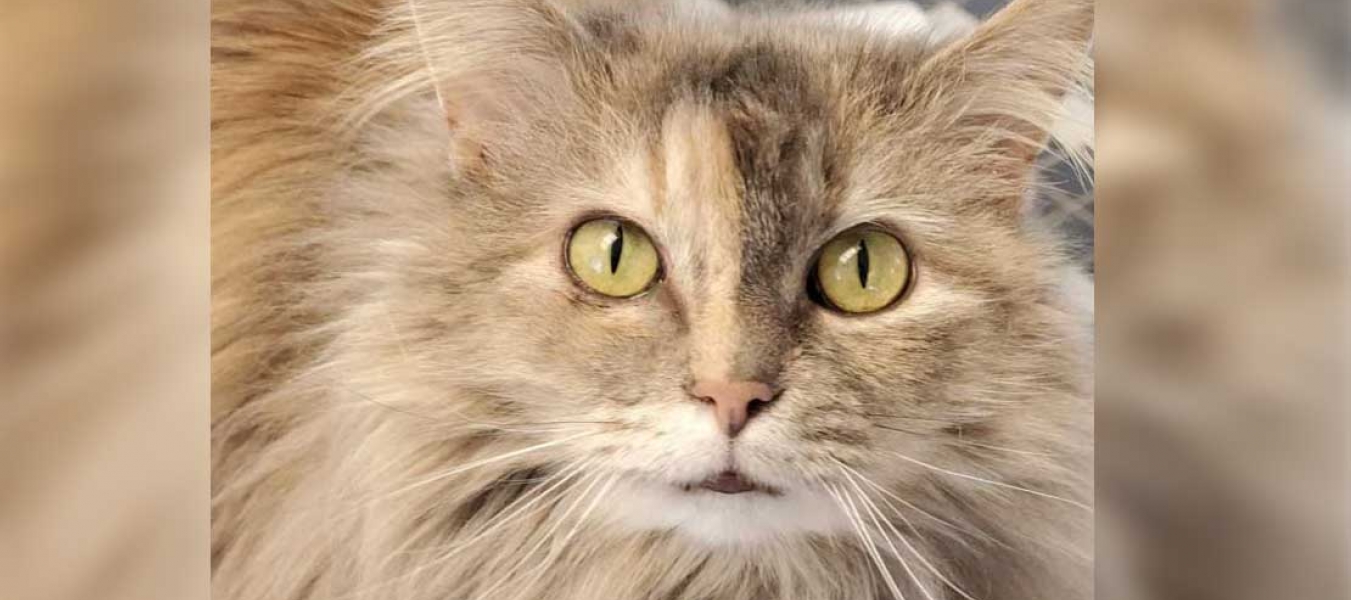 Above: Breezy looks like a feline ray of sunshine!
Looking like a feline sunburst is beautiful Breezy another of our FIV+ cats who came from the Animal Humane Society of Minneapolis. Breezy is a tortoiseshell but in pastels—the correct term is a dilute tortoiseshell—grey and peach instead of the orange and black, typically seen with tortoiseshell cats. Tortoiseshell cats, like cats with calico markings, are always female, and Breezy, who is spayed, is a very feminine, longhair cat who is nevertheless athletic and active.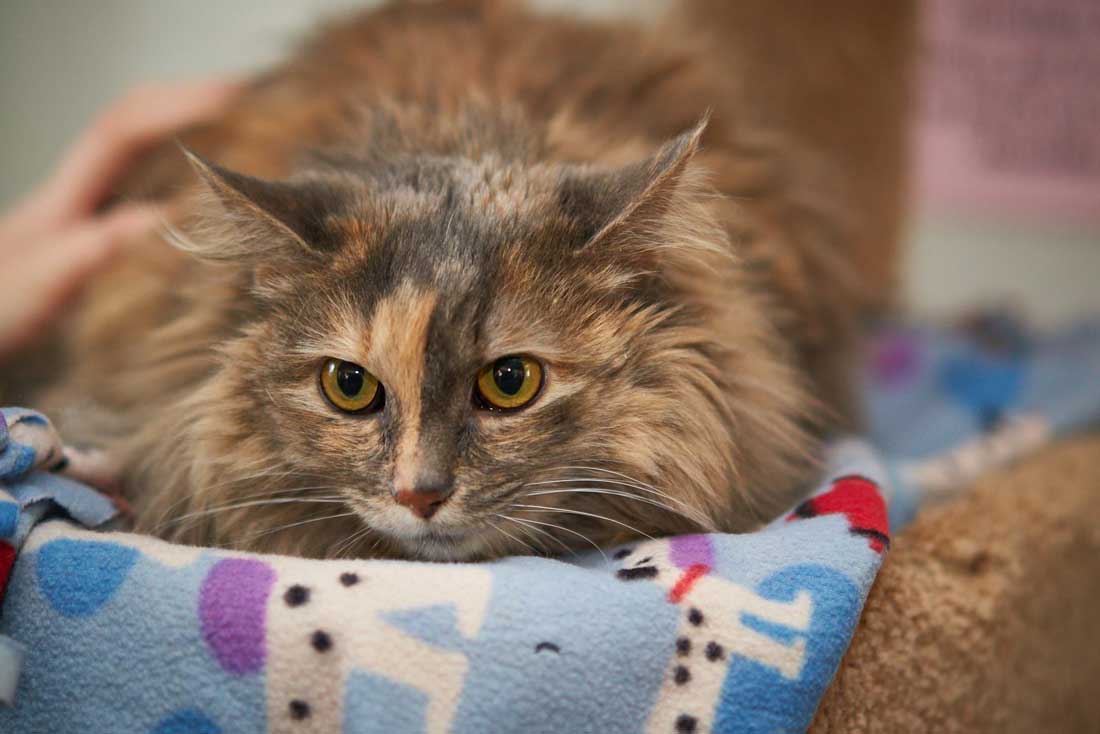 FIV+- is not often seen in female cats. It's not known how Breezy acquired FIV but typically it occurs in cats born of a positive mother or from free-roaming cats who fight with other cats. As a female and a very gentle cat, the best guess is that Breezy was born with FIV. She is now 7 years old and has done well in our protected setting where she can still go outside but safely, in no danger of encountering aggressive cats who might hurt her. She is a peaceful cat who mostly stays to herself among the other felines and likes to go her own way. Home for Lif® believes in keeping cats who are positive for FIV separate from cats who are not positive for the virus. There is at least one paper that found FIV to spread among cats thru saliva and sharing dishes, mutual grooming and so on. At Home for Life®, our FIV cats live in their own cattery with an outdoor run attached, separate from our uninfected cats, but they enjoy all the amenities of the other felines of Home for Life®: heated floors, big windows, plenty of natural light, great food, and medical care.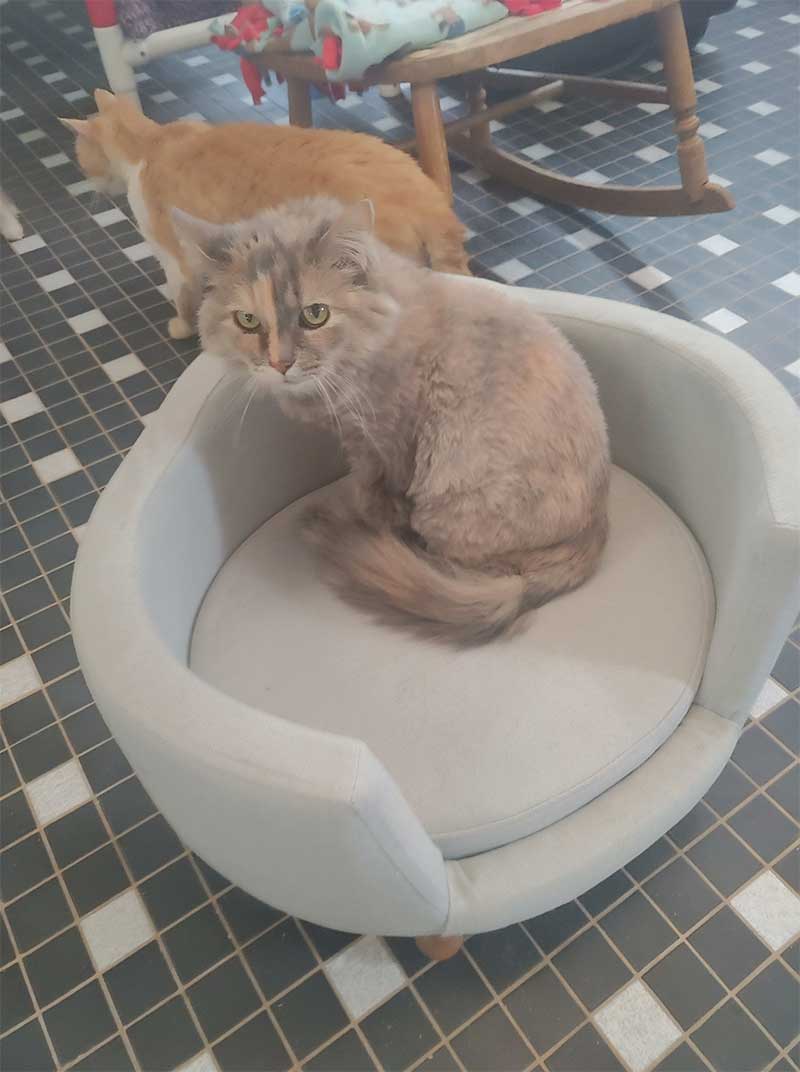 Breezy is a very shy girl and was heartbroken to be given up to the shelter by her owner whom she loved very much. She came to Home for Life® after she was found to be FIV+ and because she was so timid it was thought she would not do well on the adoption floor. Home for Life® was happy to accept her, but when she came to us, we found she was not eating well. All the heartbreak and upheaval for the sensitive Breezy caused her to lose her will to eat and maybe to live. It was critical to get her to eat before she went into liver failure. As a  matter of fact, it took us weeks of dedicated forced feedings and fluid administration to pull her thru but we did it, and the beautiful happy cat you see today was the result! She is quite a free spirit and loves going outside in the attached outdoor run. Now convinced that life is worth living she doesn't require any special feedings any longer and actually prefers dry food to canned treats.   For Breezy it's good to be alive and home for life!