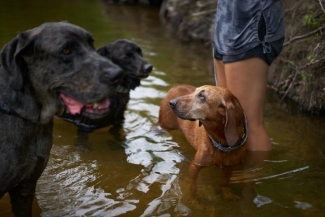 Left: Axel with Pickles and Redbone-Coonhound Reggie
This inspiration for our Pool Party Event--our Home for Life dogs who love to swim!
The inspiration for  Home for Life's SOLD OUT Endless Summer Pool Party Event? Our dogs who love to swim! On this balmy day, we were at the Apple River where photographer Mark Luinenburg captured all the fun.
Read the Sidewalk Dog Media article about the all time favorite event of the summer: https://www.sidewalkdog.com/.../home-for-lifes-endless.../ This event is sold out and we are looking forward to seeing many of you September 26th at the Town and Country Club.